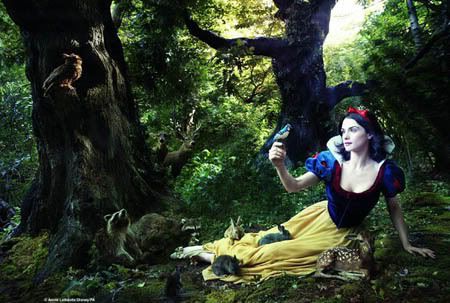 Annie Leibovitz has shot another series of celebrity advertisements for the Disney Parks. Her last set of images drew praise for the creative way it brought Disney fantasy to life. Scarlet Johansson was Cinderella fleeing the ball in a flowing gown, David Beckham was Prince Phillip on his bucking steed, and Beyonce, Lyle Lovett and Oliver Pratt were Alice, the Mad Hatter and the The March Hare sitting on the famed teacups.
The latest photos are equally impressive. Rachel Weisz is a lovely Snow White in congress with the birds and animals, Julie Andrews and Abigail Breslin are fairies, and tennis great Roger Federer is King Arthur removing the sword from the stone.
My son hasn't gone to Disney World yet, but if grandma has her way he will soon. It's a fun, extremely well-crafted amusement park, but it's still a pain in the ass dragging your kid around for an entire day, waiting in line, and walking everywhere. You can put celebrities in perfect costumes and add wind and props and it does evoke a feeling of other-worldliness and relaxation. These photos are beautiful, but if I want a fantasy experience I know I should be going to the spa, not to an amusement park with my family.
Here are the latest advertisements, which will run in US magazines in December. Rachel Weisz and Roger Federer are also shown on set. Thanks to The Daily Mail via ONTD for these photos.