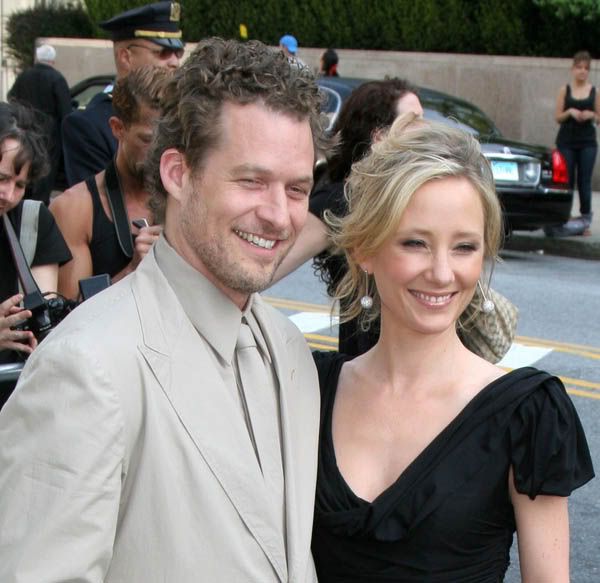 Everyone's favorite cheating crazy person, Anne Heche, is planning to marry her Men in Trees costar just as soon as she settles matters in that pesky divorce with her porn-loving husband, Coley Laffoon. Heche and Tupper plan to make it legal as soon as they're able, and Heche, 38, wants another child because the court hasn't granted her enough opportunity to mess up her first one:
"Anne is very happy with James and wants to remain with him for the rest of her life," a friend of the actress tells Star. "She calls him her soul mate." Also on her agenda – a child with James! "Anne doesn't get to see [son] Homer like she used to, and it kills her," adds the chum. "She misses him terribly." Homer, 5, lives in L.A. with dad Coley, while Anne is in Vancouver filming the ABC dramedy.
[From Star Magazine, print edition, November 5, 2007]
Heche was granted 50/50 custody of her five year-old son, Homer, with her estranged and soon-to-be ex husband, Coley Laffoon. It came out in their divorce that Laffoon has been the primary caretaker for Homer since he was an infant. Laffoon claims that Homer gets upset after spending time with Heche and that she is incapable of meeting his basic needs.
Maybe Heche thinks she can get it right the second time, or maybe she's delusional enough to believe that she didn't do anything wrong with her son and deserves another child. Either way, I hope she doesn't reproduce again. If she does, maybe Tupper will get custody in the divorce. He's got to be stupid enough to have a baby with her considering that he left his wife and child to hook up Heche and is supposedly about to marry her.
Anne and James are shown at the ABC upfronts in May, thanks to PRPhotos.