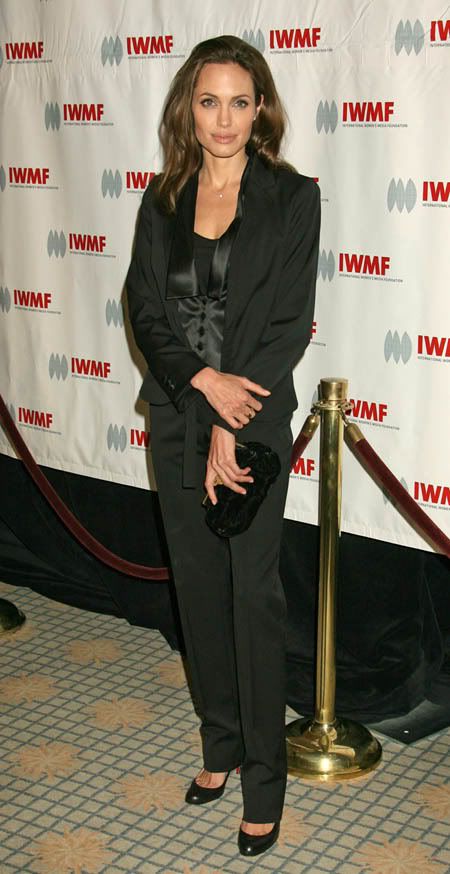 Angelina Jolie has said that the only thing she argues about with Brad is politics, and maybe she told him he better not support presidential candidate Barack Obama, or maybe the report a couple of days ago that Brad was rejected by Obama's camp was false. Brad's rep has denied that he offered support to Obama, so he couldn't have been told to take a hike if he never offered to help:
"Not only is the rumor not true, Brad has never even talked to the Obama campaign. Like many Americans Brad is learning more about the candidates and will make a decision about who to support in the coming months," said Pitt's political advisor Trevor Neilson.
[From TransworldNews]
The story originated with The NY Daily News, which quoted an unnamed source. It sounded pretty plausible to me, especially considering an earlier tabloid story that Angelina once threw wine at Brad because he supports Obama while she feels passionately that John Edwards should be the next US president.
Meanwhile the "Angelina is pregnant!" rumor is being warmed up for our eager consumption again. She canceled a speaking gig in Italy over "personal reasons" and some random person "confirmed" her pregnancy in a vague way, so it must be true:
Angelina Jolie abruptly cancelled plans for a speaking gig in Italy this week — something about how children are our future — and this has sent the Italian papers into a frenzy of speculation that she's too busy throwing up because she's pregnant. And somebody at the conference venue, near Rimini, said this: "Due to her privacy I can't confirm her pregnancy, but I can say that the Italian newspapers are correct in their reports."
[From Canada.com]
Angelina was at the International Women's Media Foundation 18th Annual Courage in Journalism Awards on Tuesday, and while she posed with her hands crossed over her stomach at one point there was no real bump there. Cate Blanchett is surely pregnant, but instead of covering her obvious news the papers are constantly speculating on the state of Angelina's womb. Maybe if Cate's husband was more famous and she traipsed around paparazzi hotspots with her kids for a while we'd get more stories about her upcoming third child.
Header image is from Splash News. The other images below are from PR Photos.