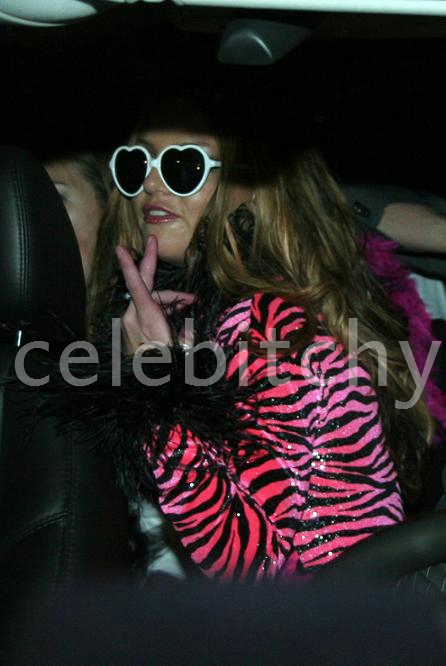 The Britney ban has been lifted, but we've vowed not to get carried away and report on her every little misadventure: "Britney goes to the deli!" "Britney forgets to wear shoes!" "Britney swats fly off arm!" "Britney goes to the deli and forgets to wear shoes and swats a fly off her arm!" But we will occasionally write about her – never more than once a day, with a goal of three times a week max. I have to admit to have a slight BS infatuation: such a public downward spiral is a bit addictive to watch. Plus you have to think back on when she was "normal" and ask yourself if she's always been this crass and crazy (remember when she called everyone ma'am?) or did it just kick in a few years ago? These are the questions that keep me up at night. So with that caveat: our one Britney story of the week.
Britney Spears invited a man to snort cocaine off her chest during a wild party at her Hollywood mansion just two days after losing visitation rights to see her sons, it has been reported. Scott Kohler, 29, claims he and a group of 10 other strangers were invited to join Spears for a night of heavy partying on October 19, when the troubled star drowned her sorrows with vodka and cavorted with the men in her jacuzzi. And musician Kohler alleges the 25-year-old singer accepted an offer of cocaine from a fellow partygoer, after he "joked he wanted to do a line off (Spears') chest, and she agreed", reports British newspaper The Sun.

Kohler adds, "(Spears) was in a great mood. She didn't have a care in the world." The latest revelations will be a blow to Spears as she fights her ex-husband Kevin Federline for custody of two-year-old Sean Preston and one-year-old Jayden James. She has since won back visitation rights to see her two boys three times a week, but must comply with an earlier court order to undergo mandatory drug and alcohol tests and well as attend joint parenting sessions with dancer Federline. The former couple's next custody hearing is set for November 26.
[From Starpulse]
Well I guess that explains more of Spears' "Eat It, Lick It, Snort It, F**k it" comment to reporters last week, when asked how her case was going. I'm pretty sure that she tends to do all of those things at least twice an hour. Sometimes if she doesn't have any cocaine or a guy around, she has to substitute one for the other, but Britney Spears is nothing if not industrious, right?
In other related news, Brit's new album is actually getting some pretty good reviews, and is expected to perform decently, considering she won't be doing any promotion for it. But she can use the CD to snort her cocaine from.
Picture note by Jaybird: Here's Britney driving home from a Halloween party at Park Beverly estates with her two sons Jayden James, Sean Preston and a friend. She appears to have attended at least three separate parties: Splash noted:. When Britney left the party an hour later her youngest son Jayden James looks quite visibly upset in the back seat of her car. Header image of Britney arriving at Heidi Klum's Halloween party in Hollywood. There was also a third party where she donned a sombrero and harlequin mask. Images thanks to Splash Photos.