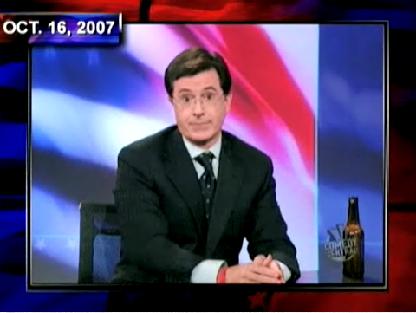 I love the way Stephen Colbert takes jokes way too far. There was the time he claimed that African elephants were no longer endangered and expanded in number to three times their previous population in just six months. As a result, so many changes had been posted to Wikipedia that they had to block access to both the "elephant" and "Stephen Colbert" articles. He's more the willing to take his humor beyond his show and mess with the everyday as well. I think all is fair in love and humor, but even I'm a little surprised that Colbert is actually trying to get his name on the South Carolina primary ballot – because I'm presuming it's all for a joke. That's a really, really involved joke – but if you're really committed to it, I guess you have to take it all the way.
It's no joke: Stephen Colbert really is running for president. The mock conservative pundit, 43, is expected to file paperwork Thursday to enter South Carolina's Democratic primary, CNN reports. Colbert announced his bid October 16, declaring on his Comedy Central show The Colbert Report that he would run as both a Democrat and Republican so "I can lose twice." Perhaps price made him change his mind? The fee to get on the GOP ballot is $35,000. (Colbert only has to cough up $2,500 — or get 3,000 signatures — to get on the Democrat ballot.)

But Barack Obama and Hillary Clinton shouldn't start worrying just yet: South Carolina Democratic officials will meet Thursday to determine whether Colbert is "nationally viable" and has spent enough time campaigning in his home state before putting him on the ballot, according to CNN.
[From Us Weekly]
Something tells me Colbert won't be deemed "nationally viable" – though I'm pretty sure he could take a chunk of votes away from other Democrats and really mess with the polls. It'll probably make for some good clips on his show, though I would have found it much more amusing to mess with the Republicans. Does anyone else find it telling that you have to pony up $35,000 to run as a Republican, but only $2,500 (or 3,000 signatures) to run as a Democrat? You'd think that, if nothing else, Comedy Central could have dug the money up. Colbert vs. Obama? Mildly amusing. Colbert vs. Giuliani? Now that's funny.
Update by JayBird: Lifeline Live just reported: "South Carolina Democrats don't think Stephen Colbert's presidential bid is all that funny. Colbert filed to get on the ballot as a Democratic candidate in his native South Carolina. His campaign paid a $2,500 filing fee just before the noon deadline today, but after about 40 minutes of discussion by top party officials, the executive council voted 13-3 to keep the host of The Colbert Report off the ballot. "He's really trying to use South Carolina Democrats as suckers so he can further a comedy routine," said Waring Howe, a member of the executive council. He will be able to get his money back."