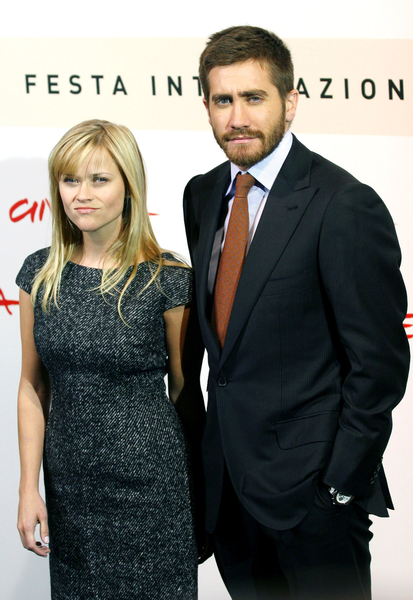 I think I'm one of the only people around that isn't skeptical about Jake Gyllenhaal's sexuality; but then again I'm adorably naive that way. Just because he hangs out with a lot of men? Don't most guys have a lot of guy friends? Okay he does have an affinity for bicycle shorts, but it's not like he wears them to dinner or anything. That I know of. I don't think their romance is manufactured, but I do find it odd that they appeared to go to great lengths to hide it, and then all of a sudden went public when their movie came out. Massively coincidental, but whatever. From what's reported about Reese and Jake, they both seem like pretty similar personalities: nice if a bit "Type A."
Jake supposedly really wants to be a dad and loves Reese's kids. During those initial rumblings of a relationship several months ago, I remember reading that he was actually being a bit too parental towards Reese's kids. But they seem to have established some sort of relationship that works: the two of them took her kids trick or treating last night, and seem to have a cute (almost too cute) relationship with her kids.
Jake Gyllenhaal and Reese Witherspoon had another PDA-packed public date Wednesday, taking Witherspoon's two children, Ava, 8, and Deacon, 4, trick or treating in L.A.'s Brentwood neighborhood. Witherspoon, 31, dressed as a witch; Gyllenhaal, 26, an ape. "They were holding hands and swinging them in the air as they walked around the neighborhood," adds a witness, who says Gyllenhaal often lifted up his gorilla mask to smooch his Rendition co-star. "Reese was laughing at everything Jake was saying."

As Ava (also in witch wardrobe) and Deacon (dressed as a super hero) ran up to every door for treats, "Reese and Jake waited on the sidewalk and flirted," the onlooker tells Usmagazine.com. They even started to act like a pair of giddy kids themselves. "Jake tapped Reese on the butt and then she hit him back — they began running a circle hitting each other!" the witness says. "Then Jake picked Reese up off her feet and she screamed."

Gyllenhaal seemed to play it cool during his first public outing with Witherspoon's children. "Jake ran up to Deacon with the gorilla mask and pretended to scare him!" the onlooker says. "Deacon laughed." He also had a few scares for Witherspoon. Adds the witness, "Sometimes he came up from behind and nuzzled his big hairy mask into her neck."
[From US Weekly]
Ahh, I remember the first time a guy came up from behind me and nuzzled his big hairy… wait, no. Never mind. It'll be interesting to see if this all pans out. The story seems a little contrived, but it's hard to tell if that's just due to the "family friendly" writing style, or if it really was a little hackneyed. They do seem a little too perfectly arranged, but people have said that about both of them seperately for years, so it makes sense that it would apply to them as a couple, too.
Picture note by Jaybird: Here's Reese on "Ellen" last week where she showed a picture of her Halloween costume from last year. Images thanks to Splash Photos.