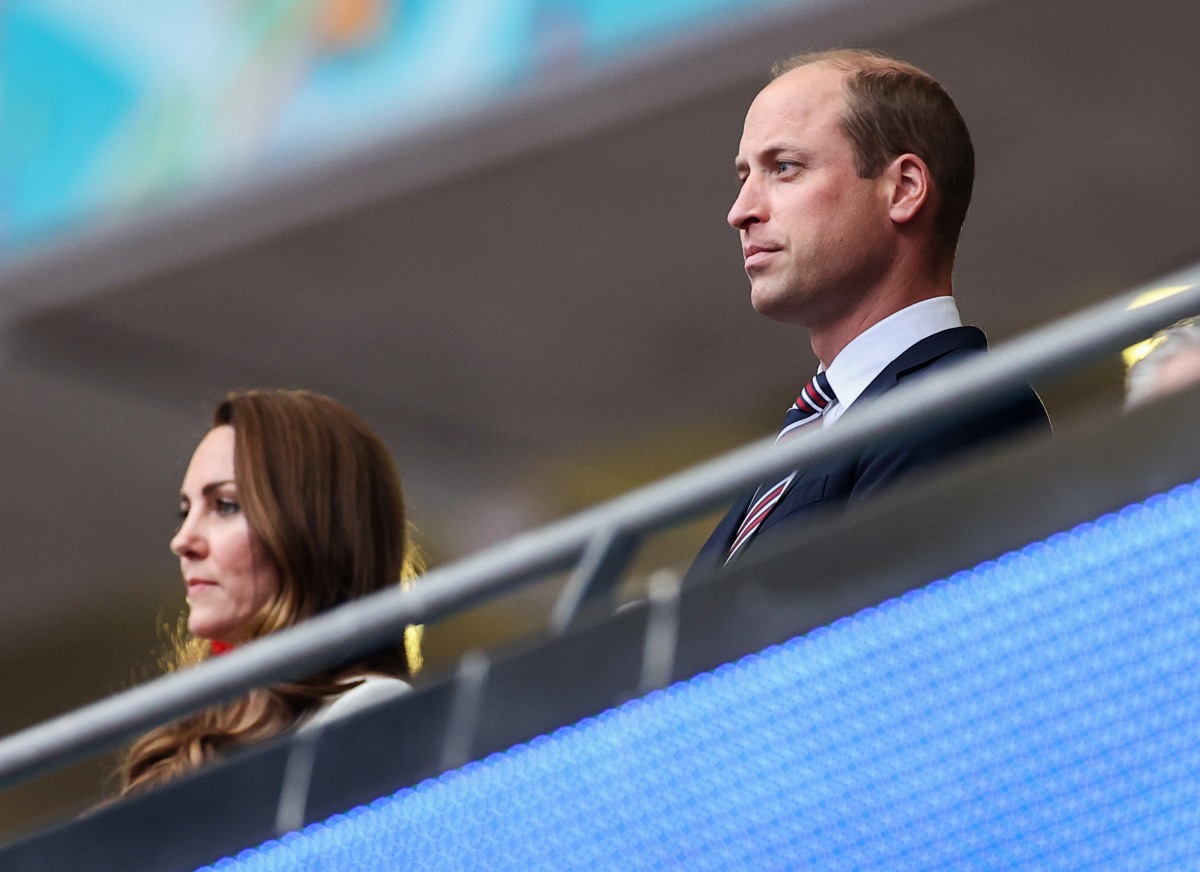 In the end, football did not come home. England lost the Euro final to Italy in penalty shootout, 2-3. Three young men on the English team, Marcus Rashford, Jadon Sancho and Bukayo Saka, missed their penalty kicks. And as soon as England lost, the racist abuse against those three young Black men began. People were trying to tell racists to settle down – even Piers Morgan told people not to abuse Saka, Sancho and Rashford – but it's still happening.
The president of the Football Association, Prince William, was there at the final with his wife and eldest son. There were lots of reaction shots and joy as England scored an early goal, but the mood in England's VIP box turned morose by the end of the night. The FA also made a formal statement condemning the racist abuse against English players, showing that perhaps William did not even solve racism in football when he claimed he did. William has also used the Kensington Royal Twitter to tell racists to settle down. It's almost as if England is very much a racist country??
The Duchess of Cambridge changed out of her pink frock (which she wore at the Wimbledon men's final earlier in the day) and into this more business-casual look. Black trousers, a white tee, white blazer and giant red beaded earrings from Blaiz. White and red, get it? She's the flag of England. Buttons loves to theme-dress and cosplay.
Some social media (there's a lot):
🚨⚽️ | NEW: Prince George reacts to England's goal pic.twitter.com/5JcXEYpaBL

— Politics For All (@PoliticsForAlI) July 11, 2021
I am sickened by the racist abuse aimed at England players after last night's match.

It is totally unacceptable that players have to endure this abhorrent behaviour.

It must stop now and all those involved should be held accountable. W

— The Duke and Duchess of Cambridge (@KensingtonRoyal) July 12, 2021
— Josh Billinson (@jbillinson) July 11, 2021
Good. pic.twitter.com/liKIu8grCv

— Mavelous (@FashionMaven88) July 11, 2021
Totally agree with you. All of those players deserve and need the support of the public after that. All seem like brilliant guys. Nothing can prepare you for that level of pressure/attention/criticism at 19/20 years old. Respect 👍 https://t.co/D1BGJqeCsN

— Andy Murray (@andy_murray) July 11, 2021
Photos courtesy of Getty, Avalon Red.