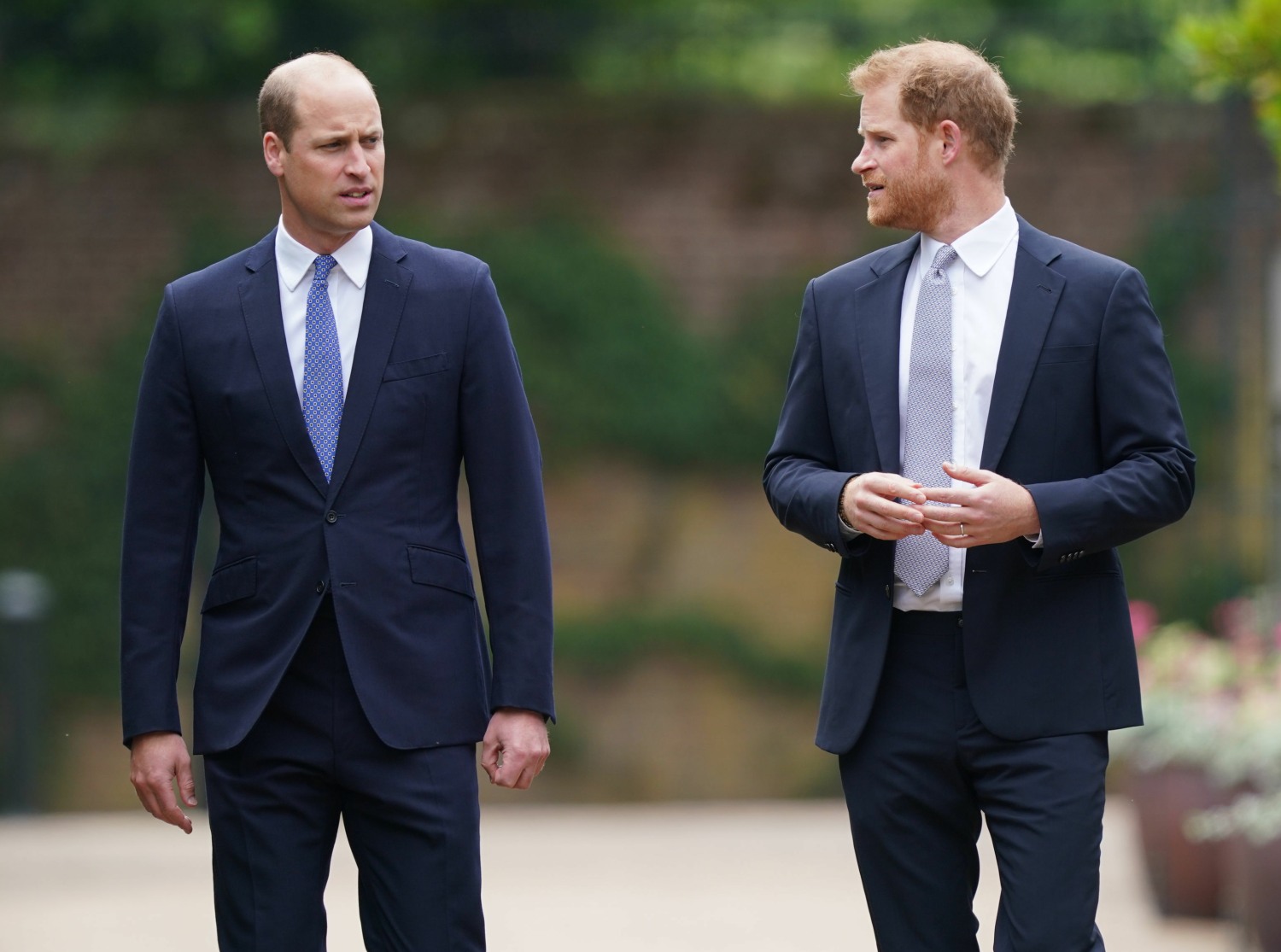 Remember the hilarious story about how the Duke and Duchess of Sussex will *possibly* visit the UK in September? That story came out soon after the fakakta statue unveiling on July 1st. The unveiling had been hyped to a crazy degree, and there were millions of stories around this one hour situation between Prince William and Harry. Harry did his thing, was charming and happy and he honored his mother, then he got the f–k out of Dodge. End of story. Except that the tabloids need a new "date," a new event which they can hype and wring their hands over. Which is why this September date was invented, the idea being that Harry, Meghan and the children need to come to London for another event around this same Diana statue. Weird we haven't heard anything else about that. So now Us Weekly's royal expert is being a sad-sack about whether William and Harry will even see each other for "the holidays."
Small steps! Prince Harry and Prince William may have made progress when it comes to mending their relationship, but they likely won't be spending major holidays together, royal expert and London correspondent, Jonathan Sacerdoti, exclusively told Us Weekly.

"It's perhaps unlikely that they're going to be spending what we would think of as quality family time together at Christmas and New Years and birthdays," Sacerdoti explained to Us about the families coming together.

While the recent birth of Harry, 36, and Meghan Markle's daughter, Lilibet, brought everyone a little closer, there is still distance that exists between everyone.

"Just remember that the queen hasn't met her latest granddaughter. It doesn't seem likely that she's going to anytime soon. She's barely seen Archie for quite a while," Sacerdoti noted. "On a human family level, forgetting them being the royal family, there's already quite some frostiness and distance there. So I suspect if things can go well, [then] maybe they'll have the occasional meeting, but I don't think it seems very high on anyone's agenda."

Although William and Harry aren't as close as they used to be, Sacerdoti explained that there isn't "animosity" between the siblings.

"It's like any family. Sometimes we keep a closer contact with people than other times, and some people we stay more in touch with than others. So I think just the very distance between the United States and the United Kingdom and the complications of either parts of this family being able to travel means that jetting backwards and forwards isn't necessarily going to happen though," he clarified.
I don't know why these royal experts can't keep their stories straight about the animosity between the brothers and, honestly, their wives. Sure, I was also surprised by how non-confrontational William and Harry were at the statue unveiling, but just because two 30-something year old brothers were able to NOT punch each other for an hour doesn't mean that there is "healing" or "peace." It just means that they were able to be mature in memory of Diana for an hour. And that's it. Harry understands William now, and perhaps Harry always understood his brother. There's a reason Harry got his family as far away as possible. So no, they aren't spending f–king Christmas together.
Photos courtesy of Avalon Red.