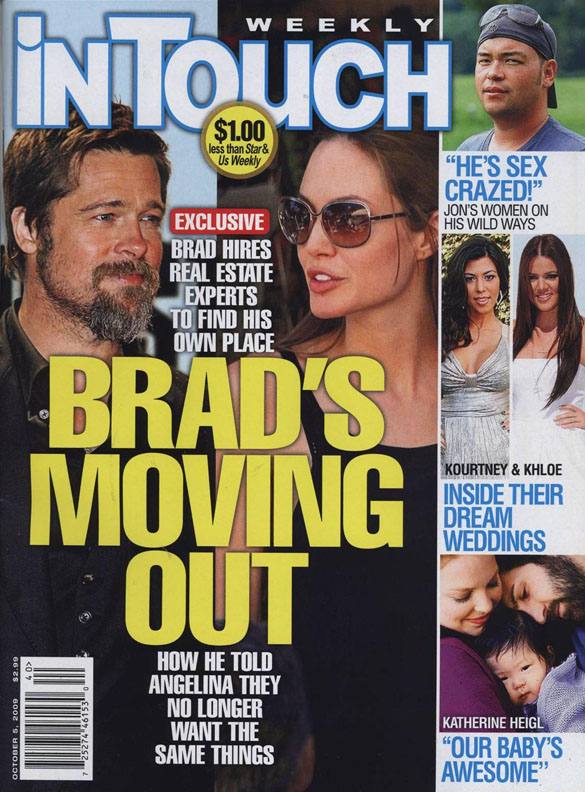 In Touch Weekly's cover story this week is "Brad Moves Out". It's just about as dumb as you would imagine. The crux of the article is about how Brad has "moved out" while he went to Spain to attend a film festival, and how he "moved out" while he, Angelina and the kids were on vacation in Africa. Ugh. I'm just going to put up some lowlights from this story:
*While Brad was in Spain, random Spanish eyewitness Raquel Espinola said "Brad looked scruffy, bloated and unshaven… he looks as if he's living out of a suitcase."
*Brad left the French chateau when "Angelina dropped the bombshell… she threw him out of the house and told him, 'This time, it's for good.'"
*Brad and Angelina fought during their African vacation because "she had wanted Brad to come with her [to Ethiopia], but he refused." She hoped it would be like their trip to Cambodia a few years ago, "a learning experience for the kids" but Brad "doesn't share her vision for how to educate her kids."
*The African trip was "the final straw" for Brangelina's troubled relationship. Sidenote: I believe In Touch has used "the final straw" exactly ten bajillion times when describing alleged fights in the Jolie-Pitt household.
*Brad isn't interested in copying every one of Angelina's interests anymore. In Touch has a photo array of "Brad gets tattoos… like Angelina" and "Brad learned to fly… like Angelina" sidebars. The most ill-timed one is that Brad is supposedly not interest in doing Angelina-type charitable work anymore. I'll talk about Brad's appearance today at the Clinton Global Initiative Summit in one moment.
* When Angelina kicked him out, Brad checked into a hotel happily. Brad is "sick of the deceit…he feels the sooner that he and Angelina officially break up, the better."
*Brad is looking for a fancy new Paris apartment. He's hiring a bunch of people to renovate the alleged apartment, although In Touch says he hasn't actually gotten an apartment yet. So how does he know he'll need to renovate?
*While in Spain, Brad took pictures of various architectural gems. In Touch says Brad will show the photos to his engineering team, to help with the renovation of a yet-to-be-bought apartment. Worst. Cover. Ever.
*Angelina is too thin. Brad is too drunk. This is a problem, say experts.
*Brad's plan for the kids (now that he and Angelina have officially split, remember?) is that they will go between his Paris apartment and the Chateau, which it seems Brad is letting Angelina have.
[From In Touch Weekly, print edition, October 5 2009]
Okay, enough fiction. Tonight, Brad is scheduled to give a major policy speech in new York during the annual Clinton Global Initiative. His speech is called "Infrastructure: Building a Better Future, Progress Report on Making It Right in New Orleans". The speech is described as "a progress report" on this Clinton Global Initiative (CGI) commitment, from which Make It Right NOLA has received millions of dollars.
Brad's speech will focus on "demonstrating concretely how government, non-profits, and the private sector can work together to build safer, stronger, and more resilient communities while expanding economic opportunity. From one of the greatest disasters in American history, "Make it Right" is laying the groundwork for new prosperity and new beginnings on a foundation of affordable green housing. The discussion will include specific stories of the recovery in New Orleans, and launch a dialogue with CGI members on the future of green infrastructure and sustainable cities." The whole thing with CGI is that the money being given away isn't from Bill Clinton or his foundation. CGI just facilitates the exchange of government, business, and grant investments into certain charities or projects President Clinton and his team approve of. It's a pretty smart program, and I'm looking forward to reading coverage of Brad's speech tomorrow.
Here's Brad at the the premiere of "Inglourious Basterds" at the San Sebastian Film Festival on September 20th. Images thanks to BauerGriffinOnline.