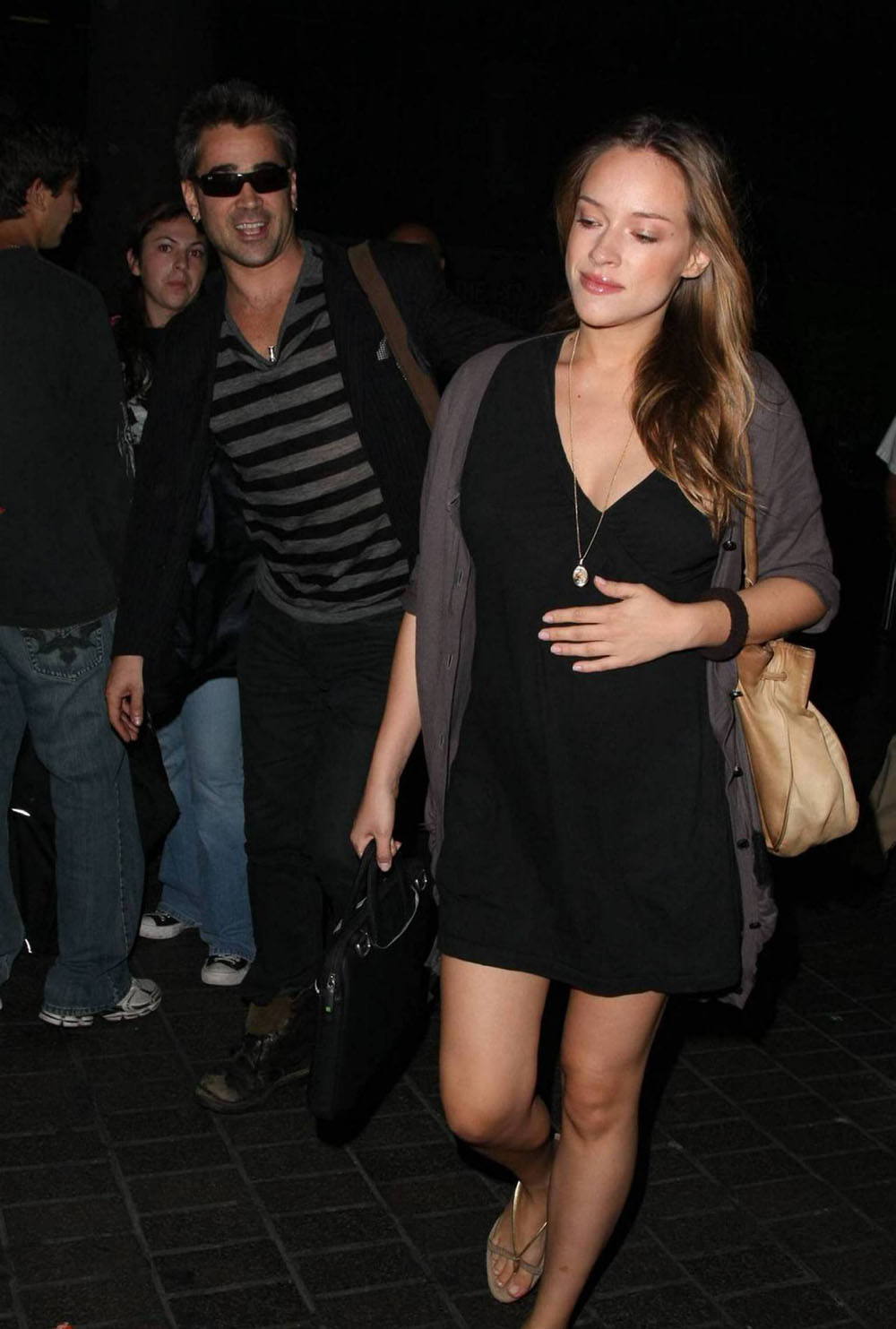 While Colin Farrell was in Toronto, he confirmed that his girlfriend Alicja Bachleda is totally pregnant. This was the opposite of shocking, considering Alicja was photographed sporting a sizeable second-trimester baby bump just a few weeks before Colin "confirmed". But it was still nice. Colin obviously adores his girl, and he seemed totally excited about being a father to his second child (that we know about).
In the back of my mind was the small, tiny, itsy-bitsy idea that Alicja maybe got pregnant as a way to nail down the historically commitment-phobic Colin. Of course, I doubted that was Alicja's sole reason for getting pregnant – after all, if I was having sex with Colin Farrell, I would be permanently knocked up with Irish babies all year 'round. Unfortunately, Star Magazine is reporting that Alicja's family are now pretty desperate for her to marry Colin:
Alicja and Colin have a baby on the way this winter – so her family is pressing him to make her an honest woman ASAP!

"Alicja's parents in Poland met Colin and liked him a lot," says a source. "But they're old-fashioned."

Still, Colin, 33, is in no rush to tie the knot a second time. His four-month marriage to Amelia Warner ended in 2001.

Says the source, "He's crazy about Alicja, but he's quite happy being single."
[From Star Magazine, print edition, October 5 2009]
I don't know, I really don't. I want to believe Colin changed with the birth of his son, James, in 2004. I want to believe that Colin is now a nice boy – I mean, a nice boy who will do really dirty things with you, but a guy who can make a commitment and stick with it. Is he that guy? Or is he still the old, womanizing commitment-phobe we all fell in love with, then fell out of love with, and then fell back in love with? My guess is that Colin would probably marry Alicja if she told him that was what she really wanted – so perhaps the only people who really want them to get hitched are her parents.
By the way, Colin has been doing some press for Ondine, the Neil Jordan film where he and Alicja met and fell in love. I found this beautiful LAT interview with Neil Jordan and Colin where they're talking about the film, and the character Colin plays, who is an alcoholic fisherman.
Colin said: "[Playing an alcoholic] doesn't make it any more attractive, or make me hesitant to be a part of it…Maybe what it does is the whole world of addiction and alcoholism is demystified for me. I understand what it is because I've been through my version of it. So it's completely demystified, which means I'm cool to have a little bit of fun with it, and I also understand the gravity of it. It's serious business, and I understand the mechanism of it a little bit. His wife left him, he's a recovering alcoholic and he's got a terminally ill daughter. As an actor you go, oh, the drama, the pain — or I do anyway, as I tend to the potential to be histrionic. But he has no self-pity at all. He's just getting on with the business of living and doing the best he can do." Sigh. I love me some brooding Irishmen.
Header image thanks to Mavrixonline and is from mid August