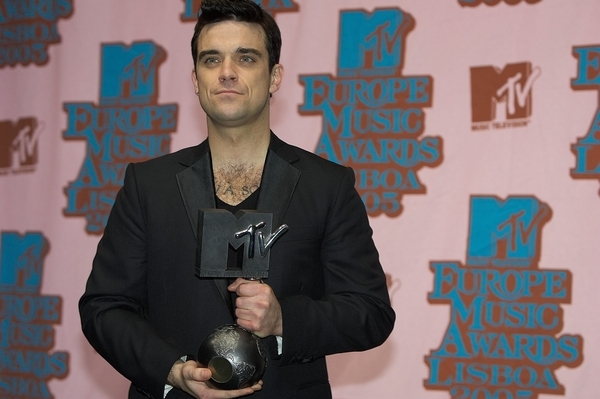 Celebrities like to bitch and moan a lot about the high price of fame. They insist on doing this, even though I'm sure there well –aware that it doesn't exactly ingratiate them to their public. But I'm sure there are some legitimate costs of fame, and not just in terms of losing your privacy and dealing with the paparazzi. You always have to worry about hangers-on and yes men, people who are just your friends because of your money and what you can do for them. British singer Robbie Williams learned that recently, after two of his friends bilked him out of $400,000.
"Robbie Williams who moved to Los Angeles five years ago – loaned two pals money to set up a fashion label in New York but was furious to discover they spent the cash on partying instead. A source said: "At best Robbie was being used, at worst he was being conned. These so-called friends have preyed on his hospitality and good nature." Robbie, who formed US-based soccer team LA Vale FC in the hope of making new friends, has been urged to disband the team and ditch many of the hangers-on who are frequent visitors to his Beverly Hills mansion.

The source added to Britain's Daily Mirror newspaper: "It was as if the penny had finally dropped and Robbie realized he was being taken for a ride. There was a screaming row between him and several people last weekend. He accused them all of taking advantage. He ordered them all out of his house and told them not to come back. But it was when he disbanded the team that everyone became convinced he meant business. It was very much his pride and joy."

Earlier this month, Robbie revealed he had formed the soccer team so he could feel part of a "gang." He said: "I've always wanted to be a member of a gang, so I bought myself one. I've been fortunate because we've been together for quite a while now." "There are no nails sticking out that need hammering down. They're all fond of me, and I'm fond of them." "My house is quite big and a bit grand, but people like coming over to put their feet up and chill out, which is good for me."
[From Celebrity Wonder]
It sounds like a pretty bad idea to purposely try to buy yourself friends. Robbie Williams always wanted to be a part of a group of friends, so he bought himself one? Part of me wonders if he really felt like he was entitled to certain behavior from his friends because he bought the "gang." You could argue it a lot of ways, and he certainly didn't deserve to get conned out of $400,000. But it seems like a reasonably intelligent person could tell you that it's not a good idea to try to buy friendship, and it'll inevitably blow up in your face. Williams used to be known as a bit of a hermit: hopefully he'll be able to find a happy middle ground between buying friends and living alone in your attic.