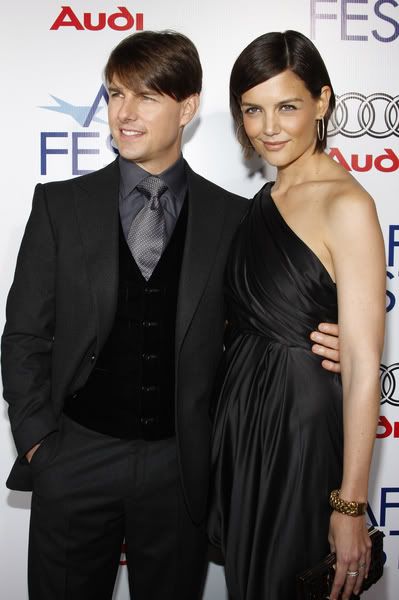 Tom Cruise and Katie Holmes looked like brother and sister at the premiere of Lions for Lambs at the AFI Fest in Hollywood last night. Tom has grown out his Nazi bowl cut while Katie's short dark bob looks suspiciously similar. Add the matching outfits and they're like any other couple that ends up looking alike, perhaps intentionally. Katie mercifully wore flats, which made her about even with Tom instead of towering over him like she did at the Berlin premiere of the film.
In terms of Tom and Katie's home life, Cruise recently gave some statements to the press that show he's mastered the art of revealing enough to create a news blurb without really giving too much information. He praised his wife's acting ability and said that they're good at coordinating schedules. He also admitted he doesn't get a lot of sleep without complaining about it:
With his first anniversary fast approaching, Cruise said married life was "all very good, all very lovely," and that he feels "lucky" to be wedded to Holmes, his third wife.

"I have a lot of respect for her as an artist, as a woman," he said. "She's a very strong, gracious woman."

When it comes to juggling his responsibilities as a husband and father with his career as a leading man and studio mogul, Cruise admits that life gets busy.

"Just like everybody else, you just work it out," he said. "We've gotten pretty good at organizing everything. I don't sleep much anyway."
[From EOnline]
Angelina Jolie and Brad Pitt should take note, because Cruise provides enough general information to make it mildly interesting without revealing any weaknesses for tabloids to run with.
Cruise plays a Congressman in Lions for Lambs, which weaves different stories around the fates of two college students fighting in Afghanistan. Lions for Lambs is directed by Robert Redford and is out in the US on November 9. It also stars Michael Peña and Meryl Streep.
Here's an introduction to the film, told by the young actors.

Thanks to PRPhotos for these pictures. Also shown are Will Smith, Meryl Streep, Robert Redford, Samantha Mathis, and David Beckham. What's up with Beckham's outfit? Is it deliberately messy or is he just unable to dress himself when Posh isn't around?