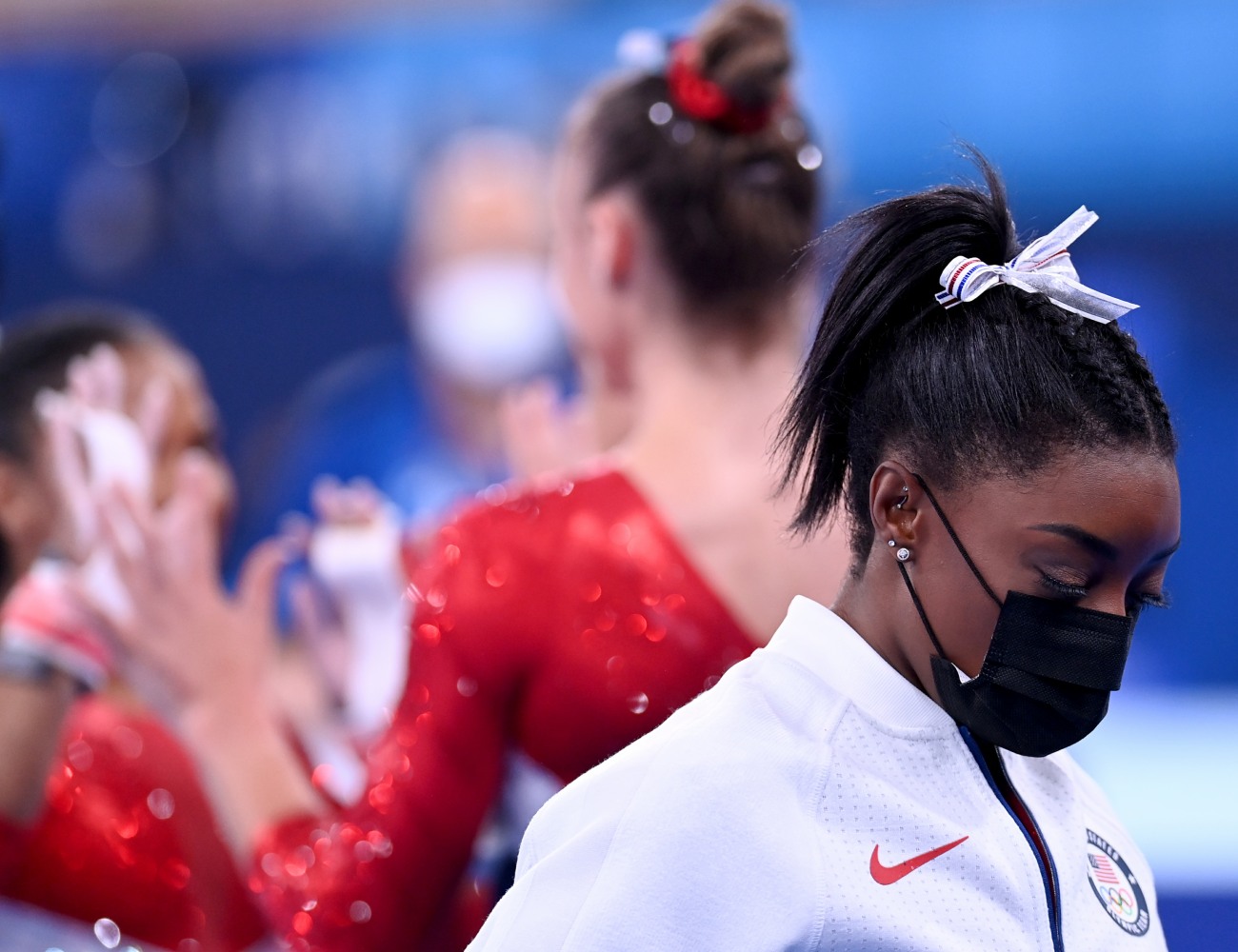 Whenever I watched the women's gymnastics in recent days, Simone Biles always looked like she had the weight of the world on her shoulders. She looked so stressed and unhappy and it definitely felt like there was some lowkey speculation about what was going on. By Tuesday morning here in the US (Tuesday evening in Tokyo), Simone had withdrawn from the group competition. In the first hour or so, there was some back-and-forth about what was happening until finally there was a consensus: Simone is struggling with her mental health. The other ladies on Team USA did their best to cover for Biles, who was/is their team leader and anchor in group competition. Team USA ended up winning silver – Russia (ROC) won gold, and Britain won bronze (Britain was thrilled with bronze).
After her withdrawal, Simone stayed on the floor and cheered on her teammates. Simone spoke to the press several times too over the course of the evening. Biles told Hoda Kotb on Today: "Physically, I feel good, I'm in shape. Emotionally, that kind of varies on the time and moment. Coming here to the Olympics and being the head star isn't an easy feat, so we're just trying to take it one day at a time and we'll see." Being the "head star" is a big part of it – she's not just the star and face of women's gymnastics, Simone is the star of American Olympic coverage, featured heavily on all of the promos. She also told Hoda that she isn't sure if she'll compete in the all-around and that "We're going to take it day by day, and we're just gonna see." In the team's press conference, she spoke at length about the emotional pressure she's been under :
In a surprise reversal of her Tokyo Olympic hopes, Simone Biles exited the women's gymnastics team final early on Tuesday night in Japan — after briefly leaving the competition floor following a botched showing on the vault, her first event. Speaking after the final ended, Biles said she was "okay, just dealing with some things internally which will get fixed out in the next couple of days."

Her choice was not connected to an injury, she said. Instead she described an almost overbearing amount of stress in the lead-up to Tuesday night. If she had continued to compete while under such pressure and as mentally off-kilter as she felt, she said, she worried she would have risked the squad's medal chances. She hoped to reset with a break from practice on Wednesday and she told reporters she planned to return for Thursday's all-around final, though she also said on Today that she was "going to take it day by day and we're just going to see."

In a statement to PEOPLE and other outlets, USA Gymnastics said during the event that Biles had "withdrawn from the team final competition due to a medical issue. She will be assessed daily to determine medical clearance for future competitions."

Biles, the reigning Olympic all-around champion and five-time medalist, initially left the floor with the team's medical trainer Marcia Faustin following her vault routine in the final, in which she bailed on her planned Amanar vault for an easier 1.5 twist and posted a 13.766. That was the lowest vault score of Biles' Olympics career, an event in which she had dominated for years — until now.
People made one point which really resonated with me, which is that if Simone's mentality was off in any way and she tried to force herself to compete, the worst case scenario could be paralysis, broken bones or some severe injury. This isn't a case of "what are you afraid of, losing?" If she tried to perform physically without her focus and mental strength, she could do irreparable damage to her body.
Simone's teammates Suni Lee, Jordan Chiles and Grace McCallum were apparently freaking out when she told them she was withdrawing. Simone told Hoda: "They were freaking out. They were like, crying, and I was like, 'You guys need to relax, you're going to be fine without me, go out there and kick some butt, just like we've done in training. And just lay it out on the floor and see what happens!' For me, I'm proud for how the girls stepped up and did what they had to do. I owe this to the girls, it has nothing to do with me. I am very proud of them."
After cheering for her teammates and doing press, Simone was evaluated once again by the on-site medical team, and she withdrew from the individual all-around competition "in order to focus on her mental health."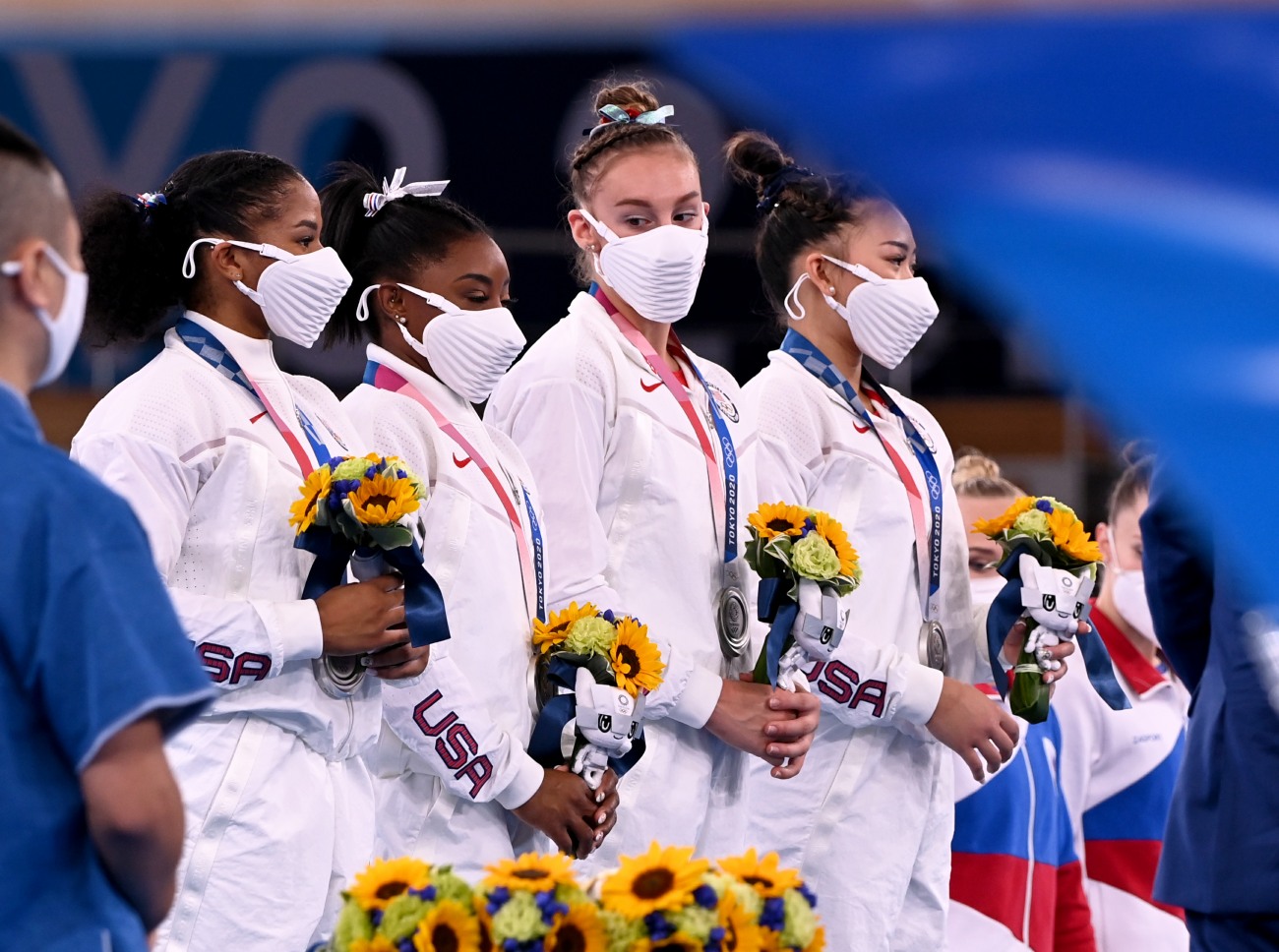 Photos courtesy of Getty, Avalon Red.