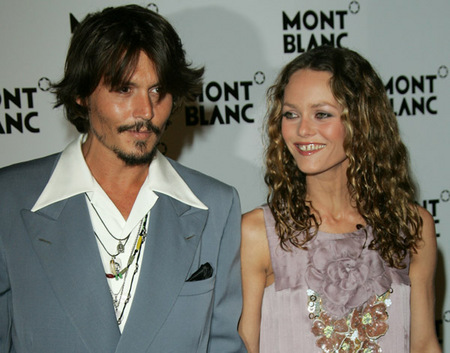 Johnny Depp has finally talked about his daughter Lily-Rose's hospitalization last year. She was rushed to the emergency room and nearly died according to many sources. Production was halted on the set of Depp's movie "Sweeny Todd" so that Depp could stay with his daughter. Though he and girlfriend Vanessa Paradis haven't officially disclosed what sent Lilly-Rose to the hospital, several sources said she was suffering from sent Lilly-Rose to the hospital, several sources said she was suffering from Lily-Rose blood poisoning after stepping on a rusty tack. Celebitchy noted: "According to In Touch's website (no permalink available) 'Blood poisoning… spread through her body and has affected her vital organs',' and one of her kidneys was failing, although that no longer seems to be the case. She is said to be doing much better now according to Johnny Depp's rep." Depp talked with Entertainment Weekly about nearly losing his daughter.
Johnny Depp says his 8-year-old daughter is now healthy and well following her hospitalization earlier this year. "Now every single millisecond is a mini-celebration," the 44-year-old actor tells Entertainment Weekly in its Nov. 9 issue. "Every time we get to breathe in and exhale is a huge victory. She pulled through beautifully, perfectly, with no lasting anything."

Lily-Rose, the daughter of Depp and French singer Vanessa Paradis, was admitted to a British hospital to receive treatment for an undisclosed ailment about three weeks after Depp started work on "Sweeney Todd: The Demon Barber of Fleet Street," Tim Burton's adaptation of the Stephen Sondheim musical about a murderous barber.

"To say it was the darkest moment, that's nothing," Depp tells the magazine. "It doesn't come close to describing it. Words are so small. But knowing that those people, Tim and the crew, shut down and stood by and waited … I didn't know if I was coming back. I remember talking with Tim, saying, `Maybe you need to recast.' Once we were given the all-clear, I had to dive back into the work," he says. "I had to get back in there for Tim."
[From the Associated Press]
It's great the Depp has his priorities straight. He knew the only thing that mattered was being there for his daughter, and understood that his work didn't really compare in importance. It's also great of Tim Burton not to have recast Depp's role. The early buzz on "Sweeny Todd" is that it will be great – but then again most Tim Burton stuff is. There was some gossip floating around for a while that Depp and Paradis were finally going to marry, nothing seems to have come of it. They seem to be a pretty secure family unit. It sounds like Lily-Rose has made a complete recovery, so congrats to them all.