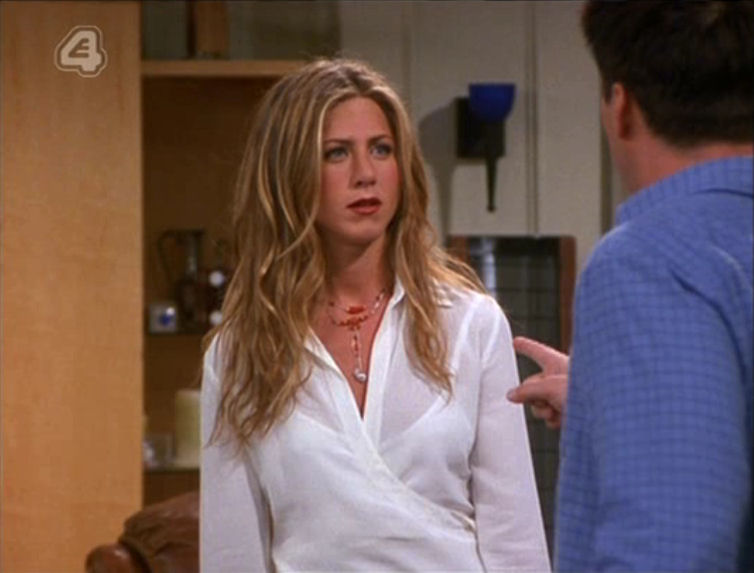 Rumors have resurfaced that a "Friends" movie, based on the hit NBC sitcom that ran for ten years, is in the works. "Friends" has been off the air for five years and it seems like we've been hearing stories of a big screen version ever since. Last year, The Daily Mail claimed that a Friends movie was forthcoming, and that it would be produced by Warner Brothers, a claim that Warner Brothers promptly denied. Now News of The World has a new interview with James Michael Tyler, who played cute bald barista Gunther at the show's coffee house, Central Perk. Tyler allegedly confirms that a film is underway, and that everyone has signed on, including presumed holdout Jennifer Aniston:
Hugs all round – because we can reveal that Friends is back for a big-screen version of the hit sitcom.

Studio bosses have got together for an oversized mug of coffee to prepare a script for a film version of the series.

And they are ready to break the bank with a multi-million package to get the main cast on board.

In an exclusive interview with the News of the World, James Michael Tyler – who played Central Perk oddball Gunther – confirmed: "Friends: The Movie is definitely on. I still keep in touch with a lot of the cast and they say that they are really keen."

The film comes in the wake of the big screen version of Sex And The City which took an astonishing $408,921,925 at the box office.

The cast have always made no secret about a desire to do a film and Lisa Kudrow said: "It would be so fun to be with all those people again.

"But our show was not like Sex and the City – ours was multi-camera, in front of a live audience.

"It's a completely different feel. You'd have to bring the tone down, and I don't know how it would be. I'll just stay open."

Meanwhile actor James, 47, who is in London for the launch of a Central Perk themed coffee shop in Soho, is keen to reprise his role as Gunther on the big screen.

He said: "The one thing I can tell you is that I am definitely on board to do the film.

"I really loved my time on the show and I am looking forward to meeting up with the old gang again.

"I just hope we can do justice to the show in a film."
[From News of The World]
Jennifer Aniston is just about the only castmember who seems busy and successful enough to want to avoid a film version of "Friends." She's been gracious to the show that helped launch her career but has said several times that she's moved on and doesn't want to do a movie. Aniston has her own production company and according to IMDB she has three films in post production and a whopping seven films in development. I doubt she has the time or inclination to remind us yet again how well she plays Rachel Green. Courtney Cox has a new sitcom, "Cougar Town," that premiered last week and is doing well in the ratings. (I saw it and thought it was goofy and trying too hard, but people seem to like it.) She isn't that booked and would probably gladly do a "Friends" movie. The other cast members, Lisa Kudrow, Matt LeBlanc, Matthew Perry, and David Schwimmer, have all kind of floundered in their careers post-"Friends" and would probably love to a do a film.
That said, it's possible that News of the World is either making this up (they've been known to fabricate entire interviews) or that they're twisting Tyler's words to make it sound like a movie is in the works when all he said was that he'd be open to it. It seems like all the latest films are based on old ideas and I wouldn't be surprised if this was in the works, but I won't believe it until I hear confirmation from a reliable source. "Friends" was a great show, though, and I would definitely go see the movie if this is true.
Images are random Friends screencaps, with some credit FriendsCafe.org