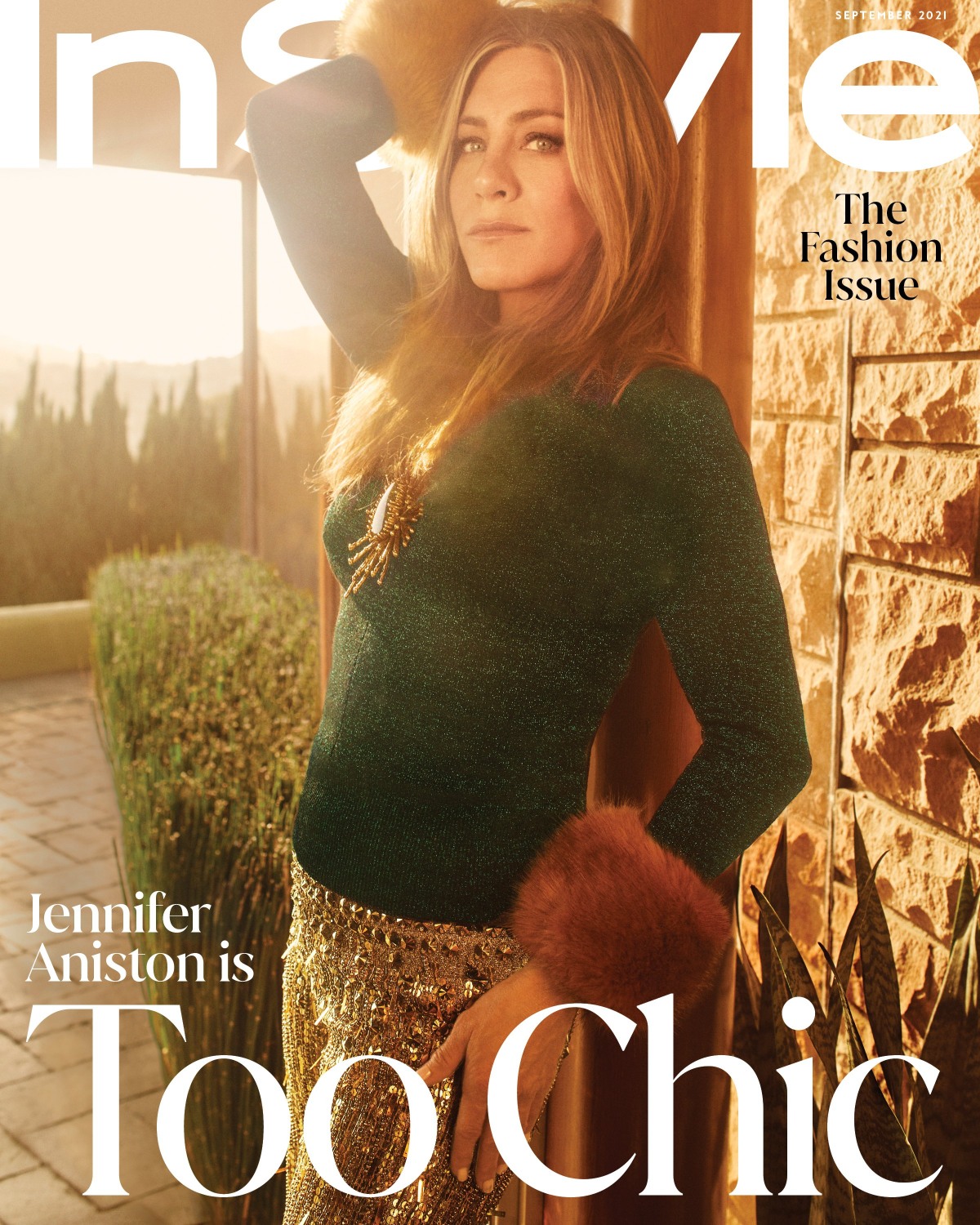 Jennifer Aniston covers the September issue of InStyle and the cover and editorial is somewhat disappointing. I would never expect Aniston to agree to some major haute couture moment, but the styling, decor, fashion and photography of this shoot is very '70s and not in a hip, mod way. At least the interview is pretty good though – Aniston is promoting the second season of The Morning Show, which they filmed during the height of the pandemic last winter and into spring. Jennifer talks about TMS, what she learned during the pandemic, and how anti-vaxxers are stupid a–holes (I'm paraphrasing!). Some highlights:
How she handled the pandemic: "There was so much good and so much horror all happening at once. For me, the good was a big decompression and an inventory of "What's it all about?" You and I, we like to work and be busy. Being idle is not preferable. It was important for those who were willing to let it be a reset to slowdown, take all of this in, reassess, reevaluate, and excavate. Literally cleaning out crap that we don't need. My level of anxiety has gone down by eliminating the unnecessary sort of fat in life that I had thought was necessary. Also realizing that you can't please everybody. And what good does that do if you're just little bits of yourself?

Doing press for TMS: "I call it the dog-and-pony show — traveling to do press junkets, red carpets, the shiny-penny things. Do people really need all that? The work is what I love to do. It's the promotion of it that creates some stress in me. You get, like, a second of what it is that you're promoting, and then the rest of it is salacious crap that you somehow got wrangled into talking about. There's a big appetite for that — and listen, I get it. But if you don't give it, then they make it up.

What she felt after the 'Friends' reunion: "That this is eternal. It's not just out there in the ether or on a television set you've passed by, but in our actual bodies — our DNA, our bloodstream, our cells. It was a unicorn of an experience. For whatever reason, we were all at the right place at the right time, and we created something that landed its little flag on a lot of people's hearts around the world.

Posing on the red carpet: "You know who I think masters the red carpet? J.Lo. I want to know what gives her the look like she's about to be seething. It's amazing. She's almost stuck getting mad at somebody, but she's just so gorgeous. She's like, "I can't believe I'm standing here." But I don't think she's trying; she fell out of bed that way. She's a performer.

Whether the '90s were amazing or whether that was when the media chewed up young women: "[They were] feeding on young, impressionable girls. Half of these kids started on The Mickey Mouse Club. I was lucky enough to be raised by a very strict mother. The priorities were not about becoming a famous person. It was, "Study your craft, learn what you're doing, don't just go out there and get lucky." I waitressed for years. I got a Bob's Big Boy commercial on my 900th commercial audition. I was doing theater on, like, Long Island. I think that [Spears's] group of girls as teens didn't have any kind of "Who am I?" They were being defined by this outside source. The media took advantage of that, capitalized on them, and it ultimately cost them their sanity. It's so heartbreaking.

How she stays open: "Therapy. A wonderful amount of trying to understand it. Also, being given examples of what I do not want to become, seeing people I love get lost and lose the plot. You can only help someone as much as they're willing to be helped. I believe that at the core of everyone, there is goodness. I've watched people in my life go through hardships and hold on to resentment that eats away [at them]. Forgiveness is not in their vocabulary. That's a real shame, because it's important to be able to forgive people. Certain things are unforgivable, and we can just put those in a little file. But there's room for people to grow and change.

What she eats when she's stressed: "A chip. Crunch, crunch, crunch. Usually [just one chip]. I'm good at that. I can have one M&M, one chip. I know, that's so annoying.

Her go-to drink: "A margarita — clean, no sugar — or a dirty martini. I only have two to three drinks, tops, and I don't do exotic. When someone asks, "Would you like a cranberry-coconut-cucumber-spiced or hibiscus whatever?" No, I would not. But when I moved into my house, a few people got me tequilas of the month as housewarming gifts. I have a cellar of all kinds of spirits — you could come here and probably order anything you wanted to.

On anti-vaxxers: "We all went through news fatigue, panic fatigue, during the pandemic because we were hoping one day we would wake up and hear something hopeful, and all we got was more insanity…. And there's still a large group of people who are anti-vaxxers or just don't listen to the facts. It's a real shame. I've just lost a few people in my weekly routine who have refused or did not disclose [whether or not they had been vaccinated], and it was unfortunate. I feel it's your moral and professional obligation to inform, since we're not all podded up and being tested every single day. It's tricky because everyone is entitled to their own opinion — but a lot of opinions don't feel based in anything except fear or propaganda.
She's right about the difference between her sense of self when she became famous in the mid-90s versus what happened to someone like Britney in the early '00s. It wasn't just timing, but age and experience had a lot to do with it. The Disney machinery defined them as kids and they never got a true sense of their own lives. Whereas someone like Aniston was already an adult when she got famous. Anyway, it's f–king bonkers that she can eat one potato chip or one M&M. Who does that? Also interesting that it sounds like she fired some people who refused to get vaccinated. Good for her.
Cover & IGs courtesy of InStyle.