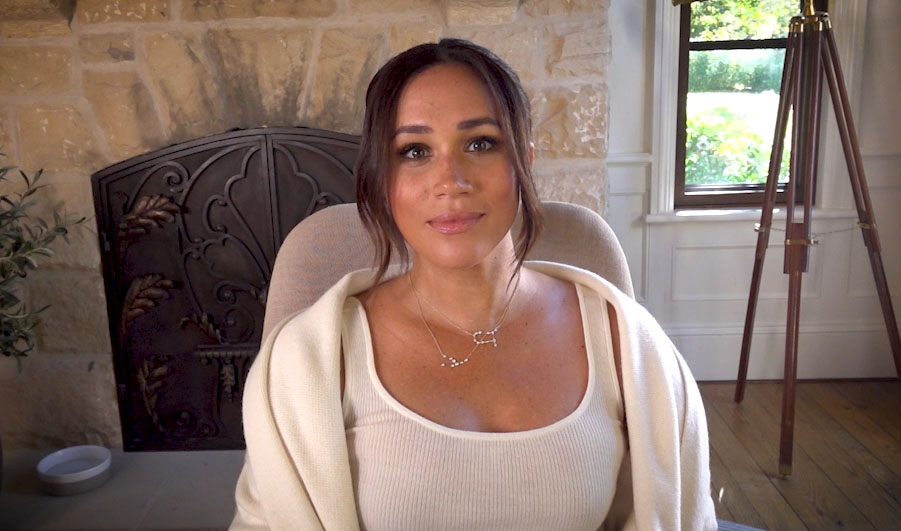 I recently saw a tweet from a Leo about how all Leos mind their business about non-Leos and I was like "that's not true at all." While my sign, Virgo, is arguably "the gossip sign" (we're in everybody's business), Leos are all about popularity and charisma. They're not tunnel-visioned at all. I'm not sure where I'm going with this other than talking about how the Duchess of Sussex is a Leo and she's married to a Virgo and they have a Taurus son and a Gemini daughter. This household is going to be utterly bonkers during Archie and Lili's teenage years. Meghan is quietly preparing for it by wearing jewelry with her children's constellations around her neck, in the Archewell birthday video.
Meghan Markle's two children are the real stars in her life. The Duchess of Sussex marked her 40th birthday on Wednesday by sharing a special video message on her and Prince Harry's Archewell website announcing her new 40×40 mentorship program. And for her first public appearance since giving birth to daughter Lilibet in June, she wore two diamond-studded jewelry pieces with sweet family ties.

Megan layered Logan Hollowell's Taurus Constellation Necklace ($1,600) — a nod to 2-year-old son Archie's astrological sign — with the Gemini Constellation Necklace ($1,785), in honor of 2-month-old Lili's. The LA jeweler uses recycled gold and ethically sourced gemstones in her work, making her delicate pieces an ideal pick for the sustainability-focused Duchess.

Megan's got plenty of other sentimental gems in her collection, including a diamond eternity band featuring her birthstone alongside Harry's and Archie's. She's also been spotted wearing a tiny gold "A" pendant in her son's honor, as well as zodiac necklaces adorned with Virgo and Taurus charms for Harry and Archie, respectively. She's also the proud owner of several of her late mother-in-law Princess Diana's precious pieces — among them the aquamarine ring she wore for her wedding reception in 2018, a pair of pretty butterfly earrings and the diamond tennis bracelet she chose for her bombshell interview with Oprah Winfrey in March.
The necklaces are pretty delicate-looking, which I think is just Meghan's style. She doesn't really seem to prefer chunky jewelry or big stones (other than the aquamarine ring). Anyway, I love that Meghan is into astrology. Of course she is! I wonder if she had her kids' charts done.
What else? The Daily Mail's coverage of Meghan's video is completely unhinged. The Mail has a new story about how Meghan did "a very woke video birthday message" filmed at her "£11million Montecito mansion." A talent manager told Closer/The DM that Meghan's 40th "will be the beginning of a huge decade for her – it'll be the start of building her business empire" and that Meghan is "looking to take Oprah's crown – which is ironic, considering she's given them a foothold in America." It just goes on and on like that. But the best part was the graphic, which I'm including below. Salty White Folk Isle has gone off the deep end about Meghan's stone fireplace, Hermes throw and dog bed.
The Daily Mail having another completely normal one as they obsessively detail minor items in a photo of someone's office to stir up outrage.

"Look! She's got a decorative glass bottle! And she's drinking ENGLISH tea! Who the fuck does she think she is?!?" pic.twitter.com/4pIje90ZGA

— Pointless Letters (@pointlesslettrs) August 4, 2021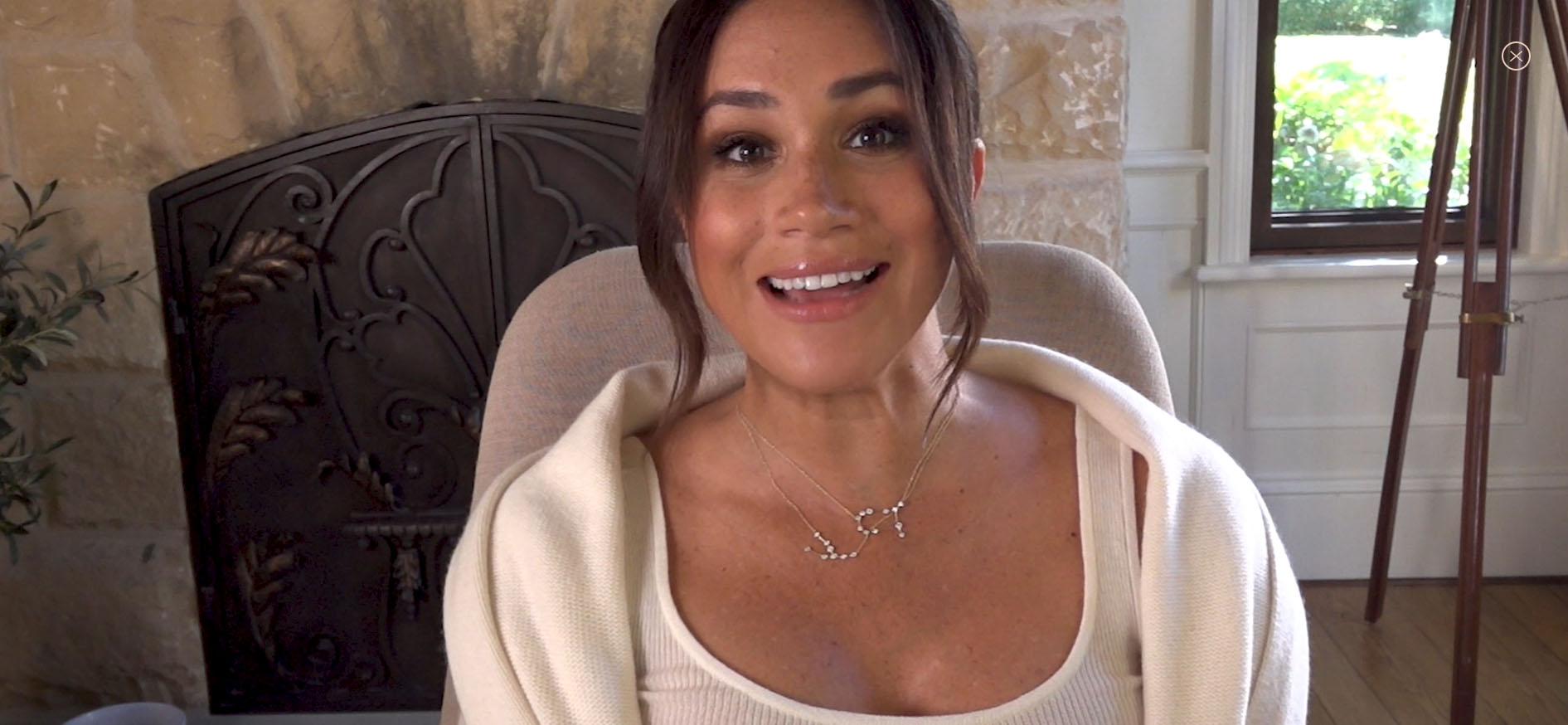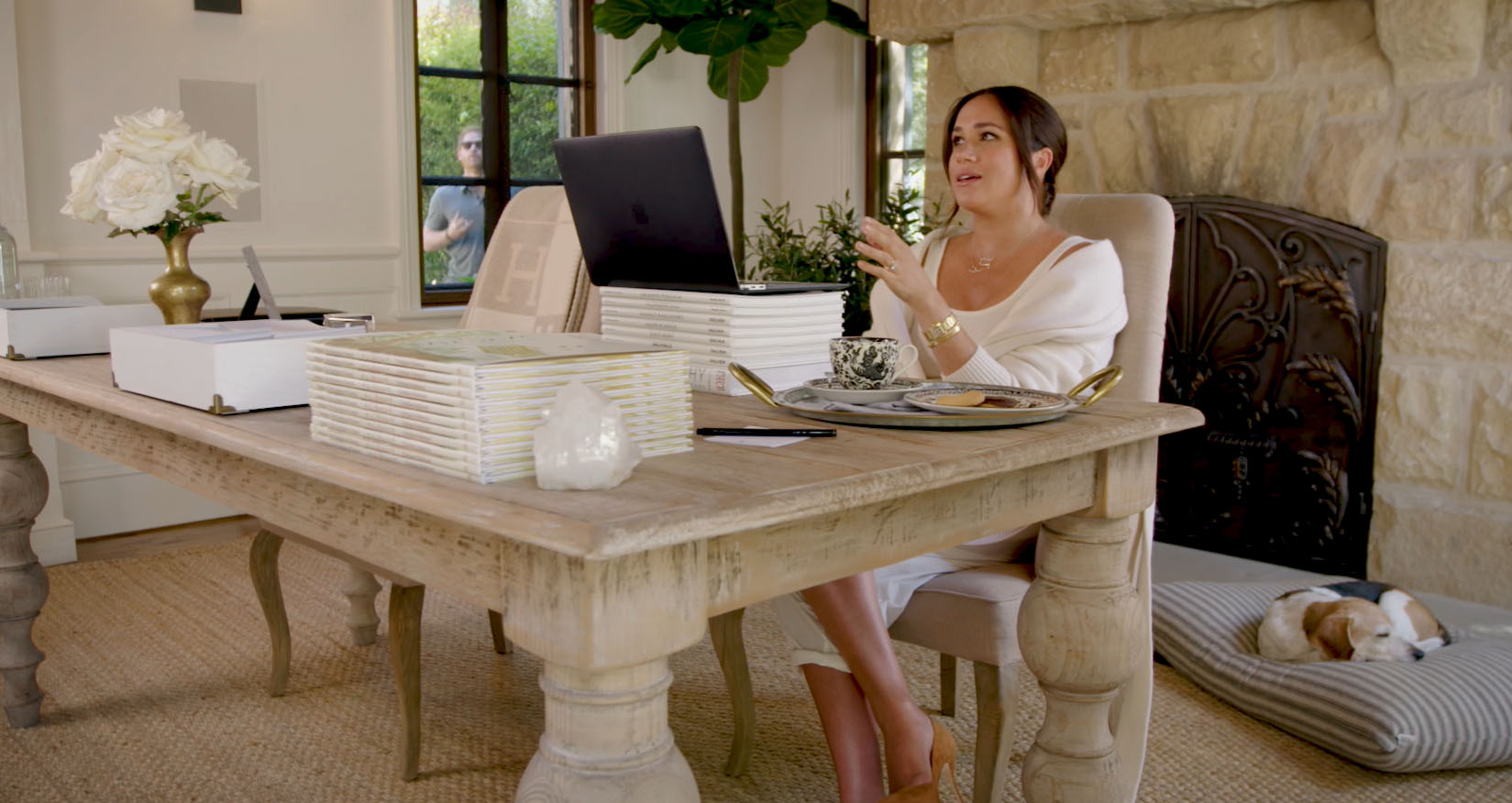 Photos courtesy of Archewell video screencaps.