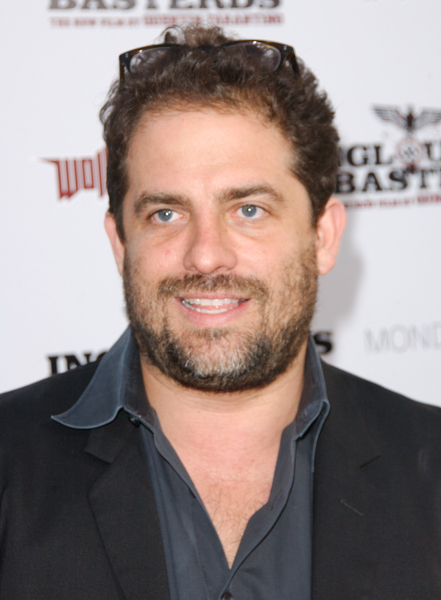 Director Brett Ratner (Rush Hour, X-Men: The Last Stand) recently filmed a segment as part of a collaborative movie of different shorts called New York, I Love You. Ratner's contribution involved the story of a young man losing his virginity to a paraplegic woman hanging from a tree. He seems to have presented it as an entirely consensual experience that takes place at the woman's reqest, and if done sensitively it could have been well received. The script was based on a real event in Ratner's life, but he said that the story line was too offensive for producers, who had it changed to a man having sex with a female actress pretending to be a paraplegic. Only Ratner used the term "cripple." Isn't that a derogatory, antiquated term?
Ratner also explained that when they filmed in Central Park they had to bring their own tree and fake grass because film crews aren't allowed to use any of the existing trees or tread on the grass.
Moviemaker Brett Ratner lost his virginity to a paraplegic dangling from a tree and now he has turned the sexual encounter into a scene in his latest film.

The director reveals his odd short, as part of new movie "New York I Love You," is based on a real episode during his youth in Miami, Florida.

But he had to tone down the sex scene in the movie – because producers couldn't stomach the idea of his lead actor, Anton Yelchin, making love to a tied-up paraplegic woman.

Ratner explains, "It's probably my most personal film. When I sent the original script, which is autobiographical, the producers would not let me film it because, in the original ending, she (the girl) is a cripple, and they have sex as she's hanging from a tree in Central Park. Everyone was freaking out over my short, so I changed it to where she wasn't a cripple, but an actress pretending to be a cripple."

In the disturbing scene, the girl, played by Olivia Thirlby, insists Ratner's character (Yelchin) makes love to her, while she is suspended from a tree.

The moviemaker relocated the scene to New York's Central Park and admits he had all kinds of problems shooting there.

He adds, "I had just two days to shoot the scene. I thought it would be easy because it was Central Park… I go into the park and I take the girl, and she weighs, like, 75 pounds and I hang her off the tree. The problem was that the law in Central Park states that you're not allowed to touch a tree if you're a film crew; you can't go near a tree. So they said, 'You can't do this, can you make it a pole?' I said, 'I can't, it has to be a tree.' They wouldn't even allow us to go on the grass. So, in the gravel part of the park, I put all this fake grass down and we had to bring in, believe it or not, our own tree that we flew in from upstate New York! We put that tree up and it was a nightmare because there were park rangers watching us making sure we weren't breaking the law. It was crazy."
In related Ratner news, he's planning to make a follow-up to the 2008 documentary by director Marina Zenovich, Roman Polanski: Wanted and Desired. Ratner is quoted by Page Six as saying that Polanski's recent arrest in Switzerland for the 1977 rape of a 13 year-old girl was influenced by a corrupt judicial system in LA:
"The family has forgiven [Polanski]. The victim has forgiven him. The rest of the world has forgiven him," said Ratner, who cast Polanski as a French detective in his movie "Rush Hour 3." "The LA judicial system is corrupt. It's horrible."
[From Page Six]
As much as I want to tie these two stories together, I will avoid jumping to any conclusions about why Ratner is on Polanski's side. My take on the Polanksi story is that if he served his time in 1978, and the 42 days in jail was what was originally agreed on in exchange for a guilty plea, then he should be let go. I don't think that 42 days is in any way a just sentence for his awful crime, but if he struck that deal, it should be honored. There are allegations of judicial misconduct in the case and the judge supposedly reneged on a plea deal. From what I've read the 42 days in jail was for a psychiatric evaluation, though, and he fled to France to escape being prosecuted for his crime. He raped a 13 year-old girl and no matter what happened in his personal life before that, he should face the consequences. If he was just another rapist who fled the country after a 1977 crime I doubt we would be so concerned about his rights. Polanski is now sitting in prison in Switzerland as US, Swiss, and French officials try to negotiate whether he will be extradited to the US to face charges.
Brett Ratner is shown on 8/10/09 at the Inglourious Basterds premiere. Credit: PRPhotos