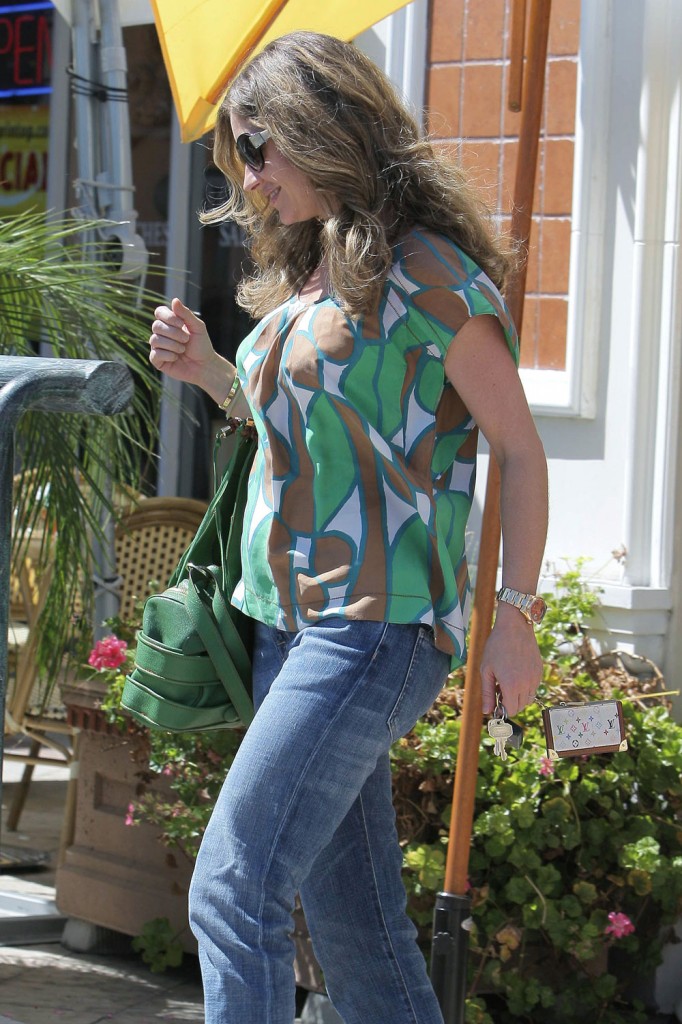 People Magazine is finally running the Rebecca Gayheart-is-knocked-up story, which basically means someone officially connected to Rebecca and Eric Dane okayed the release of the information. Which means Rebecca's pregnancy is official. I know, I know. Rebecca is barely B-list, but her husband is high B, perhaps even A-List (in the television world, because of Grey's Anatomy). This would be such a non-story if not for a few other significant events.
The rumors about Rebecca's pregnancy have been swirling for a while – almost as long as the minor scandal of the naked-hang-out tape with former beauty queen/maybe hooker Kari Ann Peniche. The other rumor swirling is that Rebecca is still on drugs. We already knowshe's still smoking. I hate to be a judgy bitch (that's a lie), but I find it revolting that she's still smoking. I don't judge smokers as a rule – but the exception I make is for dumb pregnant women who smoke in this day and age.
Out on a stroll in Los Angeles last weekend with husband Eric Dane, Rebecca Gayheart showed in public what the couple's close friends have known for some time: that she's expecting. In February, Dane, 37, told Ellen DeGeneres that he and Gayheart, 38, wanted a baby. "They're definitely happy," a source tells PEOPLE. "They've been trying for so long." Reps for the pair have not commented.
[From People]
Well, congratulations and God bless. A shiny new baby will solve any pesky little p.r. problems for the next year or so. Now Rebecca needs to quit the smokes, quit the drugs, quit the liquor and take her prenatal vitamins. Judging from the bump Rebecca's been sporting, my guess is that she's probably in her fourth month, but that is just a guess. I'm hoping this pregnancy actually makes Rebecca clean up her issues, and I hope mom and the baby are happy and healthy. Fingers crossed.
Rebecca Gayheart is shown out on 9/23 and 9/25/09. Credit: WENN.com