The Duchess of Cornwall stayed out of the overwhelming majority of royal Sussexit drama in the past two years. Camilla just did what she's always done: stayed loyal to Charles alone, kept quiet and didn't push a shady narrative in the press. She knows that Charles will not rest until British people "accept" Camilla as their Queen Consort, so she doesn't have to do much on that front. She's never publicly interfered with Harry and William's lives and she just seems like a woman who would rather be curled up at home with a bottle of wine, her dogs and her grandchildren. Recently, Charles let it be known that he was and is dreadfully worried that Harry would criticize Camilla in his memoir. It felt like that story came out of nowhere, because Harry and Meghan have never even mentioned Camilla once. But maybe, just maybe, she's trying to get ahead of… something. The Telegraph had an odd piece about how Camilla has won the heart of the nation, 50 years after she first met Charles. Via the Daily Beast:
The ever-loyal Telegraph makes a determined stab at arguing Camilla Parker Bowles has "finally won over the nation" citing as evidence of this remarkable rehabilitation data showing that she "is now the 10th most popular member of the royal family, with a higher approval rating than Harry and Meghan."

Another way of describing her position in YouGov's rankings would be "below Prince Edward and above Princess Beatrice." More prosaically, the polling firm says, she has a mere 36% popularity rating. This score is calculated, YouGov says, "by taking the proportion of people who view something positively and showing it as a percentage of all of the people who have given any opinion about that thing." So this means that…well, you do the math.

Intriguingly, for a woman so urgently in need of public understanding, she apparently has little for Meghan. One source tells the Telegraph: "I don't think the Duchess will ever forgive Meghan for what she's done to the Prince of Wales."
That quote didn't come out of nowhere – within the article, there was a discussion about how Camilla has been Charles' "rock" throughout his life, but especially in recent years when Chaz was dealing with the Sussexit. A source is quoted as saying "It was really hard for him" and then "I don't think the Duchess will ever forgive Meghan for what she's done to the Prince of Wales." Yes. Apparently, Meghan alone did something hurtful to Charles. And Camilla thinks she's in the position to cut off Meghan and never forgive her. Meanwhile, Meghan is like "Camilla who?"
Camilla appeared on a television show last Friday, Gardeners' World, where she showed off the garden at Highgrove. Charles was the one who mostly planned out the Highgrove garden, but I guess Camilla has put her stamp on it too, because she also loves to garden. She actually described gardening as "spiritual experience" and revealed her desire to build up her woodland garden and "have a proper wildflower meadow." Camilla also said: "I think gardens got people through Covid. They realised how special a garden was and what they could do with it, they could become inventive, even if they hadn't before they could start growing vegetables." I bet a lot of people enjoyed gardening during the pandemic.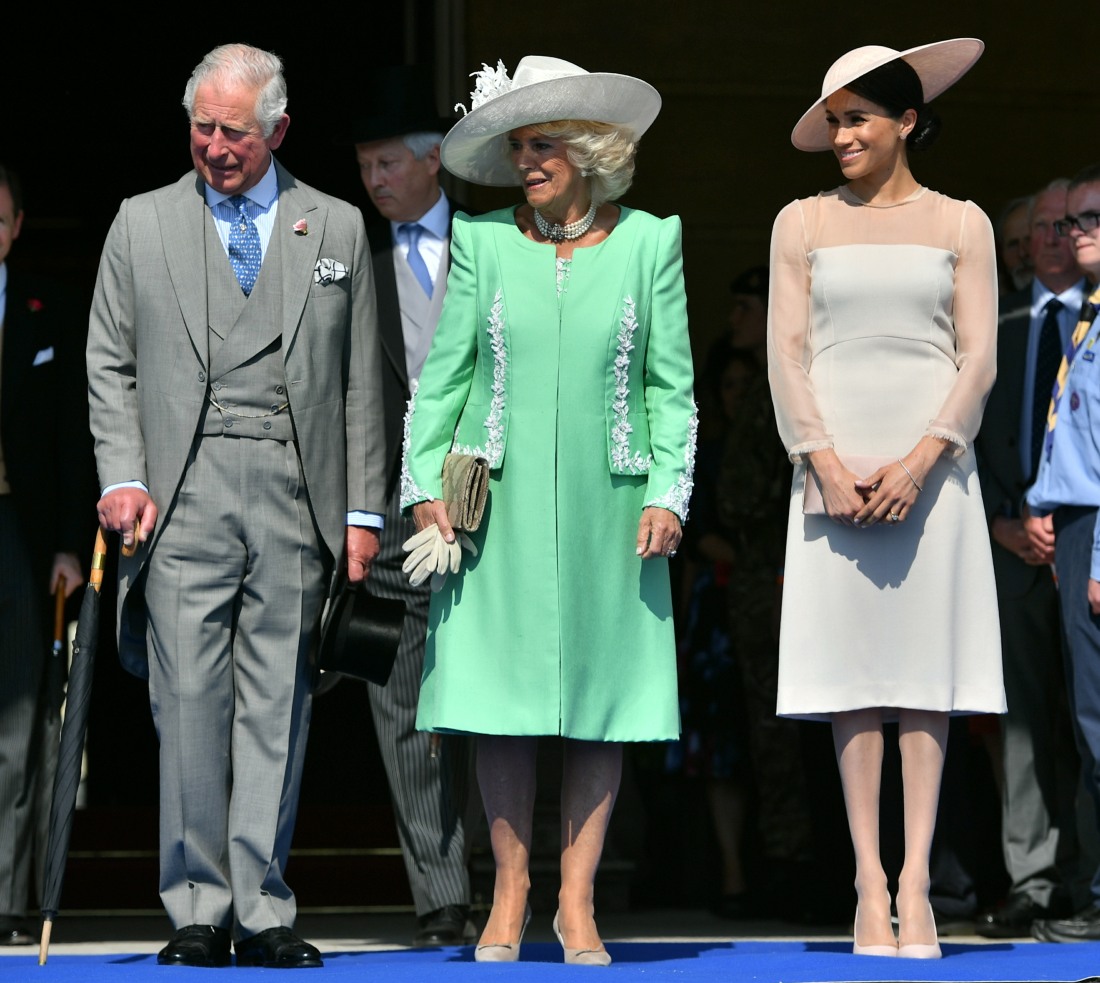 Photos courtesy of Avalon Red, Backgrid.