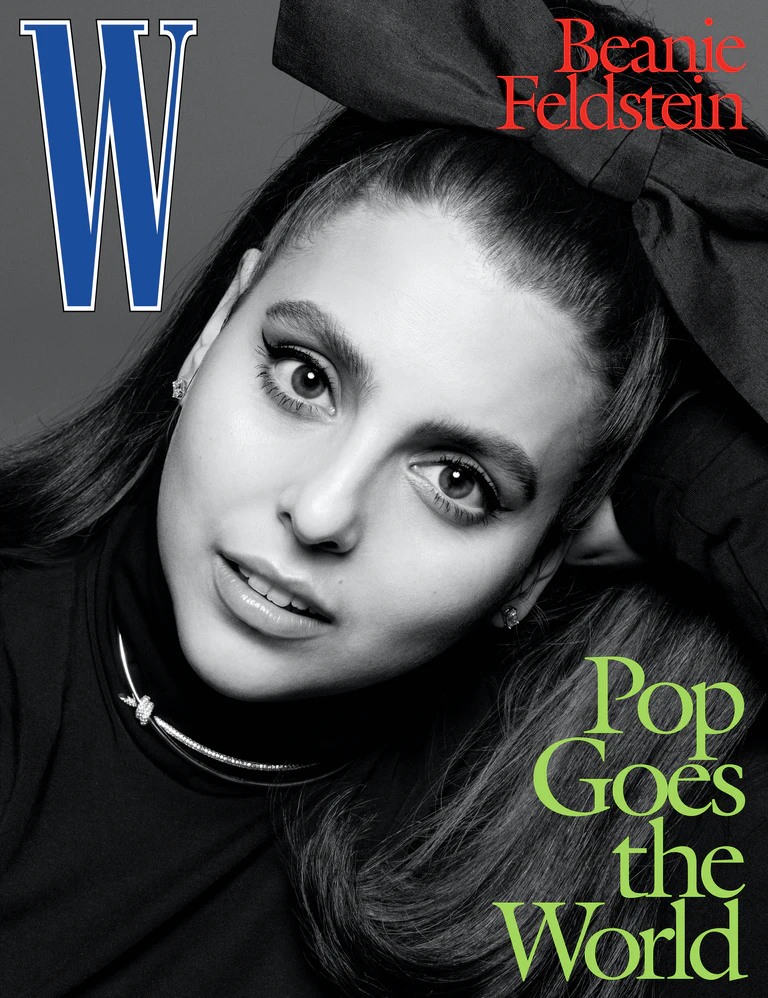 Beanie Feldstein covers the latest issue of W Magazine to promote American Crime Story: Impeachment, because I guess we need to endlessly relitigate President Bill Clinton's impeachment scandal yet again. It's been 23 years since Clinton was impeached, and it remains one of the stupidest political moments of my lifetime, especially given all of the bullsh-t that came after. The more I think about this series, the dumber I find it. Still, I hope it's well-done for Beanie's sake. It's not her fault the story is such a sh-tshow. Beanie plays Monica Lewinsky, and Lewinsky serves as a producer on the film, and Beanie got to meet Monica. Beanie feels very protective of Monica and her story, and so be it. You can read the full piece here. Some highlights:
The 2020 Oscars: "I was wearing a stunning dress that had a halter clasp at the neck… The gown had boning and a sort of shelf for the bust, but there was no bra involved. I'm all about representation, and I'm here to represent big, low-hanging Jewish breasts. The halter on the dress was struggling. It was hanging on for dear life. There was a countdown clock backstage, and there was a minute and 20 seconds left before I had to go on in front of an audience of millions. Next to me was the wall of Oscar statues that they were about to hand out to incredible people. I was nervous and accidentally stepped on the front hem of my dress, and with that step, the clasp gave way. At that point, there was 18 seconds to go. Luckily, someone backstage had a safety pin and reclasped me, but I almost flashed the entire world that night. The moral of this story is, I'm a busty, low-hanging Jewish girl, and you have to be who you are. Which means no more halters."

On Barbra Streisand: "My first celebrity crush was Barbra. My mom made me a leopard coat and hat, and I did a full photo shoot in my driveway. Actually, Jonah skateboarded through and knocked me down, so there are tons of pictures of me crying in my Funny Girl costume."

Her parents always supported their kids' showbiz dreams: "My parents were incredibly encouraging. And there are many years between us; when Jonah was coming up, I was, like, in geometry class."

Her partner is a woman: "I have two brothers and two nephews. While I love being with the boys, it's no wonder I ended up with a woman!"

Playing the Monica Lewinsky-Linda Tripp friendship: "As an actor, I've done a lot of stories about platonic romance. And when you're young, those relationships, usually between women, can be deeper than most sexual romances. As an actor, you dream of telling stories that mean something to you. And female friendship is very important to me."

Playing Monica: "I felt gutted by some of the things that Monica went through. My task is to be Monica's bodyguard—to put my body in front of hers. It's my job to portray her pain, because I feel so much for her. Monica and I are cut from the same cloth in so many ways. We're both Jewish girls from L.A. who listen to show tunes on the treadmill! But still, I never felt less in my comfort place than when I was playing Monica. Obviously, I'm queer, so I don't know if I'd flirt with the president, but who knows? When Clinton shined his light on you, there was no better feeling in the world. It wouldn't matter if you were male, female, nonbinary, queer. When that man put his spotlight on you, the world fell away. And if I was 22 and the most powerful person in the world focused his high beams on me, I would probably do the exact same thing as Monica."
I go back and forth all the time about Monica's age and what it meant. When I was that age, I would have been up for flirting with the president and I would have been absolutely dumb enough to have an affair with a married man and tell a friend every detail about it. But I do feel like too many people want to infantilize Monica, and maybe Monica wants to be infantilized. What happened to her was awful and there was so much misogyny and shaming. But she waltzed right into that affair and she wasn't a child. I don't know – that's something that worries me about this series too, that it will lean too heavily on Monica's narrative about how she was just a "kid" and she didn't have any agency.
Cover & IG courtesy of W Magazine.