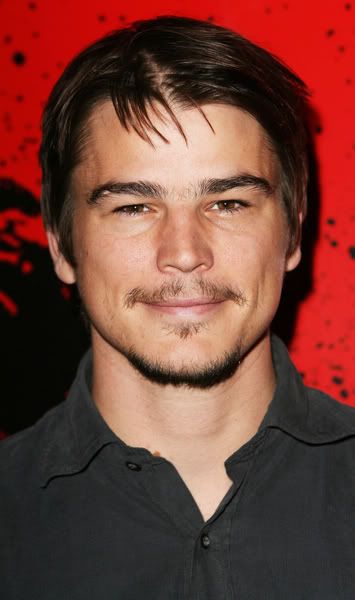 Josh Hartnett gave an interview to InTouch Magazine, in which he seems to suggest that long distance and jealousy were at work in his breakup with gorgeous fellow star Scarlett Johansson. He was pretty candid about the reasons the relationship didn't work and he pinned it on the other person without mentioning Scarlett by name. Josh also called himself "a normal guy from Minnesota" and says he doesn't deserve his sex-symbol status. He labels his earlier attitude "arrogant," and says that now he's just focusing on his work.
You've dated a lot of famous women – do you regret ending any of those relationships?
I try to be careful about walking away for good, but I've been in situations where dealing with the long-distance aspect of the relationship has destroyed the other person.

How was it destroyed?
Seeing their significant other in the arms of a beautiful actress is difficult. It's hard to be life, "Oh, that's just work." It is, but you're on location with this other person for months, so there's jealousy.

You've been acting for a decade. How have you changed?
In the beginning I was arrogant, but now I'm focused on trying to find the most unique material.

Did you enjoy making the vampire movie 30 Days of Night?
We had a great time. You have to have a light mood when you're shooting such an intense movie.

What was it like shooting the film so far away from home in New Zealand?
New Zealand is beautiful. I actually wanted to buy a plot of land there, but I got outbid!

Why would you rather live abroad or in your home state of Minnesota than in LA?
Because it's constantly about business in L.A. and I don't have just Hollywood friends. They're writers, painters, musicians and teachers, so we talk about different things.

How does it feel to be considered a sex symbol?
I'm just a normal guy from Minnesota who happens to have a pretty cool job. Don't get me wrong, I'm glad I have fans, but I've met other people who deserve to be sex symbols more than I do – or ever will!
[From InTouch, print edition, November 12, 2007]
He's not overtly harsh about the breakup he's talking about, but it sounds like he's saying it had everything to do with the other person's jealousy instead of a mutual issue they had. Note that he said "dealing with the long-distance aspect of the relationship… destroyed the other person" and he went on to say that "there's jealousy" and that "Seeing their significant other in the arms of a beautiful actress is difficult."
If that was my ex I would be annoyed that he was talking so much obvious smack about me, even if he didn't use my name. At least Hartnett is making progress in saying that he's not a sex symbol and that he was arrogant when he first started out, but he doesn't need to take so many digs at Scarlett – or whomever he's talking about here. Surely he had something to do with the demise of the relationship too.
Hartnett is rumored to be dating singer Rihanna after the two were seen out together, but they seem to be keeping it under wraps as much as possible, or it was just a fling.
Hartnett is shown on 10/23/07 at the 30 Days of Night screening in London, thanks to PRPhotos.