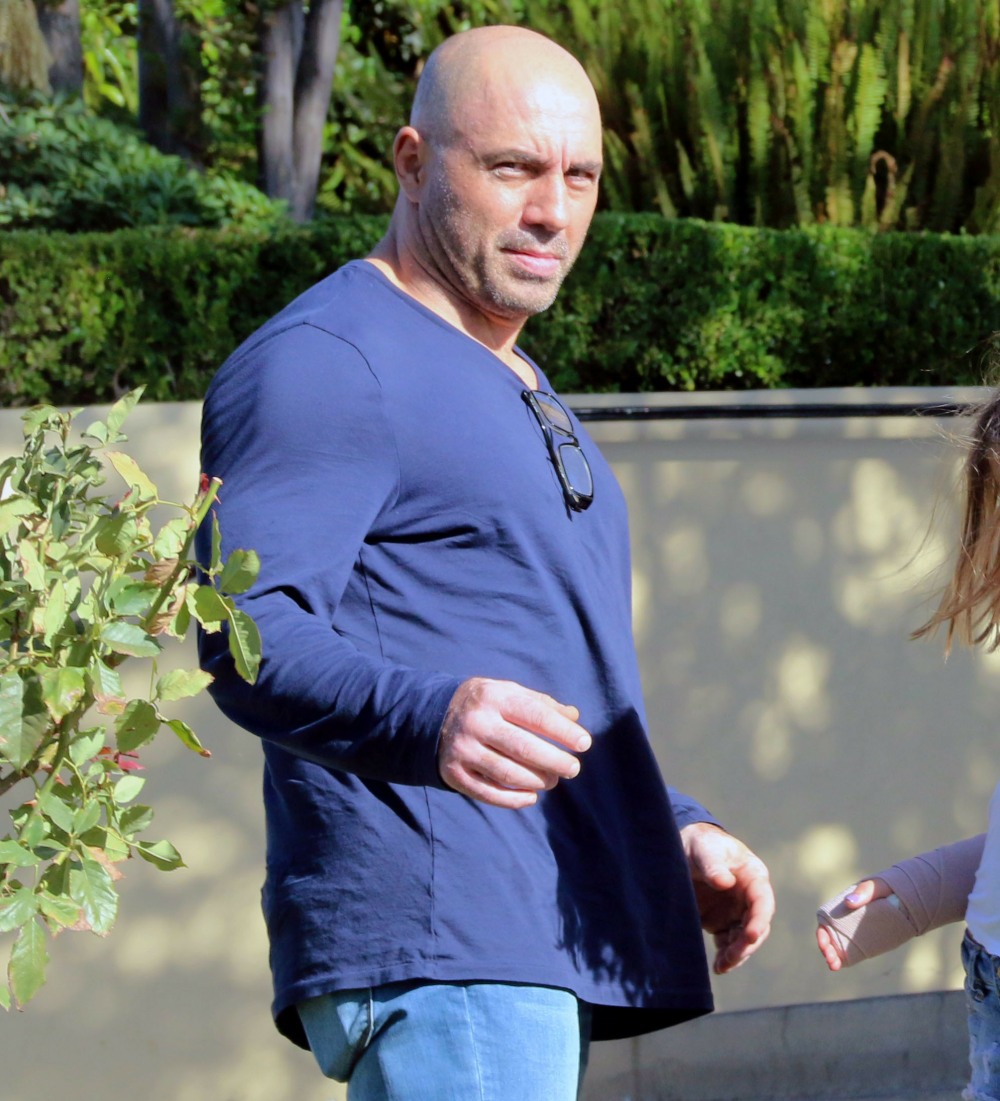 Joe Rogan is not really "anti-vaxx" and I wouldn't even put him in the "vaccine skeptic" category, although maybe I'm wrong about that. Rogan just has a somewhat brief history of saying stupid sh-t about Covid and vaccines, like back in April, he said that if you're healthy and young, you shouldn't "worry" about getting the vaccine. A day or two later, he said he's "not an anti-vaxx person" and that people shouldn't come to him for medical advice, which… fair enough. He has not confirmed whether he did get vaccinated, but he said something about how he was scheduled to get the Johnson & Johnson vaccine at some point. Anyway, I'm not trying to cape for Joe Rogan, I just think it's damning enough if we get specific about what he actually said. In any case, Joe Rogan has Covid. In his IG video confirming his diagnosis, he listed his treatments and wouldn't you know, dude is taking horse dewormer.
Joe Rogan, the host of the hugely popular podcast "The Joe Rogan Experience," said on Wednesday that he had tested positive for the coronavirus after he returned from a series of shows in Florida, where the virus is rampant.

Mr. Rogan, who was rebuked by federal officials last spring for suggesting on the podcast that young healthy people need not get Covid vaccinations, said that he started feeling sick on Saturday night after he returned from performing in Orlando, Tampa and Fort Lauderdale. He did not say whether he had been vaccinated.

"A wonderful heartfelt thank you to modern medicine for pulling me out of this so quickly and easily," he said. The list of treatments he mentioned included monoclonal antibodies, which have been shown to protect Covid patients at risk of becoming gravely ill; and prednisone, a steroid widely accepted as a Covid treatment. When Donald J. Trump was stricken with Covid during his presidency, he was also treated with monoclonal antibodies.

Mr. Rogan also said he had received a "vitamin drip" as well as ivermectin, a drug primarily used as a veterinary deworming agent. The Food and Drug Administration has warned Covid-19 patients against taking the drug, which has repeatedly been shown as ineffective for them in clinical trials. However, it is a popular subject on Facebook, Reddit and among some conservative talk show hosts, and some toxicologists have warned of a surge of reports of overexposure to the drug by those who obtain it from livestock supply stores.
Again, YOU ARE NOT A HORSE. If you are reading this, you are not a horse. Do not take horse dewormer. Do not go to your local feed store and buy a bottle of Ivermectin to treat Covid. Do not go to Florida! Do not seek medical treatment for Covid if you didn't bother to get the vaccine. Enough. Also: considering Rogan's symptoms, I kind of feel like he didn't actually get vaccinated?
Photos courtesy of Avalon Red.