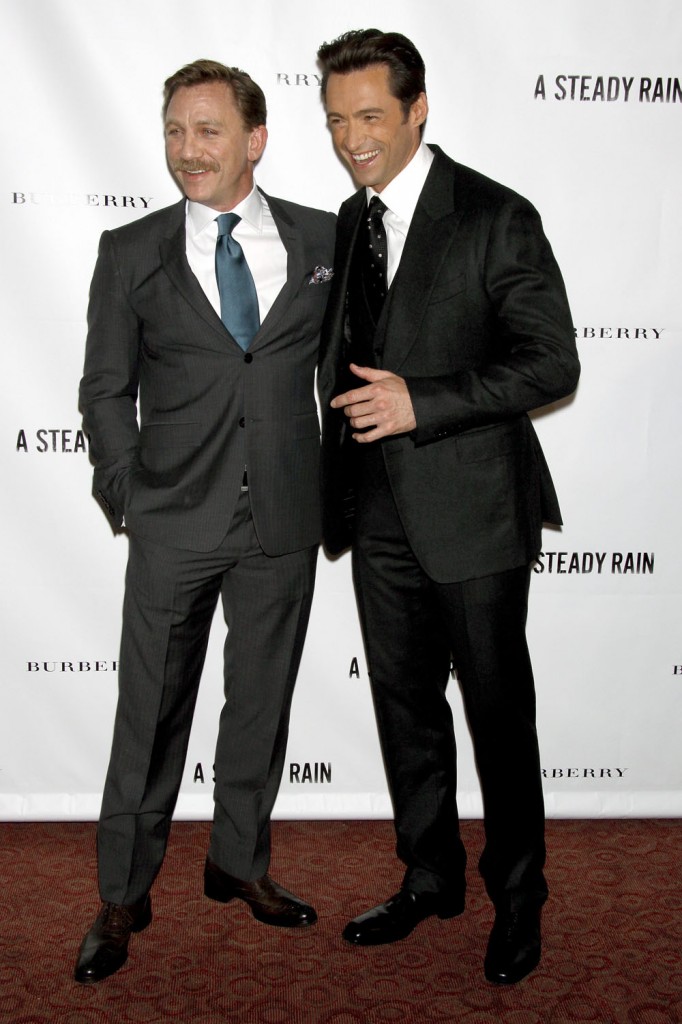 These are pictures from yesterday's photocall for the formal Broadway opening of A Steady Rain. The play has been open a week – which includes the performance that we talked about yesterday, with the jackass audience member and the ringing cell phone, that happened on one of their first performances. In the first week of the play, they broke the Broadway record for highest grossing non-musical show with $1,167,954 in ticket sales. The play runs until December 6, and I guess all of the tickets haven't been sold, so Daniel and Hugh have been brought out for some extra publicity.
When looking at Daniel Craig with that horrid mustache, the only thing playing in my mind jukebox is "I am the walrus, goo goo kachoo". While it's a pleasure to see that Daniel Craig is a real actor who can fight the hot for his art, I can't wait for Danny to shave that f-cker off. Although… something about the combination of the sketchy blonde mustache, a grey suit and a blue tie really makes Daniel's blue eyes even more piercing. I feel like The Walrus can see into my soul.
Meanwhile, Hugh is killing me in these pictures. He's got big diva hair and that big showman smile. He's so cute! It's like he's trying to overcompensate for the Grumpy Walrus. I swear, I'm looking through the pictures, and I can't find one picture of Daniel giving an actual smile. He seems to be smirking ironically in a few, but for the most part it's like he's wincing in pain. Is the mustache painful? It is to look at.
Meanwhile, A Steady Rain is getting solid to glowing reviews. The NYDN says that Hugh and Daniel "ooze confidence and charisma." Daniel and Hugh also seem to be pulling off their Chicago accents for the roles, which is a relief. I worried that they would sound weird. Daniel seems to be the favorite of the reviewers, the NYDN describing him as more impressive that Jackman, "as an ex-drunk sporting a '70s porn-star mustache, sad eyes and nervousness that masks a covetous, calculating side. His character's true nature emerges as the most interesting thing about the play." Hmm… do you think Daniel will end up with a Tony Award? That would be interesting.
Here's Daniel Craig and Hugh Jackman at the ppening night of 'A Steady Rain' at the Gerald Schoenfeld Theatre in New York City yesterday. Images thanks to WENN.com .