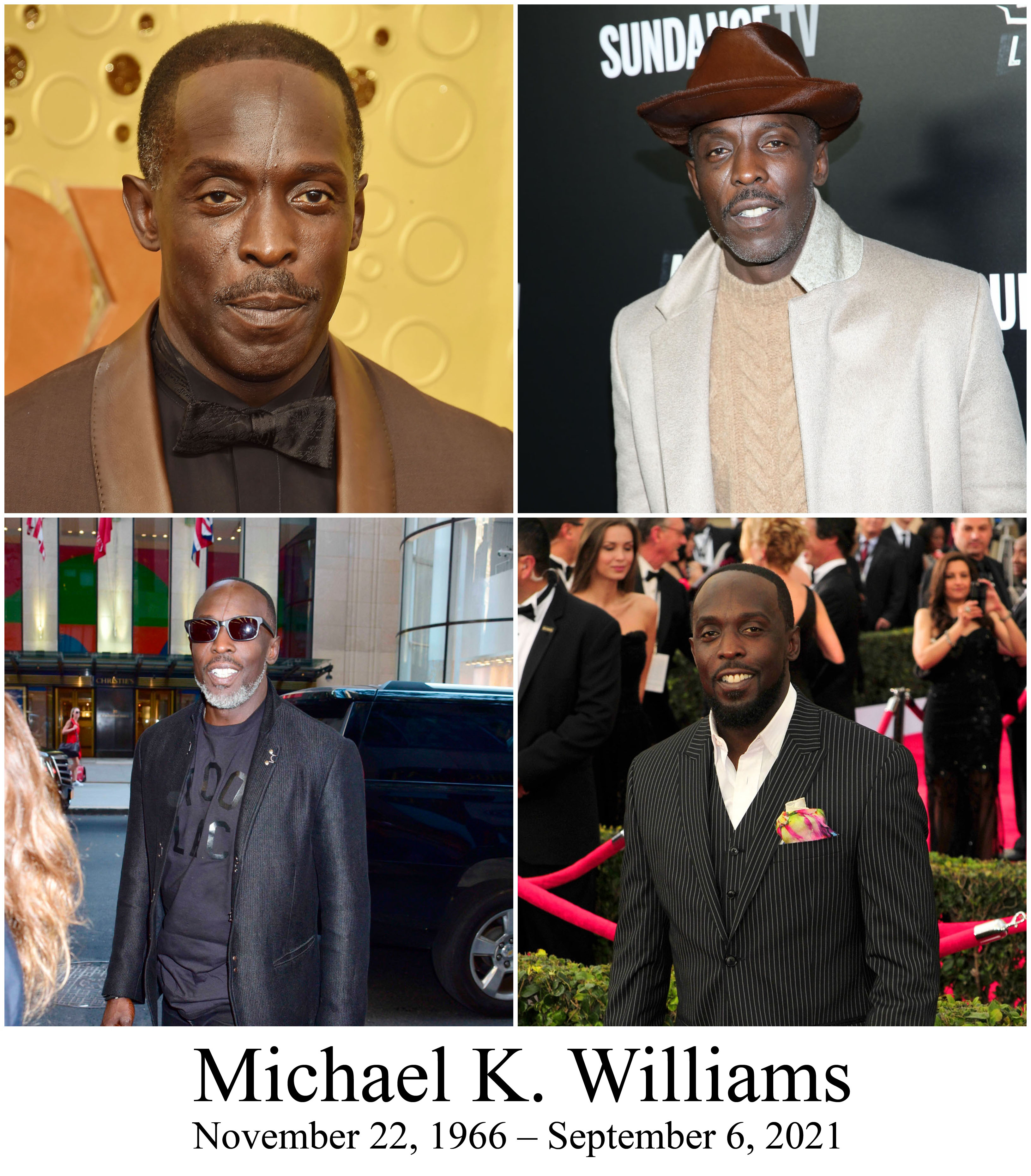 Michael K. Williams, one of the best character actors of all time, has died at just 54. Michael is up for an Emmy for his phenomenal performance in Montrose in Lovecraft Country. It is his fifth nomination. He's known for playing deep, complex characters in The Wire, Boardwalk Empire and When They See Us. So many fans and colleagues are mourning and celebrating the death of this phenomenal man. Tributes are coming from people who worked with him, who knew and loved him, who met him at a party and felt heard, who danced with him, and who were touched by his work. Here is a brief writeup on his passing, from CNN.
Michael K. Williams, an actor best known for his role as Omar Little on HBO's "The Wire," has died. He was 54.

Williams was found dead in his New York City apartment Monday afternoon, a law enforcement official told CNN.

Investigators found drug paraphernalia near his body, the official said. The investigation is ongoing, according to another law enforcement source who spoke to CNN.

"It is with deep sorrow that the family announces the passing of Emmy nominated actor Michael Kenneth Williams. They ask for your privacy while grieving this unsurmountable loss," his long-time rep Marianna Shafran of Shafran PR told The Hollywood Reporter.

CNN has contacted representatives of Williams for comment.

In a 2017 interview with the New York Times, Williams spoke openly about his struggles with substance abuse.

"Addiction doesn't go away," he said at the time. "It's an everyday struggle for me, but I'm fighting."

Williams, a Brooklyn native, most recently appeared in HBO's "Lovecraft Country" and the series "F Is for Family."

He became an almost iconic figure for many thanks to his role in "The Wire" as Omar Little, a shotgun-wielding character who made his living robbing drug dealers. He followed that up as a mobster in the HBO Prohibition-era mob drama "Boardwalk Empire," and most recently earned an Emmy nomination for another series on the pay network, the macabre "Lovecraft Country."
Williams was next slated to co-star in Sony's George Foreman biopic from George Tillman Jr., who was set to direct.
[From CNN]
Last month I saw a video interview with Williams that was so unlike any celebrity interview I'd seen. He spoke from home with Gold Derby, the awards show podcast, about how playing Montrose in Lovecraft Country made him relive his childhood trauma. He was open and honest about the pain he was going through and said he was in therapy to work on it. It wasn't like the interviewer was particularly skilled at getting people to open up, it was more like Williams was ready to talk and that he was just a genuinely vulnerable person.
After Williams passed, I learned so much about his life and career. He started out as a dancer in New York City, he was inspired by Janet Jackson's "Rhythm Nation" video to pursue dancing, and he choreographed Crystal Waters' 1994 video for "100% Pure Love." He went on to dance for Madonna and George Michael along with trying out for roles in New York. He was eventually discovered by Tupac, who put him in his first acting role in his 1996 film, Bullet.
I've never been so upset by a celebrity taken so soon before their time. Michael brought such emotion and depth to his roles that I felt like I knew him. This is a huge loss and our hearts go out to his friends and family.
Here's an interview with Queen Latifah. Williams and Queen Latifah knew each other before their careers took off and he tells her that she inspired him to become a dancer.

This is it. The definitive Michael K Williams take

— Germinator (@johngermany) September 6, 2021
Let's really talk about range. This was Michael K Williams dancing to house the other day in the city. A man of many talents. https://t.co/50Hctyz6U6 pic.twitter.com/zSS7GduYYv

— Queer Latifah 🌹 (@BougieBlackness) October 22, 2020
before omar little, before chalky white, before montrose freeman… i want to remember michael k. williams through the element of dance in which he was so incredibly amazing at & brought smiles upon so many faces, rest in power brother 🤎 pic.twitter.com/qFpGo7txZz

— the fully vaccinated vandal. (@_arqiteqt) September 6, 2021
Michael K Williams – Typecast. He was so goodpic.twitter.com/FY1j6jeZK4

— Warsame (@ice_warsame) September 6, 2021