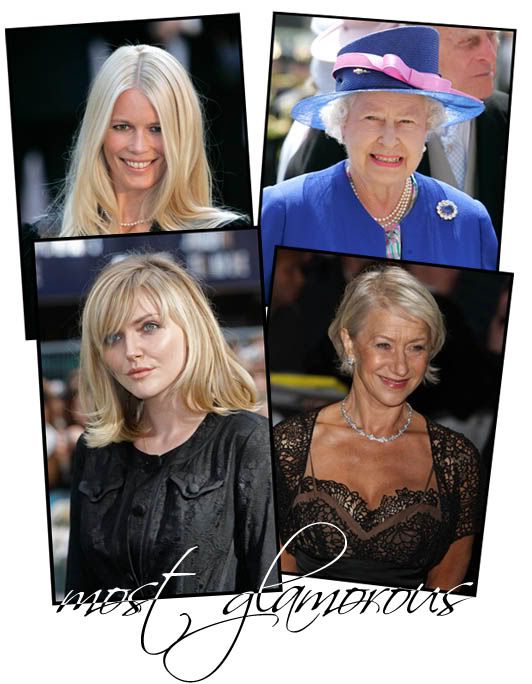 Glamour is defined as being "fascination, charisma, beauty, or sexual attraction". All of which sound like a pretty good way to be described, particularly in relation to your physical appearance.
So getting named one of Vogue's most glamorous women has got to be a feather in your cap (feather's in caps? This is going to be a great look for fall!). Vogue UK's December issue has picked fifty stylish women for the Definitive List of Today's Glamorous Women.
Included is the Queen of England, who I have to admit is definitely always looking fabulous, and it isn't part of her job description. All she had to do was be born into the appropriate family, no style required. Not bad for someone no less than 81 years of age! Helen Mirren, also included on the list, said of her costumes for her role in The Queen: "Here were tweed skirts and sensible brown shoes, Hermès and Barbour," she wrote of the creations of designer, Consolata Boyle. "I thought I'd never be able to understand this woman.". Of course, since the death of Diana (the time period portrayed in the film) Her Majesty has had something of a style makeover.
Looking good is part of the job for another lady on the list, Kate Moss, and I wonder if she deserves to be on the list? Kate's had a bad style year, mostly because of her favourite accessory Pete Doherty. Still, not many people could look cute covered in glastonbury mud, but Kate did pull that look off.
Here's the full list of Today's Glam Women:
Dame Helen Mirren; Claudia Schiffer; Jemima Khan; Sophie Dahl; Natalie Massenet; Isabella Anstruther-Gough-Calthorpe; Sadie Coles; Vanessa Redgrave; Rosamund Pike; Poppy and Chloe Delevingne; Zadie Smith; Zaha Hadid; Lady Isabella Cawdor; Daisy Lowe; Susanna Chancellor; Coco Rocha; Rebekah Wade; Tamara Mellon; Stella Tennant; the Dowager Duchess of Devonshire; Daphne Guinness; Natalia Vodianova; Sam Taylor-Wood; Mary Charteris; Luella Bartley; Charlotte Rampling; Plum Sykes; Lady Antonia Fraser; Naomi Campbell; Stella McCartney; Polly Samson; Ruth Rogers; Princess Rosario Saxe-Coburg; Dame Vivien Duffield; Gael Boglione; Phoebe Philo; Olivia Wilde; Lily Donaldson; Susanne Kapoor; Charlotte Stockdale; Sabrina Guinness; Lady Helen Taylor; Jasmine Guinness; Sheherazade Goldsmith; Honor Fraser; Charlotte Casiraghi; Andrea and Alice Dellal; Marina Palma; Kate Moss; Sally Albemarle; Lady Amanda Harlech; the Queen; Alice Temperley; Caroline Michel; Sophia Hesketh
Some of these people I've never heard of, but I'm kind of glad. Anyone can shove a picture of Charlize Theron at the Oscars, impeccably groomed for many hours beforehand, and tell us she looks fabulous. It takes a real style queen to recognize that the Queen is not only well presented, but also fascinating and charismatic. Maybe that's why Anna Wintour, Queen of the dull haircut and sour expression, is allowed to decide what's stylish.
Picture note by Celebitchy: Helen Mirren is shown at the National Movie Awards on 9/28/07. Claudia Schiffer is shown at the Stardust London premiere on 10/3/07. Vanessa Redgrave is shown at a photocall for White Countess on 2/8/06. Queen Elizabeth is shown at Epsom Downs Racetrack on 6/2/07. Sophie Dahl is shown at the Harry Potter and the Order of the Phoenix premiere on 7/3/07 and at The Golden Age Of Couture VIP Gala on 9/18/07. Kate Moss is shown with James Brown (not that one) at the James Brown London Haircare Range launch at 10/10/07. She does look rather glamorous there, I love that pantsuit! Thanks to PRPhotos for these pictures.