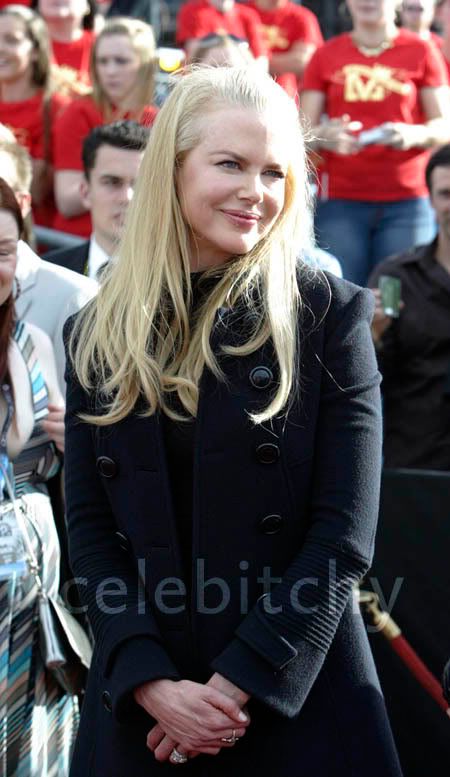 Nicole Kidman insists that she hasn't had plastic surgery. Excuse me while I snicker at the fact that her face doesn't move while she says this. At first I gave her the benefit of the doubt, because botox isn't technically surgery, but she also says there's nothing in her face.
To be honest, I am completely natural," Kidman tells Marie Claire magazine. "I have nothing in my face or anything," she says. "I wear sunscreen, and I don't smoke. I take care of myself. And I'm very proud to say that."
Melbourne Herald Sun
Well Nic, there's no expression in your unnaturally smooth face, if that's what you mean by nothing in it.
Actually, given that Nicole may have been the most freckled redhead in the Australia at the start of her career, maybe she has kept out of the sun. After all, once you get freckles removed you have to stay out of the sun to keep them at bay.
Nic doesn't have a problem with plastic surgery, adding that "Anybody can do anything to themselves, their bodies".
Nicole also says that falling in love is her best beauty secret. Nicole did look pretty amazing at the Australian Record Industry Association Awards, at her husband's side in a see-through mini dress. It was great to see her supporting her lower profile partner, who won the award for Best Country Album, and dedicated it to her.
Picture note by Celebitchy: Nicole Kidman is shown on 10/28/07 at the ARIA (Australian Recording Industry Association) Awards in Sydney. The woman she is posing with is Australian singer Delta Goodrem. She is also shown at the UN Development Fund For Women's Unifem White Tie Dinner on 8/1/07. Thanks to WENN.