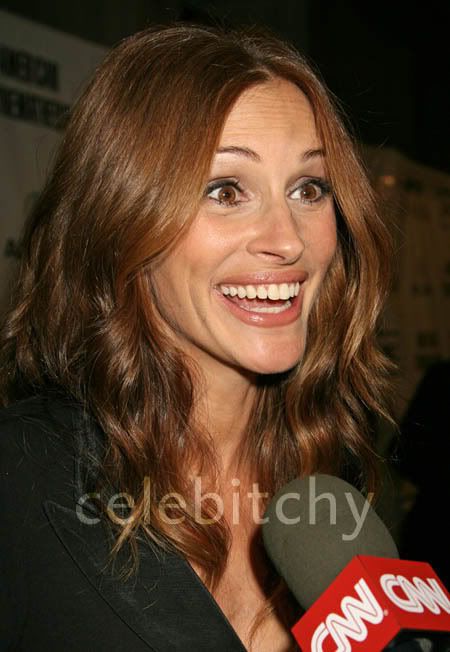 Julia Roberts has a new interview in the December issue of Variety Magazine in which she reveals a desire to be an organic supermom who grows and makes all her own food and does as many crafts as she can fit into a day with as little impact on the environment as possible. I would rather make an entire website than fold the laundry, so I guess I'm not one to talk, but it sounds like you would need a lot of your kid's Ritalin to accomplish the goals she's setting for herself:
NEW YORK, N.Y.–In a joint interview with Vanity Fair features editor Jane Sarkin and V.F. West Coast editor Krista Smith, Julia Roberts says that, at age 40, her dream is to be "a highly fulfilled and productive stay-at-home mom and wife. The highest high would be growing our food that I then make, and then composting and growing more–that kind of circle."

Roberts says having her own creative outlet is important, "even if it's just silly needlework and stuff like that. To have that high-functioning fulfillment, and to have that radiate into my children so that I'm there with them, I'm connected with them, and I'm with Danny [Moder, her husband] and we're all together, and yet my motor is revving."
[From The Huffington Post]
I understand what she's saying, because when you're busy and fulfilled you find more meaning in your everyday activities. She's richer than sin, so it's probably important for her to have standards for herself so she doesn't end up shopping and lazing around all day. What better way to spend time than doing things for your family? And good for Julia for caring about the environment and being conscious of her family's footprint.
Roberts also calls the media attention on young celebrities "grotesque… like a circus sideshow," and says that if her children want to go into show business she will try to give them as normal a life as possible, like Natalie Portman managed to have.
Roberts says she wants to mother Britney, because that's how she seems to solve everything in her house. If only she could supervise all the young celebrities and get them knitting and composting as a viable alternative to partying. That's a reality show in the making right there.
She spoke candidly about the paparazzi encroaching onto celebrities' personal space and said there's no reason for people to want pictures of celebrities' children except to say that they're cute. She said that we're all pretty much the same and seemed to suggest that it's not fair that celebrities are held under the spotlight and judged:
THE FRENZY SURROUNDING TODAY'S YOUNG CELEBRITIES:
"I think it's just grotesque. It's like a circus sideshow. I don't know why anybody would even want to go into show business these days, with all of the different magazines and shows. It just wouldn't be worth it. And it's too fast. Before, you could build a career over years and many movies. Now it's like you do one good movie and they throw a ton of money at you and a ton of attention at you. You're being constructed outside of yourself before you even know who you are, and what you are, and how you want to do it, and why you want to do it."
…
"I see and hear what's happening to Britney Spears and it's all I can do not to move her into my guest-house and say, 'OK, this is how it's going to be!' And just take care of her."

PAPARAZZI TAKING PHOTOS OF CELEBRITIES' CHILDREN:
"I just feel like it's so demeaning the way they behave, and I hate the fact that I even put any of my energy into thinking about it or being stressed about it. And really, more than anything, it just has to do with my kids. There's no reason to take pictures of celebrities' children other than for people to say, "Oh, they're cute." I think magazines shouldn't run pictures of people's kids. I have a problem with that. I also have a problem with the whole notion that, if I have Henry in a sling, I'm hiding him. He's a baby and I'm carrying him around, and so's the lady across the street. I get pissed off, because I think that it's inhuman to chase a woman with her children."

CELEBRITIES ARE JUST NORMAL PEOPLE:
"We're all the same. Why can't we get on board with this? That we're all the same. Some have cooler jobs, some have less cool jobs, some have longer legs, some are nicer people, but we're all the same. We're all orbiting the same sun."
[From The Huffington Post]
Roberts said that she's done having kids for now, and that three are enough. When she's working so hard on her family and their well being, you can see how she can get worn out with three little ones in the house. She is mom to twins Hazel and Phinnaeus, who turn three at the end of this month, and little Henry, who is just five months.
I like Julia Roberts' attitude and she's certainly managed to stay sane and out of the spotlight for a while. Like Angelina, she's not exactly innocent when it comes to how she snared her current mate, but she seems to have moved on in her life and to be focused on what's important, and she reminds us that we should be, too.
Julia Roberts is shown on 10/12/07 at American Cinematheque's 2007 Award Show, where she was honored for her achievements. Thanks to Splash News.