Nicole Richie seems to have postponed her planned wedding to boyfriend Joel Madden until after their baby is born in January. There were reports that she was going to marry Joel sometime this month, but it seems like they are going to wait as we haven't heard much more about it.
This weeks' National Enquirer claims that Nicole's dad, Lionel Richie, told her to hold off getting married until after she had the baby. He's also said to have promised to foot the entire bill:
[Nicole Richie's dad] Lionel Richie keeps advising his fragile princess to postpone the wedding, avoid all the nuptual frenzy and just chill! Said a family insider: "Lionel doesn't think Nicole can handle the stress, and told her: 'Baby, in life it's first things first!'" Knowing Nicole's vulnerable and worried about delivering a healthy baby, Lionel's assured her that as Father of The Bride, he'll spend big bucks for a spectacular wedding whenever she wants it – but right now, he wants her to focus solely on the birth.
[From The National Enquirer, print edition, Mike Walker's column, November 12, 2007]
Nicole may be waiting to get married on the advice of her family, but she's still preparing for the ceremony in little ways. Star Magazine reports that Nicole purchased costumes for her little dogs including a tuxedo for her Shih tzu, Honeychild, and a bridesmaid dress for Foxxy Cleopatra, her Pomeranian. That's kind of cheesy, but it could also be cute: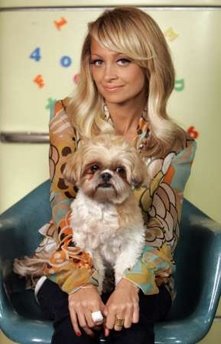 [Nicole Richie] recently bought a canine tuxedo for her mutt, Honeychild, and a bridesmaid dress for her Pomeranian, Foxxy Cleopatra, from tony Santa Monica pet store The Wagging Tail. She wants the pooches to walk down the aisle with her when she weds her baby daddy.
[From Star Magazine, print edition, November 12, 2007]
Maybe the outfits were for Halloween, but since they could also serve as doggie wedding attire, it does sound like she's planning for her pets to walk down the aisle with her. At least she has a soft spot for her animals considering how nasty and cold she's rumored to be. Hopefully she'll feel that way about her baby, too
Nicole Richie is shown in the header image on 10/30/07 shopping. Thanks to Splash News for this picture. She is seen with Honeychild and Foxxy Cleopatra in images found at Celebrity Dog Blog.