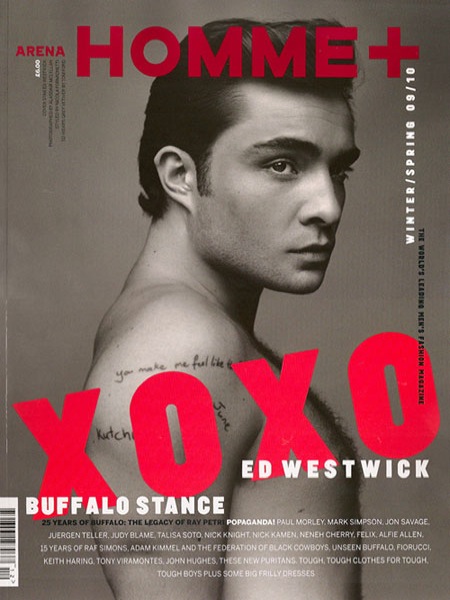 Okay, I don't even know what Ed Westwick is promoting for his cover interview in Arena Homme Magazine. Probably Gossip Girl. Who knows or cares? Especially when we have this epic cover to analyze. First off, it appears that this cover shot was done before Ed got those fug tattoos a few weeks ago. On one arm, he got a naked lady. On the other, he got a damn feather! CoverAwards analyzed Ed's visible tattoos on the cover shot, and they claim he's got "Heartbreak Hotel" tattooed on his chest, "21 Grams," "Love Me Two Times," "I Heart Romance" on his forearm and "You Make Me Feel Like the One" across his shoulder.
I sent the link of the cover to Jaybird yesterday, and we riffed on all that is happening here. I might have started out by posing the eternal question, "Ed Westwick is gay, right?" But Jaybird came out with the best quote about it, in my opinion – she asked "Is it me or does he look busty? I feel like if it were a full body shot, we'd see that he's also wearing a waist cincher." Later, Jaybird confessed, "Chesty maybe? I can't decide if he's busty or chesty. But if this were a woman I'd know how to feel."
I tend to think that Ed's rampant chest fur is adding to the moobs illusion. The fur, and his "what is happening to my ass?" posture. The expression on his face, and what was happening to his ass was something that Jaybird and I contemplated quite seriously:
Jaybird: All I know is I feel like I shouldn't be looking at it, for a variety of reasons. And pasties would go really well with that look on his face.
Kaiser: It honestly looks like… and I'm not trying to be gross… it looks like someone is doing something to his ass. And Ed doesn't quite know how to feel about it.
Jaybird: I think the problem is he's fine with it, but trying to make it look like he isn't.
Kaiser: Oh. my. god. You have to stop. I have tears streaming down my face I'm laughing so hard.
Jaybird: Doesn't that look like his expression though? It's like he's doing his best cheesy Gossip Girl acting to cover up. I'm calling you out Ed!
Kaiser: Yes! You're right – he looks like he's secretly enjoying whatever's happening to or with his ass, but he's trying to put on his "serious heterosexual" face.
Jaybird: It's like he was going for nonchalance but accidentally ended up giving it all away. I think this is exactly what gay James Dean would look like. Actually, I'll bet you anything that's who he was imagining.
Kaiser: No, he was remembering how much fun he and Chace Crawford had when they were "roommates".
Now, maybe it's wrong to judge a person's sexuality on one magazine cover. If it's wrong, then I don't want to be right. I also want to thank Ed for giving me the best laugh I've had all week – seriously, thank you, Ed. I needed this.