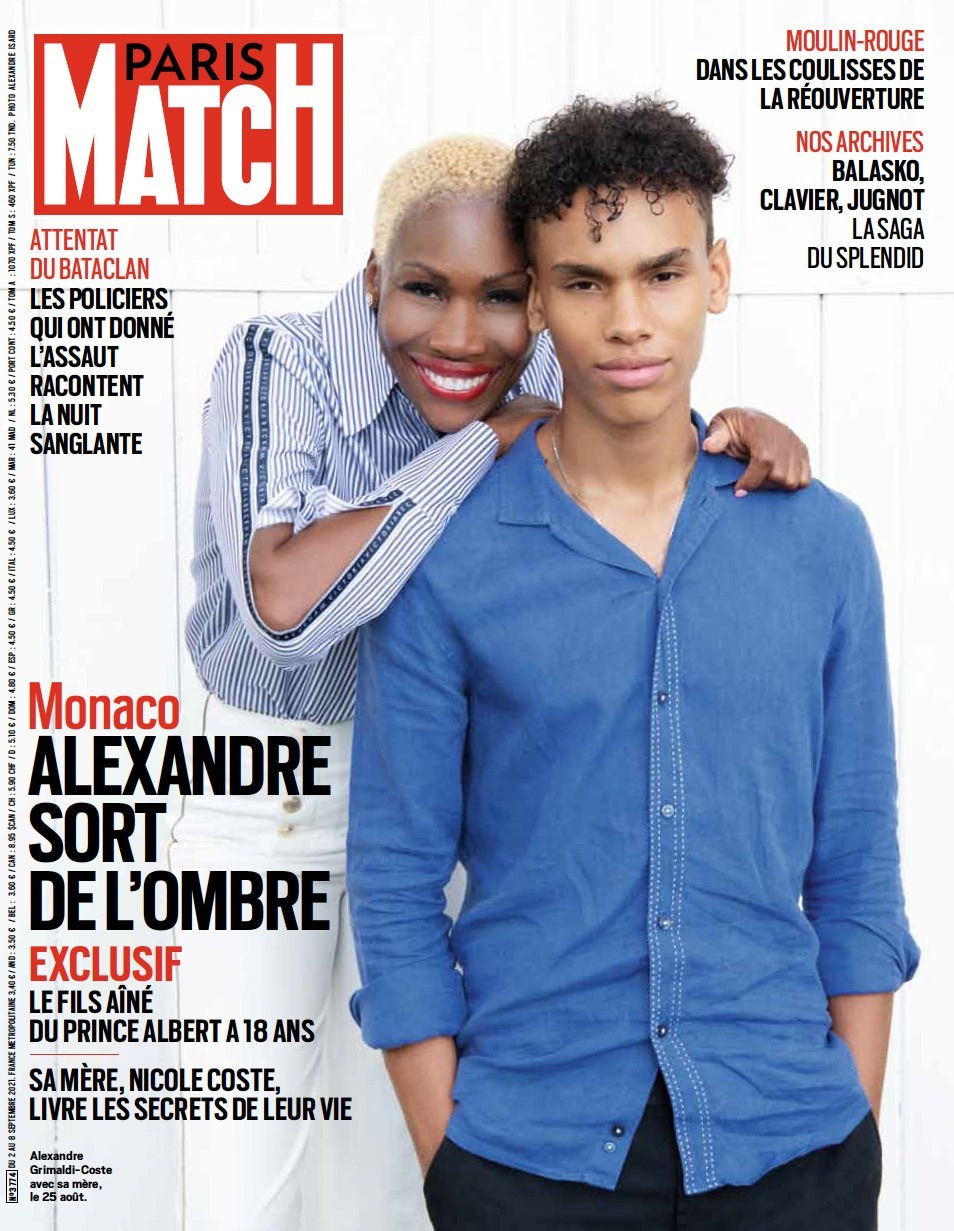 This was the cover of Paris Match about a week and a half ago. This is Nicole Coste and her son Alexandre. Alexandre's father is Prince Albert of Monaco. Albert only acknowledged that he fathered Alexandre in 2005 (he was born in 2003), and it was because Nicole pushed the issue. That being said, Nicole says that Albert has been a good father to Alexandre and that the three of them have good relations. Now, in this Paris Match interview, Nicole spilled about Princess Charlene and it was very, very interesting.
In the almost two decades since her explosive 2005 interview, Nicole has raised Alexandre and his older half-brothers in Geneva, London and New York, and chosen to stay largely out of the spotlight. However she is now firmly back in the public eye after she and Alexandre attended Monaco's glittering Rose Ball alongside Albert and other members of the royal family, and marked the teenager's 18th birthday with a lavish bash thrown by his royal father.

Speaking in the most recent issue of Paris Match, Nicole explained Albert has been a constant presence in his son's life, despite reports to the contrary, and had been involved in everything from his education to his birthday parties.

'Albert made a commitment from the start to be present, and to gradually bring his son into his family,' she said, in an interview translated from French. 'Very quickly, I was reassured when Princess Stephanie became Alexander's godmother. Albert has honored his promise: things are building well and running their course, which I am delighted with. Contrary to what some have written, Albert has always assumed his role as a father and no financial agreement has ever been made between us. Our relationship is built on trust.'

She added: 'Alexandre inherited my politeness, my great kindness. Albert too is tender, sensitive, warm. Alexandre looks like us a lot. They get along very well and are very close friends. They like to play sports together and sometimes talk about politics.'

Alexandre, who has recently been signed as a model, starts university this autumn. Nicole did not rule out the possibility of her son playing a role in the 'future of Monaco', saying it was up to his father to decide.

The mother-of-three hinted at a tension with Charlene, claiming the royal had made her son feel unwelcome during the early days of her relationship with Albert.

'As for Charlene, this is a subject that I cannot avoid because we are often put in parallel. I don't like being compared. I never advertised myself as an enemy. I am a gentle woman,' she said. 'Given our respective ties to the prince, we should have made sure to support each other cordially. In our situation, diplomacy had to prevail. But during the engagement period, I experienced things that alerted and shocked me. For example, she changed my son's room, taking advantage of his father's absence to move him to the employee wing. As a mother, I cannot find words to describe these actions.'
Well well. Charlene moved Albert's Black son to the servant's quarters when Albert was away, and when Charlene was merely the fiancee? That says a lot about Charlene, my goodness. And Alexandre would have been just a little kid back then too! Anyway, the reason why I'm bringing up this Paris Match interview is because People Magazine published this very suspicious story last week:
Prince Albert and Princess Charlene's relationship has caused plenty of tongues to wag during the couple's 20 years together. However, one topic of much speculation — his children from previous relationships — has had a surprisingly unifying effect over time, a source suggests. A close friend of the couple tells PEOPLE in this week's issue that Charlene, 43, has actually been a driving force behind Albert, 63, developing closer, more engaged relationships with his 29-year-old daughter Jazmin Grace Grimaldi and son Alexandre Grimaldi-Coste, 18.

Though there have been rumors the princess isn't supportive of Albert's relationships with his older children, the friend says that, on the contrary, "Charlene was really the one that was trying to pull the whole family together."

Speaking exclusively with PEOPLE for this week's issue, Albert himself affirmed that the relationship between his wife and his older children has "evolved with time. She is more acceptant now."

The friend notes that Charlene's encouragement comes with "certain boundaries and certain understandings. She's really been the champion for these kids in some ways," the source tells PEOPLE. "I'm not going to say she wants to have them around all the time, because there is some contention on many fronts."

They also point out that "Charlene's had her own issues. For quite a few months now, she's been — whether physically or just from a health [perspective] — not accessible."

While Albert is still in the active stage of raising his and Charlene's 6-year-old twins — Prince Jacques and Princess Gabriella — the prince has previously said that he stays in regular contact with Jazmin Grace and Alexandre, who enters college this fall. Adds the friend, "Alexandre is just a delightful young man, growing up in a very strange situation…. Charlene has been keen on "making it easy for [Alexandre] to interact with Albert and was encouraging Albert toward embracing him as his child."
Now Charlene wants credit for Albert developing relationships with the children he hid for years, and Charlene wants everyone to know that she's cool with Alexandre, despite what Nicole Coste says. And this is not a ringing endorsement from Albert: "She is more acceptant now." It suggests that there were times when she was not "acceptant." A giant mess. And I believe Nicole.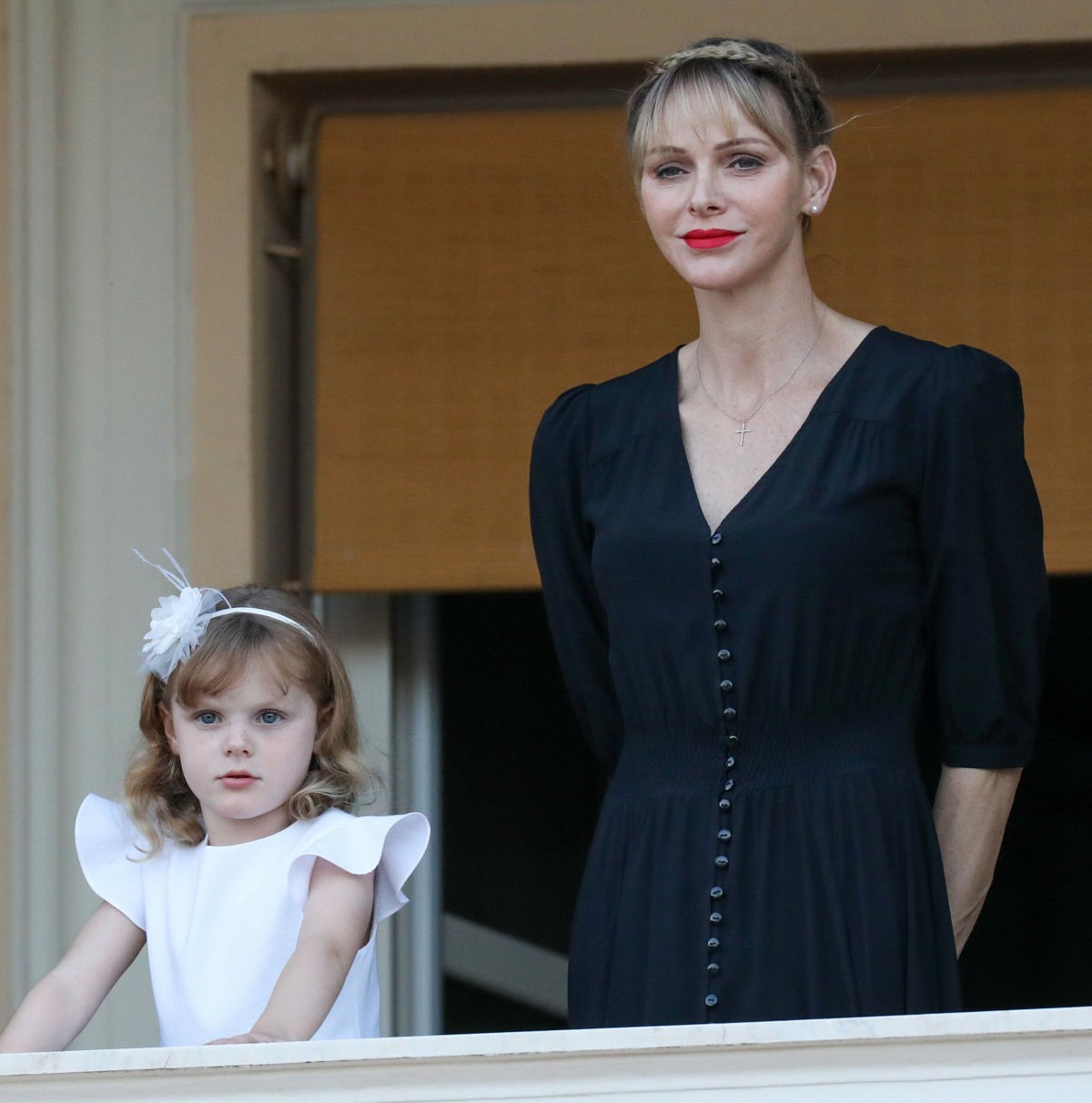 Photos courtesy of Avalon Red, cover courtesy of Paris Match.