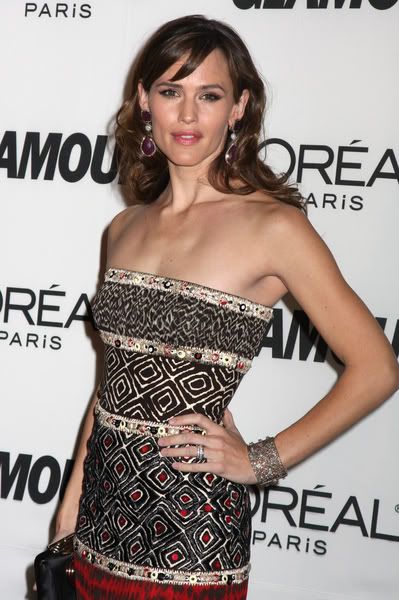 The stars were out at Glamour's Women of the Year Awards at Avery Fischer Hall in NY City last night. Jennifer Garner was accompanied by her husband, Ben Affleck, to accept her award as "The Icon Next Door."
Senator John Edward's wife, Elizabeth Edwards, was named "The Role Model," and her award was presented by her children, Cate, Emma Claire and Jack. Elizabeth Edwards is a breast cancer survivor and is currently fighting stage four breast cancer that has spread to a spot on her rib. She is being treated with anti-estrogen drugs.
Young Abigail Breslin was named "The American Girl," and famed author Toni Morrison was given a lifetime achievement award titled "The Voice of Our Time."
Garner has an interview with Glamour in which she talks about balancing motherhood with her career and admits that she is a "goody-goody," but is not immune to an occasional diva moment. She also says that she doesn't pose on the red carpet with her husband Ben because she tries to avoid the needless speculation that goes along with that:
GLAMOUR: Your press is impeccable. Your fans adore you. Do you have a dark side, or are you a goody-goody?

JENNIFER GARNER: You totally called me out. I am a bit of a goody-goody. Not that there aren't times when I think, I was kind of an asshole today. I work in a world in which people are really catered to; someone will come up to me and say, "Is it OK if this person's makeup is done before yours for the premiere?" Right now Ben's in Africa studying malaria and visiting slums with a lack of potable water and maternity wards where many women have HIV. So would I really put my energy into worrying that I'm second to get my makeup done? When you think about the bigger picture, it's hard to not have some perspective.

GLAMOUR: Have you managed to find that balance for yourself?

JG: I'm trying to, but it's hard: I just had a year off where I put every spoonful of food into [Violet's] mouth. Now I'm working and though I'm usually with her more hours than not, some days I just can't be. That's hard for me, and for the first time, my daughter. Luckily my husband is a true partner, and he picks up where I leave off.

GLAMOUR: Is being in Hollywood hard on a relationship?

JG: We've worked really hard not to be one of those couples who are constantly in the limelight. In the past we've both been the kind of people who go along with things—if you're supposed to be photographed together, you don't question it. But how does that help your relationship? So now we refuse to walk the red carpet together: It's a way of not condoning the attention. Plus, it just feels silly to be in that situation with him: Ben was nominated for a Golden Globe [for 2006's Hollywoodland]. I remember being photographed next to him and thinking, This is ridiculous. You're not some actor; you're my husband.
[From Glamour.com]
Garner also talked about the causes she's involved with, which include Hurricane Katrina victims and the Children's Defense Fund.
As for whether nearly two-year-old Violet will have a career in show business, Garner doesn't rule it out but says that she won't allow her to get her start in it as a child.
Like Julia Roberts, Garner says she wants to help Britney Spears, and that she "wanted to go backstage and mother her" after her performance at the VMAs.
Garner said she doesn't wear her Alias costumes for husband Ben at home, because that stuff isn't that important to him since he doesn't seem to notice how she looks. She said his lack of attention to her appearance is annoying when she's dolled up for an event, because she wants to get him to comment on it, but that it usually works in her favor because "most of the time I'm a schlep."
As for whether she'll have another child, Garner says she will but that she's not pregnant or trying yet.
Garner's hero is her sister, who is "a mom and an accountant for the state of West Virginia." She says that her sister is "able to juggle a job, kids, volunteer work and church, and she still manages to cook dinner every night without feeling bogged down." If she's anything like Jen, she probably does it all with a smile while looking fabulous.
Other women honored at the Glamour Women of the Year Awards include Dr. Victoria Hale, Donna Karan, Lara Logan, Lorena Ochoa, Mariane Pearl, Nancy Pelosi, Shonda Rhimes, and Alice Waters. The non-celebrity woman who was honored was Laura Crandall, a 39 year-old woman who founded the Sudden Unexplained Death in Childhood (SUDC) Program after losing her 15 month-old daughter to unknown causes.
Thanks to PRPhotos for these pictures of the event. Attendees that were not yet mentioned and are pictured include Jennifer Connelly and Paul Bettany, Hugh Dancy and Claire Danes, Eric Dane, Portia Di Rossi, Taye Diggs, Iman, Rashida Jones, Fran Lebowitz, James Pickens, Brooke Shields, Diane Sawyer, and Jamie-Lynn Sigler.