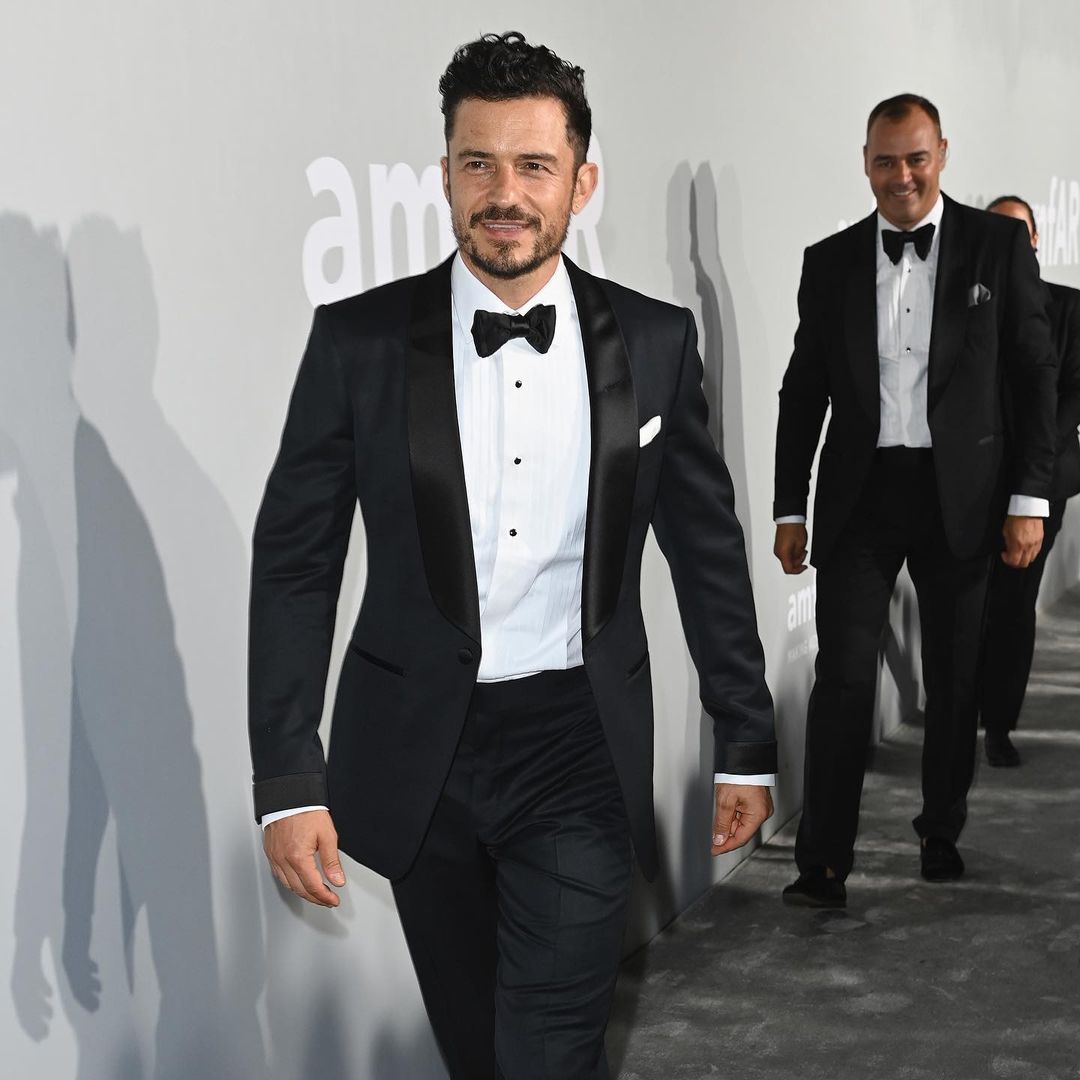 Orlando Bloom is often not safe for work. Particularly due to his love of paddle boarding and hanging out at lakes in the buff. Orlando likes to be naked and I am not mad at it. However, this story isn't about Orlando's lack of clothing while paddle boarding, its about something absolutely cool that Orlando got to experience recently WHILE paddle boarding. In a video, shot by photographer and videographer Carlos Guana, Orlando and another person are paddle boarding, appropriately clothed, in Malibu. They're seen on a wide blue expanse of water above a great white shark swimming and circling beneath them. It seemed like such a surreal moment. Below are a few more details via Hollywood Life:
In the minute-long clip, the shirtless actor seems relaxed as ever despite his uninvited guest. Wearing black shorts, Orlando put his toned physique on display as he paddled around the creature. 'Paddle Boarding With Great Whites,' he captioned the clip. 'When fear becomes your friend and @themalibuartist captures the moment.'

He made sure to tag local photographer Carlos Gauna, in the clip as well as they captured the terrifying moment. "Awesome day man," Carlos wrote on Orlando's post. "You got some good looks of a large juvenile white shark. Happy for you! Something you'll never forget. Very calm shark just chilling in Malibu!"

Fans took to the comments to discuss the wild encounter. "Omg that's insane," one fan wrote alongside a fire emoji while another commented, 'One of the most beautiful and misunderstood fish of the ocean," with a heart emoji.
I love nature and have an affinity for sea creatures. Watching this video made me tear up a bit because of how beautifully communal the event was. Here was Orlando, a hooman, cohabitating and communing with one of nature's fiercest and most majestic ocean creatures as if it were a regular schmegular Tuesday morning. There was something so soothing about the scene that it didn't even register that I should be afraid seeing this whole ass shark swimming beneath Orlando. I am envious of Orlando. I hope to one day swim with dolphins in Greece. Seeing this video just reminded me of that dream I have had since reading my first Greek myth about Poseidon when I was about eight. Also, can we talk about how ripped Orlando is? Speaking from my inner thotiana, Orlando looked good topless (hides in a corner in shame). I know this video isn't about pollution and climate change but it really made me think about my carbon footprint. I am glad Orlando shared this beautiful footage with us. This video is just a reminder of how fragile the balance of the planet is. Now that has me thinking about the circle life and wondering if that shark thought Orlando and his friend were food?