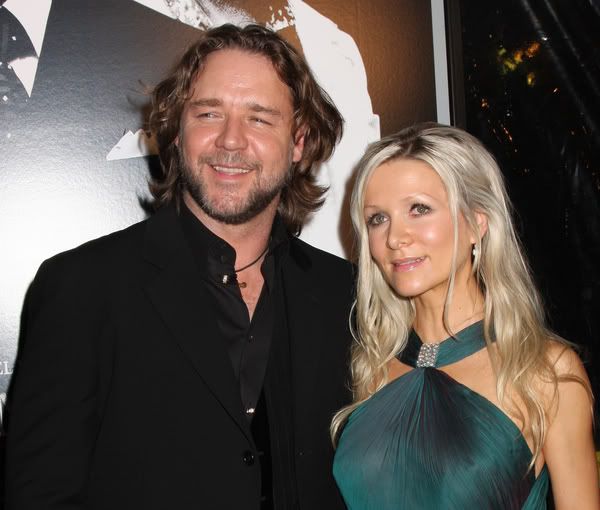 Who would have thought that when Russell Crowe threw a phone in rage that there was a chance he'd turn out to be some kind of dream man? A man even your mother would love? After recently writing a beautiful letter to his children, to be sealed in a time capsule in Australia, he's now going to get baptised with them.
Russell Crowe is planning to be baptised at the chapel on his Nana Glen property in northern NSW.

"I'd like to do it this year," the 43-year-old actor told Men's Journal magazine.

"My mum and dad decided to let my brother and me make our own decisions about God when we got to the right age. I started thinking recently, 'If I believe it is important to baptise my kids, why not me'?"
The chapel was specially built for his wedding to Danielle Spencer in 2003, and was "consecrated and everything' according to Russell. He'll be baptised there later in the year when his youngest son Tennyson undergoes the ceremony. Crowe's eldest son Charles is already baptised.
While it is very cute that Russell loves his kids and wants to share experiences with them, that's not what makes him my dream man. In the same interview with Men's Journal, he had this to say about shopping.
"I have a black belt in it," he said. "My wife really appreciates that in me. Whatever you need, mate, I'll get it. I can do the supermarket in six minutes. I can pick out the first nine things my wife would like to try on. I'm not bragging; it's fact. I have retail-therapy issues. But I am cool with that. I shop with a big smile on my face."
While it may seem kind of controlling that he's picking out his wife's clothes, the Dream Man Russell Crowe would let her have the final say, and obviously foot the bill.
Russell could definitely afford a few outfits for his wife, commanding around $20 million a movie. He currently has the number one film in the US with American Gangster.
Picture note by Celebitchy: Russell Crowe and Danielle Spencer are shown at The American Gangster New York Premiere on 10/19/07, thanks to PRPhotos.