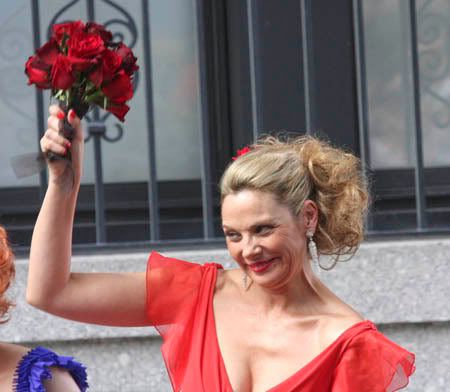 I was such a huge fan of the Sex and the City TV series, I have the entire series on DVD and was really looking forward to the movie. But with all the spoilers that have been leaked, and the dubious fashion choices being displayed in those leaks, I'm a bit over it.
I was even more over the concept when I read this comment from Kim Cattrall.
"It's nice to step into Samantha's skin again, but I'm only doing the film for the money," says the 52-year-old actress. "Samantha is very dear to me and I have such a wonderful time playing her, but I can't say more for the experience that wanting financial security."

Cattrall's fighting with co-star Sarah Jessica Parker may also have something to do with her reluctance to do the movie. "When I made a stand about not being in the movie because I thought the money was terrible, there was a backlash from some of my costars. The role is very much a double-edged sword," she added.
I guess what she is trying to say here is that maybe at her age, 51, that she needs some financial security. There aren't many roles out there for women of that age, particularly ones who haven't got a huge career. I'm struggling to think of what she's done since Sex and the City was on air. She did write a couple of books about sex, trading off of her on-screen character, but she's not really done anything else.
In other Sex and the City movie news, the New York City Mayor Michael Bloomberg will be appearing in the film as himself, following in the footsteps of former mayor Ed Koch who also appeared in the series. No details have been given about the current Mayor's role, but he will be filming in Bryant Park on Tuesday evening, in midtown Manhattan.
Note by Celebitchy: Kim Cattrall is shown filming The Sex and The City movie on 10/2/07 and 9/21/07, thanks to PRPhotos. She has three films to her credit since 2005, according to IMDB. I know I saw her in that Ice Princess movie with Michelle Trachtenberg, Joan Cusack and Hayden Panettiere.