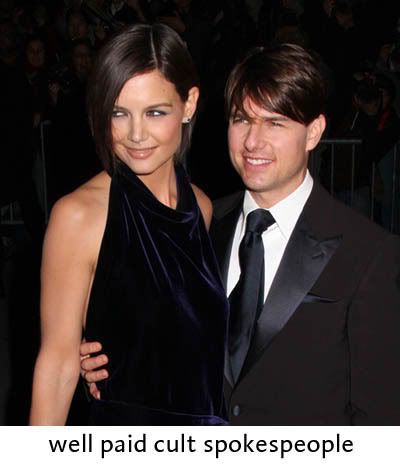 This week's Star Magazine has Katie Holmes jealous over a supposed on-set ongoing flirtation Tom had with a pretty German brunette extra in Berlin, but OK! Magazine features a fawning piece that focuses on the elaborate meal Katie planned for Valentine's day. Star claims they're having trouble at the eve of their upcoming anniversary, while OK! says they're supportive of each other and take time to communicate and that everything is all so rosy.
Neither article has much substance. Star says that along with being pissed off at the attention Tom is showing some unnamed extra, Katie "may feel threatened by his leading lady, Carice Van Houten, 31," since "the chemistry is obvious" when they work together. Supposedly Tom talks too much about how beautiful and what a great actress Clarice is, but I think Star is inventing stuff to be able to put Tom and Katie on the cover. At least OK! has some details to back up their claims that sound like they're actually true.
OK! offers a few examples of why all the happy marriage cliché's apply. Among the inset features in the article are two different stories about how the Scientology cult goes out of their way to ensure that Tom and Katie are treated like royalty, comping them expensive vacations and creating an entire luxury apartment for them in Beverly Hills while they wait for renovations to be completed on their home. The amount of trouble and expense the cult goes through to ensure their highest profile members are happy is outrageous:
After plunking down $35 million for the perfect Beverly Hills love nest, Tom immediately began renovating the home. The work wasn't done by the time the lease on their current house expired in September, so a friend of Tom tells OK!, "The had the old house completely packed and put into storage." Technically, the Cruises were homeless in Beverly Hills – until the Scientology Celebrity Centre International stepped in…

After knocking down walls and doing a round-the-clock overhaul of some space on the building's sixth and seventh floors, a luxurious duplex apartment was created for the Cruises to use whenever they need. Their temporary home has a living room with a terrace, a dining room, a full kitchen, separate offices for Tom and Katie and a fully equipped gym. The master bedroom, which has its own private terrace, has an adjoining nursery for Suri. There are two additional bedrooms for Connor and Isabella.
[From OK! Magazine, print edition, November 12, 2007]
One of those other bedrooms is probably for Katie, because she and Tom don't sleep in the same room according to many accounts.
And in case a fully decked out completely free apartment in Beverly Hills isn't enough to keep the Cruise's smiling and advocating the cult, they were also on vacation in Florida recently at Scientology's expense. OK! says that they went missing for a few days and that's where they were, not that we noticed:
When Tom celebrated his 45th birthday on July 3, the whole world awaited photos of the family together, but to no avail. OK! has learned that the couple, along with Connor, Isabella and little Suri, snuck away to Clearwater, Florida, where they stayed at the Scientology Center complex (Clearwater is the worldwide headquarters for Scientology) for two days.
[From OK! Magazine, print edition, November 12, 2007]
Of course Tom's entire family came along, and supposedly Katie chartered a yacht, but I'm guessing the Scientology people had more to do with that.
Plus the head of Scientology, the guy that was rumored to have joined them on their honeymoon (a story that Tom's rep denies) was also there.
They were joined by Tom's mother, Mary Lee, his sisters Cass, Marian and Lee Anne, and Tom's best friend David Miscavige, who is the head of Scientology.

"Katie arranged for the charter of a fabulous yacht," a friend of Tom tells OK!. "It was a gorgeous day and they sailed around the Clearwater Harbor for a while and then anchored on a private barrier island. Everything had been set up for just off the sand for a sunset dinner…"

Katie's birthday gift to Tom, however, was a little too large to be presented to him on the island. "She gave him a custom-designed motorcycle."
[From OK! Magazine, print edition, November 12, 2007]
So they went on a yacht, undoubtedly owned by the Scientology cult, to a Scientology island and had a dinner set out for them by workers at the Scientology headquarters.
Tom chose to spend his birthday being catered to by the cult he has a symbiotic relationship with, and Katie came along for the ride.
While celebrities like Tom Cruise, John Travolta, and Kirstie Alley are given everything for free and treated like five star resort guests by Scientology, average people involved with the cult are forced to fork over their life savings, with many working as slave laborers in "reducation" camps for Sea Org.
Here are Tom Cruise and Katie Holmes at the 23rd Annual Museum Of The Moving Image Black Tie Salute Honoring Tom Cruise in NY last night. I wonder where they stayed and if that was comped by Scientology too. Thanks to PR Photos for these pictures.