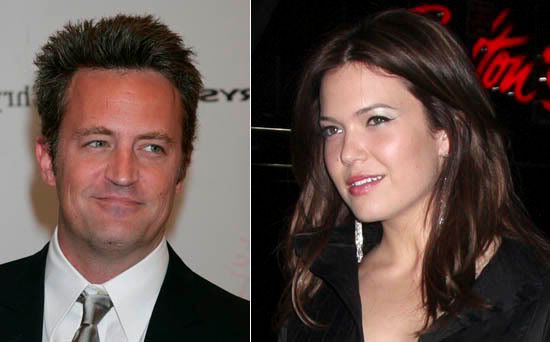 Singer Mandy Moore, 27 23, and former Friends star Matthew Perry, 38, were spotted out to dinner holding hands in Beverly Hills. Mandy is set to have met Perry at Amici Trattoria for a romantic date that looked like it was one of the first for the pair, and that it was going well:
Page Six spies were astounded last week when they saw the two on a date at Amici Trattoria in Beverly Hills. One source said, "He was already seated and waited for her for 15 minutes until she arrived. He stood up to greet her and gave her a kiss on the cheek. They were holding hands across the table and being really close and laughing a lot the whole time."
[From Page Six]
Matthew Perry's career seems to be moving along after his excellent series, Studio 60 on the Sunset Strip, was canceled. He will next appear in The Laws of Motion with Ginnifer Goodwin and Hilary Swank, which is in post-production. He is also set to film The Beginning of Wisdom, but since the status of the film is listed as pre-production on IMDB, it's likely to be delayed by the writer's strike.
Mandy Moore has no future movies lined up, according to her IMDB profile, after the License to Wed debacle. She celebrated the end of her Wild Hope tour last month.
With both Matthew and Mandy in temporary down time, what better chance to get to know each other and fall in love? Eleven years isn't that much of a difference, and Mandy deserves a doting man in her life. She was reportedly hurt by her ex Zach Braff, and several songs on her new album are said to be about their failed relationship. Mandy told the crowd at a performance last month "I think if someone disrespects you, they totally deserve to have a song written about them." Maybe her next album will feature lighter, more romantic fare.
Mandy Moore is shown at the ACE Awards on 11/5/07. Matthew Perry is seen at the Lili Claire Foundation Benefit Dinner on 10/13/07. Thanks to PRPhotos.