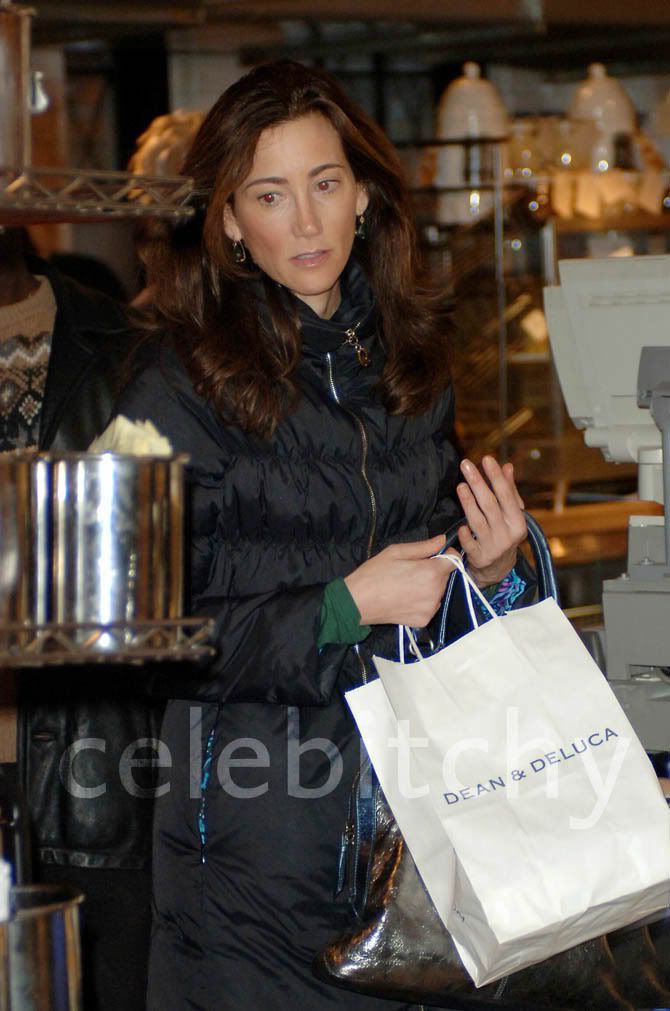 Paul McCartney isn't sitting at home brooding over his high-profile divorce with batshit crazy Heather Mills. Heather is trying to ratchet up the crazy, squawking new allegations that Paul hasn't defended her to the press and claiming to have a tape of Paul admitting to have hit his former beloved wife, Linda. Paul is sending Heather the message that he's above all that and won't let what people say about him interfere with his life. He has been spotted on all sorts of romantic dates and outings with his married American neighbor from the Hamptons, Nancy Shevell, 47:
In new photos published this week in Britain (and splashed across the New York papers Wednesday morning), McCartney, 65, is pictured kissing Nancy Shevell, an American whom the papers described as a new love interest. The photos show the couple walking along a windswept beach, sharing a coffee break and deep in discussion on a sidewalk in the Hamptons, where both Shevell and McCartney have mansions.

A source tells PEOPLE: "They have known each other for a while. They are just friends."

Shevell, who's separated from her husband, is a 47-year-old mother of one and a vice president at the New England Motor Freight, Inc. Earlier in the week, The Sun published a photo of McCartney leaving Top Drawer Lingerie shop in East Hampton last Saturday, with his hood up and clutching a bag.
[From People.com]
Belying the "just friends" statement, Paul was photographed kissing Shevell and the two were shacked up in a London hotel together for two days while he was attending a divorce hearing. Her lawyer husband has also gone to the trouble of releasing a statement to let everyone know that they're legally separated and that his wife isn't officially cheating:
Nancy, 47, confirmed the separation from her wealthy lawyer husband Bruce Blakeman, 52, following the emergence of reports of her dates with the former Beatle including one liaison at a London hotel on the day of his High Court divorce hearing.

Previously known as Nancy Shevell Blakeman, she recently dropped her husband's name and both have been seen without wedding rings.

Nancy, who is vice president of her wealthy family's firm and a top New York City transport official, wed Mr Blakeman in 1984. The pair have a teenage son Arlen.
Mr Blakeman — a commissioner of the New York Port Authority and a partner in a top Big Apple law firm — also yesterday confirmed that he and Nancy had split.
He said: "My wife and I are legally separated at the moment." He added in a statement: "The separation is amicable and mutual."
[From The Daily Mail via Gossip Rocks]
Paul was most recently briefly linked to Renee Zellweger and was said to be in a relationship post-divorce with Guinness beer heiress Sabrina Guinness. Paul's ex, Heather Mills, was said to be banging her much-younger personal trainer, but considering how off the rails she's been she probably hasn't taken her medication or been laid in quite a while. Not that getting laid is necessary for your sanity, just that no one wants to get with a woman who seems capable of pulling a Lorena Bobbitt for a minor perceived offense.
Here are pictures of new paparazzi target Nancy Shevell. She has probably been followed and photographed more in the past two days than she has her entire life, because just about all the photo agencies have pictures of her. She is shown out yesterday in NY, thanks to Splash News. Paul and Nancy are also shown on 7/4/07 outside a photography exhibit, so it seems like they've been enjoying each other's company all summer. Thanks to PRPhotos for those images. Thanks to reader Alison for letting me know that those pictures were of Paul with his daughter, Mary. They have been removed.