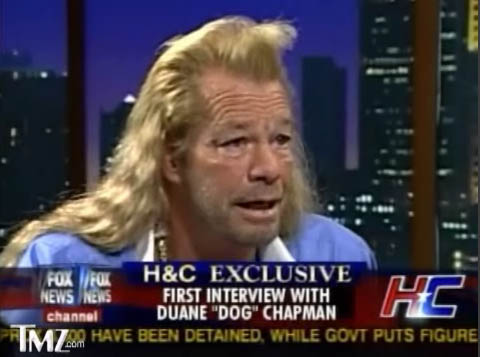 Extreme mullet-wearing Dog The Bounty Hunter Chapman went on Hannity and Colmes on the Fox Channel last night to beg in his idiotic drug-addled logic for forgiveness for his racist tirade over the phone. It sounds like he saysh e was using the "n" word as "a brother to brother" despite the fact that he was using it to tell his son not to date a black woman.
This tearful confession made me lol several times, particularly when Chapman said that he thought he was able to "refer to them truly as a brother from a different mother"
I thought that I was cool enough in the black world to be able to use that word, as a brother to a brother. I'm not… I never realized that that's like stabbing a black person in the heart. I would never do that to any kind of person. I've always taken pride to be the white guy that can talk to the black people, that can refer to them truly as a brother from a different mother (voice breaks)…

and I used to say 'I'm Black Too," my whole life I've been called a half breed, a convict, king of the trailer trash, this and that, I take that stand so when I stood there and said, 'I kind of know what you feel like, cause I've been there too, that I felt like that I could embrace and as brothers, even as black women say the word…"

This is one of the hardest lessons ever I've learned in my life, even facing death. If I could kill myself and people would forgive me, I would do that. There's no excuse. I'm guilty and I will take my punishment, but the end of what I said is that I will do everything that is in my power to make sure people have forgiven me.

Hannity: How old is this conversation?

This conversation was done in March, so eight months old.

Hannity: And how much did they pay your son for this

Well, I think they gave him $15,000 that the alleged rumor.
[Transcribed from the highlight video available on TMZ of Chapman's appearance on Hannity and Combs last night on Fox]
While it's not funny that the guy says he would kill himself for forgiveness, you can tell by the way he's wording his statements that he's not going to shed his coat of slimy racism unless he undergoes serious therapy. He said "I would never do that to any kind of person" and he calls black people "them." He also seems to gloss over the pain he caused others and to focus on how he's feeling and how he wants forgiveness.
Here's the video, thanks to TMZ:

And in case there was even a glimmer of hope for Dog's career as a reality show star, The Enquirer has a story with quotes from many of his friends, family and past wives attesting to what a racist bastard he is. Plus there could be an upcoming story in the November 20th issue of the Enquirer stating that Dog is a current crack addict who is spending 2k a month on drugs. A commentor on TMZ posted the story, so I can't yet verify it, but they supposedly interviewed his former dealer, who passed a lie detector test. I will have to verify if the story exists and update this post once more is known. The comment also contains a link to a site declaring Andrew Luster, the guy Chapman was arrested for capturing in Mexico, innocent, so it's up to question, although the wording does sound exactly like The Enquirer.
Before this scandal came to light we posted a story from the Enquirer about Dog's stepdaughter claiming that she used to get cocaine and hookers for him and that he pimped her out to pay a drug debt in the 90s. It could be true that someone is claiming he's still doing crack, and it certainly seems plausible.
Thanks to reader Shawn for the tip.
Update: The story about Dog the Bounty Hunter currently being addicted to crack did not appear in the National Enquirer, and was a fabrication.