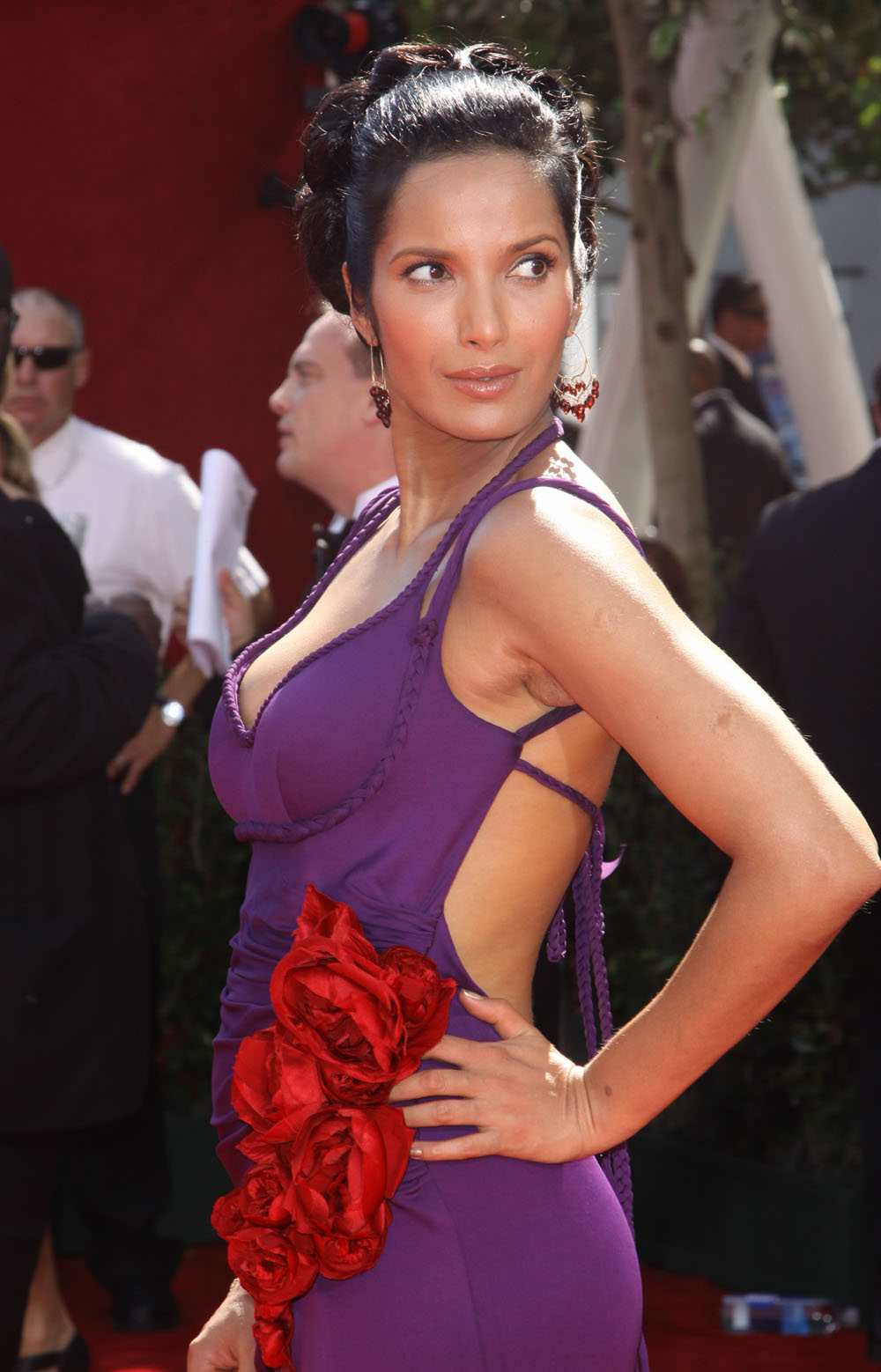 Top Chef hostess Padma Lakshmi is pregnant! Oh, my mother will be thrilled. Padma's rep announced Padma's happy news to Us Weekly, also explaining how this pregnancy is a "miracle" because of her years-long struggle with endometriosis. The official statement makes it seem very miraculous, and I'm very happy for Padma – she seems like a nice enough person. What's interesting is that the official statement is so busy talking about Padma's fertility issues that there's totally no mention of a baby-daddy. Scandal!
Top Chef host Padma Lakshmi is pregnant, her rep confirms to Usmagazine.com exclusively.

"Model, author, and Emmy-nominated Padma Lakshmi confirms that she is carrying her first child after years of struggling with endometriosis, a cause for which she has co-founded the Endometriosis Foundation of America," the rep tells Us of Lakshmi, 39.

"As a result of her condition, this pregnancy has been referred to by her physician as nothing short of a medical miracle, and due to its delicate nature, we ask/implore the press to respect Ms. Lakshmi's privacy at this time," the rep continues.

Endometriosis is a medical condition in which the uterus' lining grows in other areas of the body, causing pain, irregular bleeding and possible infertility.

The baby's father has not been revealed. Online reports have falsely named Manu Nathan as the dad, but her rep says he's Lakshmi's cousin.

Lakshmi split from novelist Salman Rushdie in 2007 after three years of marriage. She won the Best First Book award for her first cookbook, Easy Exotic, at the 1999 World Cookbook Awards in Versailles, France. Her second cook book, Tangy, Tart, Hot and Sweet, was released in October 2007.

She hosted the Food Network series, Padma's Passport, in 2001. She's also guest hosted on British show Planet Food.
[From Us Weekly]
I was all prepared to start a rumor that the baby-daddy could be Padma's ex Salman Rushdie. But I did some extensive research (I googled "Padma Lakshmi boyfriend") and found that she's had a couple of boyfriends since divorcing Salman, and either of them could be an interesting guess for baby-daddy. This past January, I'm Not Obsessed had photos of Padma and 69-year-old Ted Forstmann, billionaire CEO of IMG – apparently, they began dating as soon as the ink was dry on her divorce papers (spring of 2008) and may have ended their relationship sometime this spring. Maybe? Ace Showbiz and Just Jared have her "current boyfriend" as Manu Nathanan, described as "an attorney at talent agency IMG". Manu is also 27 years old to Padma's 39. Manu is my guess, actually. One thing's for sure – that baby will eat well!
UPDATE: Whoops, I missed the part about Manu being her cousin. Guess the baby-daddy is still in the air, then!
Here's Padma at the Emmys on September 20th. Images thanks to Fame Pictures and WENN.com .