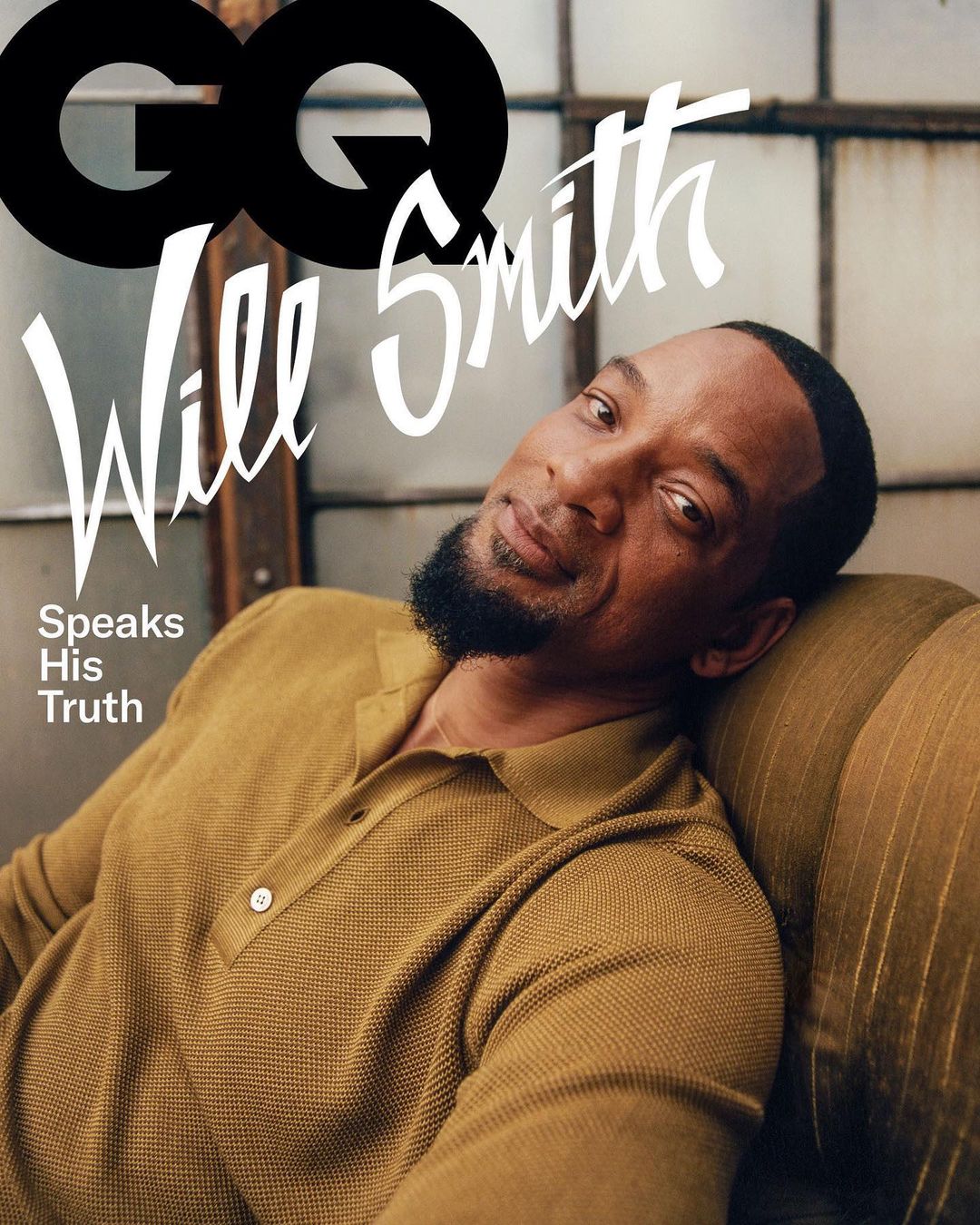 Will Smith's GQ profile was probably supposed to be the first piece in his Oscar campaign for King Richard, the film where he plays Richard Williams, father of Venus and Serena. I've heard the early reviews and there's a consensus building that this could be Will's year, finally. But the thing is, very little of this GQ cover profile is actually about King Richard! Will spent the bulk of the interview talking about his memoir, Will, which will be released in November. I'm a little bit worried that the revelations in his memoir will completely overshadow his King Richard performance. Maybe it will be a dual promotion, with one helping the other. But I wonder. You can read the full GQ piece here. Some highlights:
On his new series, Emancipation: "I've always avoided making films about slavery. In the early part of my career… I didn't want to show Black people in that light. I wanted to be a superhero. So I wanted to depict Black excellence alongside my white counterparts. I wanted to play roles that you would give to Tom Cruise. And the first time I considered it was Django. But I didn't want to make a slavery film about vengeance. This was one that was about love and the power of Black love. And that was something that I could rock with. We were going to make a story about how Black love makes us invincible."

Playing Richard Williams in King Richard: "Richard Williams is a lot like my father. So when I first read [the script], I understood what it's like to want your kids to succeed. I had done it a little bit with my kids. I understood what it was to try to mold a young mind, how it's different with sons than it is with daughters."

How Black artists should use BLM to make art: "I just want to encourage Black Americans to take the acknowledgment and seize upon the present global opportunities. I would just like us to argue less about certain things and pay attention to the big ripe fruit."

He doesn't like Defund The Police: "So 'Abolish the police. Defund the police.' I would love if we would just say 'Defund the bad police.' It's almost like I want, as Black Americans, for us to change our marketing for the new position we're in. So 'critical race theory,' just call it 'truth theory.' The pendulum is swinging in our direction beautifully. And there's a certain humility that will most capitalize on the moment for the future of Black Americans, without discounting the difficulty and the pain and the emotion. This is a difficult area to discuss, but I feel like the simplicity of Black Lives Matter was perfect. Anybody who tries to debate Black Lives Matter looks ridiculous. So when I talk about the marketing of our ideas, Black Lives Matter was perfection. From a standpoint of getting it done, Black Lives Matter gets it done. 'Defund the police' doesn't get it done, no matter how good the ideas are. I'm not saying we shouldn't defund the police. I'm saying, just don't say that, because then people who would help you won't."

In his memoir, he writes about his abusive father: "My father tormented me. And he was also one of the greatest men I've ever known. He was one of the greatest blessings of my life, and also one of my greatest sources of pain."

Calling the Oracle, Denzel Washington: "Throughout the years, I would always call Denzel. He's a real sage. I was probably 48 or something like that and I called Denzel. He said, 'Listen. You've got to think of it as the funky 40. Everybody's 40s are funky.' He said, 'But just wait till you hit the f-ck-it 50s.' He said, 'Just bear with your 40s.' I stopped and I was like, 'The funky 40s and the f-ck-it 50s.' And that's exactly what happened. It just became the f-ck-it 50s, and I gave myself the freedom to do whatever I wanted to do."

He told an intimacy coach that his dream was to have a harem of girlfriends. She insisted he name specific women he'd want to invite to his harem. Misty Copeland, Smith replied. And Halle Berry too. "I don't know where I saw it or some sh-t as a teenager, but the idea of traveling with 20 women that I loved and took care of and all of that, it seemed like a really great idea. And then, after we played it out a little bit, I was like, 'That would be horrific. That would be horrific.' I was like, 'Can you imagine how miserable?'

Going on Red Table Talk with Jada: "Jada never believed in conventional marriage.… Jada had family members that had an unconventional relationship. So she grew up in a way that was very different than how I grew up. There were significant endless discussions about, what is relational perfection? What is the perfect way to interact as a couple? And for the large part of our relationship, monogamy was what we chose, not thinking of monogamy as the only relational perfection. We have given each other trust and freedom, with the belief that everybody has to find their own way. And marriage for us can't be a prison. And I don't suggest our road for anybody. I don't suggest this road for anybody. But the experiences that the freedoms that we've given one another and the unconditional support, to me, is the highest definition of love."

Will had other partners too: A viewer could have walked away thinking that Jada was the only one engaging in other sexual relationships, when that was not, Smith delicately explained to me, in fact the case. Or take one of the memes spawned by their discussion, a screenshot of Smith looking stern-faced and droopy-eyed. "It was midnight and we were going on vacation the next day," Smith explained, noting that the details they were discussing were, by that point, years in the past. "It was like, no, no, no, guys, I'm not sad. I'm f–king exhausted."
The journalist who spoke to Will is Wesley Lowery, and Lowery got an advanced copy of Will's memoir. Lowery mentioned to Will that he was surprised at how little talk about marriage is in the book. Will explains that it was harder to really go into all of the ins and outs of the bad years in his marriage to Jada because it wasn't just about him and his stuff, it was about what Jada wanted and needed too. So don't buy the book if you're expecting to read a lot about his marriage. That being said, his memoir does sound really good. I do wonder if it will overshadow his Oscar campaign though.
Cover & IG courtesy of GQ.