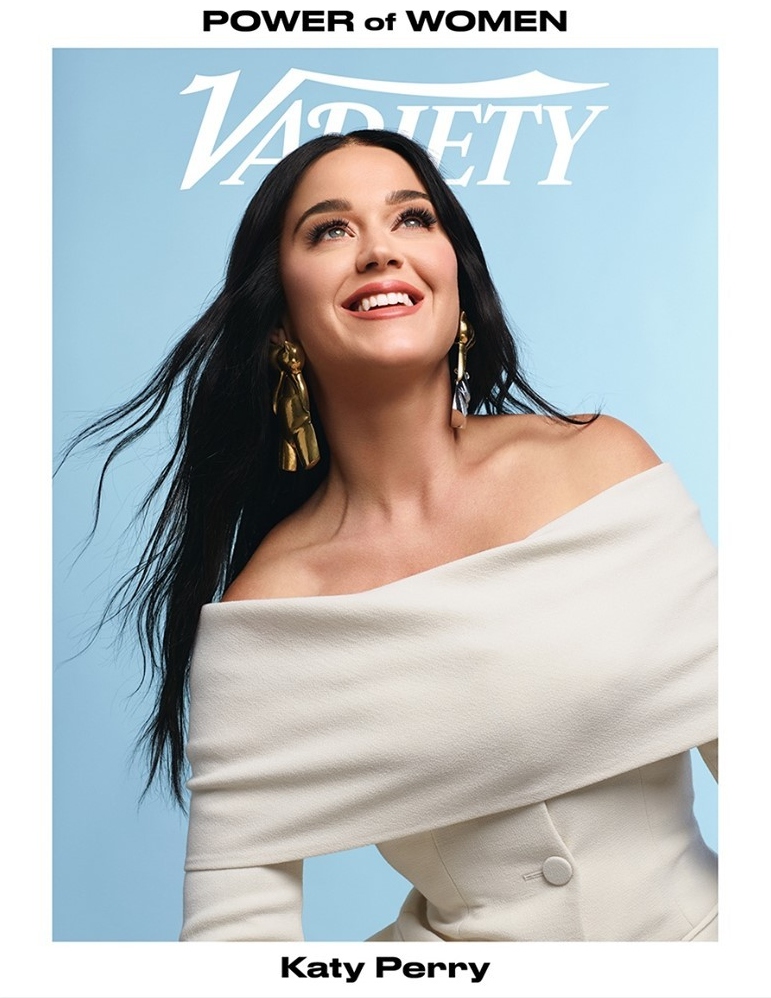 Katy Perry is one of Variety's Power of Women covers, also featuring Lorde, Amanda Gorman, Channing Dungey (CEO of Warner Bros) and Rita Moreno. The Power of Women event was held last night in LA and there are some photos of Katy there at the bottom of this post. She wore a giant lilac Schiaparelli gown and looked loved up with Orlando Bloom. They're so cute together! Katie was honored at the event for her Firework Foundation, which brings the arts to children in underserved communities. You can see Katie's speech here, she was introduced by Gayle King and she gushed about Orlando a little. She said "behind every great woman, there is a great man" which I do not agree with and think she should have phrased that better, but I'll give her a pass! I like Katy because she's a good Democrat despite her conservative upbringing. I wanted to discuss her Variety interview, where she talked about her charity, her thoughts on social media, and how deep her love is for her baby, Daisy, 14 months. She was careful to say her mom had unconditional love for her, but she hadn't experienced it for someone until she had her baby.
On unconditional love
I never really truly knew about unconditional love. Obviously my mother has that for me, but I didn't really experience it in the first-person until I had my child. And that was just a whole 'nother level. I think I see through the eyes of a child — like my life and my art always feels playful — so it's amazing to be able to relate to kids even in your deep 30s. And they still want to hang and find you the most fun adult in the room. That is just the biggest gift in the world. So I think, yes, some of my previous work with kids and being an entertainer to kids as well has prepared me for motherhood, but nothing can prepare you for that wave of unconditional love.

On being bold
Being bold is vital because there is a lot of noise out there, and you have to stick out in order to be heard. As my fiancé says, I am the squeaky wheel and therefore I get the grease.

On if the image of moms on social media is accurate
I think all of social media is skewed. It's a big, ole, fat echo chamber and the real determinator is the algorithm. I really enjoyed my experience. I'm still 10 pounds bigger than when I started, but I'm not in a rush. It's been a year. I'm more interested in her happiness and my happiness and mental health. Hormones are … pretty interesting.

As a new mom, those first six weeks are like, "What?" It's just the biggest life change ever. You're responsible for someone's well-being that can't even hold their head up. It's a real shift, and you become not No. 1 on the call sheet. And it's the best. Everything that's supposed to fade away, fades away, and a balance comes in. I like to live more in the real world for now.
I never really thought about it that way, but I also didn't feel unconditional love until I had a child. I like how Katy made this personal to her situation and didn't generalize it to everyone. Motherhood is not the be-all end-all. Also she really nailed it with her comments on social media. I've been trying to use TikTok more and I ended up deleting it because it's so addictive. I'll probably add it back in a couple of days. It seems like it predicts my thoughts and that was creeping me out. Social media also makes us feel less than and like we need to lose weight or change somehow, like Katy is saying. She's a big goof and I give her a lot of credit for putting herself and her life out there. I hope she and Orlando are together for a long time.