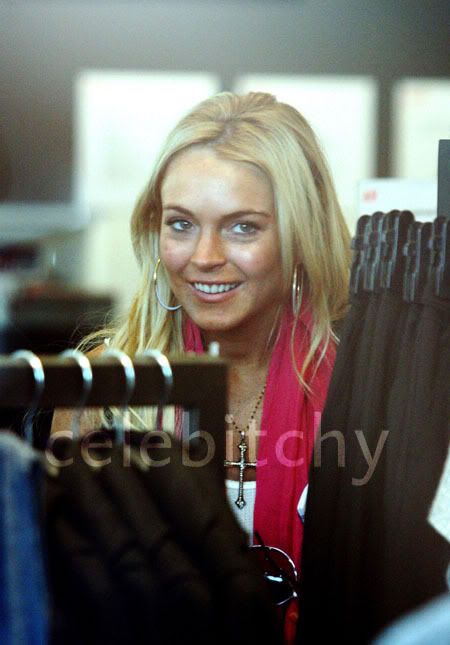 Lindsay Lohan is negotiating a role on Ugly Betty that would have her befriending America Ferrera's character. Lohan starts out working as an assistant manager at the fast food restaurant where Betty's father is employed, and America tries to get her a job at Mode, the fashion magazine where she works.
"Everyone's very excited," the source said. "Of course it brings a lot of attention to the show, and it's a great part for Lindsay."

The role is apparently part of a three-episode arc during which Betty befriends Ms. Lohan's character, who has fallen on tough times since high school. The ravishing redhead has had a difficult year herself, recently completing her latest stint in rehab at Utah's Cirque Lodge after racking up two consecutive DUI's this summer.

"It sounds really cute," our spy burbled of the new opportunity, which of course might be jeopardized by the ongoing Writers Guild strike. "Betty tries to help Lindsay's character by getting her a job at Mode, the fashion magazine where she works on the show."
[From NYObserver.com]
There was a lot of hype over another celebrity's scheduled appearance on the award-winning ABC comedy. Victoria Beckham has an upcoming cameo on Ugly Betty as herself. The episode will air tonight in the US.
Along with this possible role on Ugly Betty, Lohan has two movies coming up that you've already heard of. She's working on Dare to Love Me now, and is set to film Poor Things. The film is in pre-production and is likely to be delayed by the writer's strike.
Lindsay Lohan new boyfriend, Riley Giles, is being labeled a money-grubbing K-Fed type. A story came out earlier in the week that he posted an arrogant message on his myspace saying that Lohan's mom had approached them to appear on her new reality show for the E! Network and that they wouldn't consider it. Giles denies writing that blog post, and says he doesn't even have a myspace:
It read, "ADVICE OF THE WEEK: if your (sic) a mom, with four kids, the best thing u can do for them right now is have a reality show. WE. DO. NOT. WANT. She had the nerve to ask us to be on. No thanks!"

But snowboarder Giles tells In Touch Weekly magazine, "I don't even have MySpace. Someone is obviously pretending they are me."
[From SFGate.com]
Myspace is such a pain in the ass, I barely check mine anymore. Facebook is the way to go and has no spam that I've experienced. I don't blame the guy for not having a myspace.
Here's Lohan out shopping yesterday looking particularly orange. Thanks to WENN for these photos.