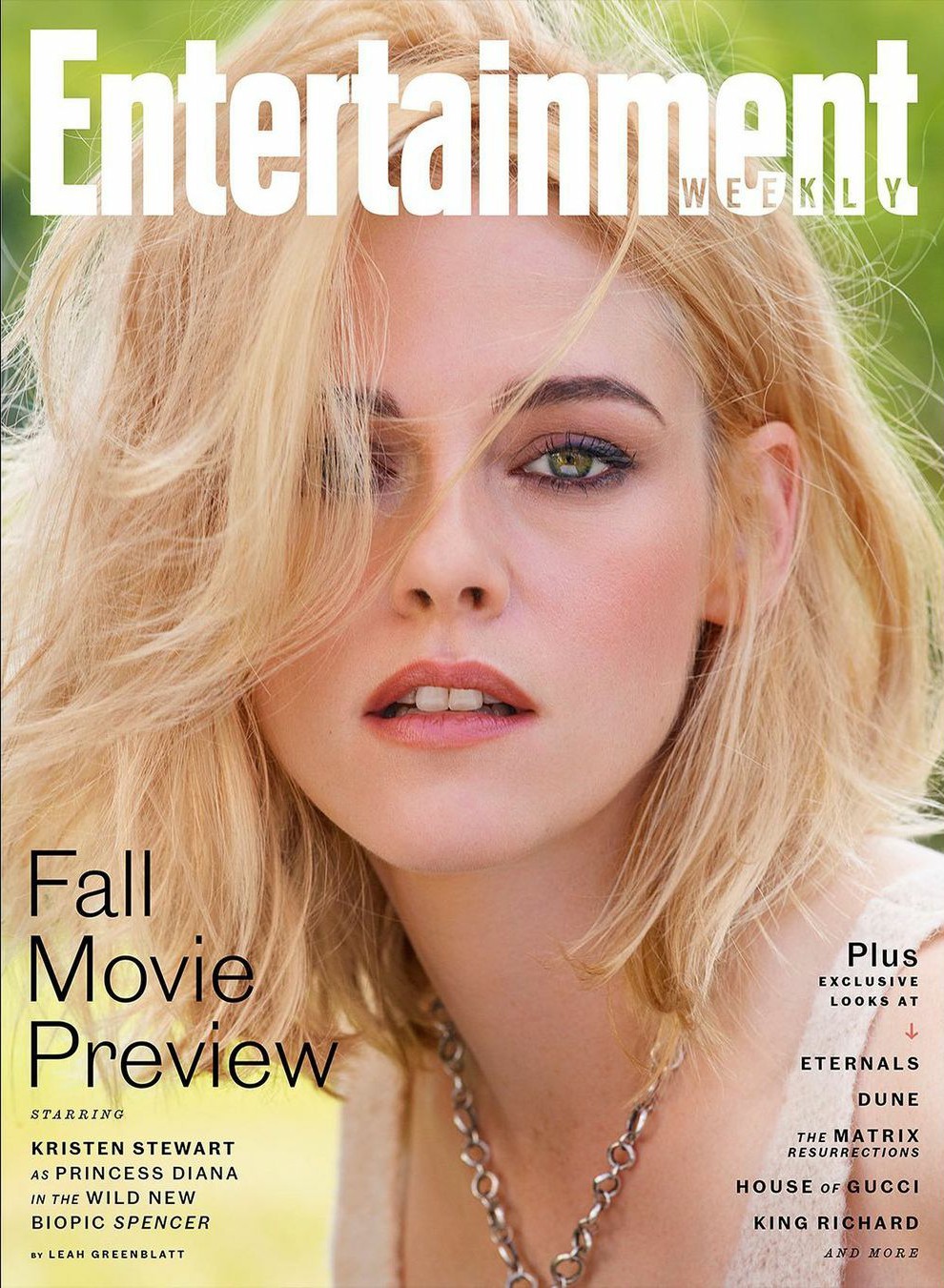 Kristen Stewart covers the Fall Preview issue of Entertainment Weekly. She's promoting Spencer, the film where she plays Princess Diana, the film which has already earned Kristen a heap of Oscar buzz across the late-summer film festivals. Every critic has raved about the film and Kristen's performance, and I can feel Kristen making a conscious choice to wade very carefully into these waters. The waters of Oscar buzz, a real Oscar campaign, planning out her fall and winter with an eye towards Oscar-voter screenings and awards shows. It's great to see, honestly. Bella from Twilight is all grown up and making the choice to really engage. Here are some highlights from her EW interview:
On her own fame compared to Diana's fame: "I mean, I've tasted… I've come near these sort of manic levels of fame and intrusion…Not intrusion. That implies that I've been stolen from in this violent way. I have experienced people kind of wanting to come in, but there is no comparison to this particular woman, in terms of that fervent desire to have her and know her."

She did watch The Crown. Stewart is a fan: "I watched it probably in one night. I think [actress Emma Corrin] did a really beautiful job. I mean, not to say that my opinion matters at all! But I loved her in it, truly."

Saying yes to the role: "I knew even before I read the script. I was like, 'You're not going to say no to this, because who would you be in that case?' I absolutely would have felt like such a coward. Especially given that I'm such an outsider. I'm not from the U.K., I don't have any particular investment in the royal family. So I was kind of this really clean slate, and then could absorb her in a way that actually felt very instinctive, you know?"

How Diana didn't want to be in Sandringham: "It is a fact that sometimes she just didn't want to come to dinner. And if that's all you've got, if you're backed into a corner and the only way to bare your teeth is to change your clothes or not come to eat… If you're so voiceless and never listened to and never asked any questions, you're going to do things in order to be heard that are very easy to judge."

Diana's hidden strengths: "She's such a strange combination of things that don't seem to go together. The power she pulls into every room is probably what was so upsetting for people who wanted a sort of demure and quiet figurehead…. She was just tactile and warm and kind of buzzing with fragility that needed to be pacified and salved… There was a fickle nature, obviously, to a lot of the facts. She is, very sadly and very ironically, one of the most unknowable people in history, when all she wanted was to just be closer to people and bare herself."

She did wear wigs throughout the shoot: "If it wasn't a wig, we would have had so much less time to shoot… And we were f—ing sprinting. This was not padded or luxe in any way. We were balls to the wall, gunning through it. Which you can feel in the movie 10 or 15 minutes in— once it gets up and starts going, it doesn't stop, it barrels. It felt that way to make it, too."

She cares about the Oscar buzz: "You want to win, we're all animals. Artists want to engage with the world and have larger conversations. Even though it doesn't seem like I'm somebody who wants to be extremely famous, I still want this conversation to be expansive…. I used to be really intentionally the opposite of precious in terms of choosing projects. For a minute there I was like, 'I'll do f—ing anything!' And honestly, it was a good place to be for a minute. But I think now I'm going to be a little more careful. I think I have a better nose for what's going to be fruitful for me personally, as an experience, if not necessarily what's going to thrive out in the world."
Apparently, she did put up a fight about the wigs – she really wanted to use her own hair and get it styled and colored like Diana's would have been for this era. But I understand why she lost that fight. I love what she says about caring about awards too, that's refreshing from an actor. I'm really interested to see what it looks like for Kristen to really participate in a full-throttle Oscar campaign.
Cover & IG courtesy of EW, additional photos courtesy of 'Spencer'.