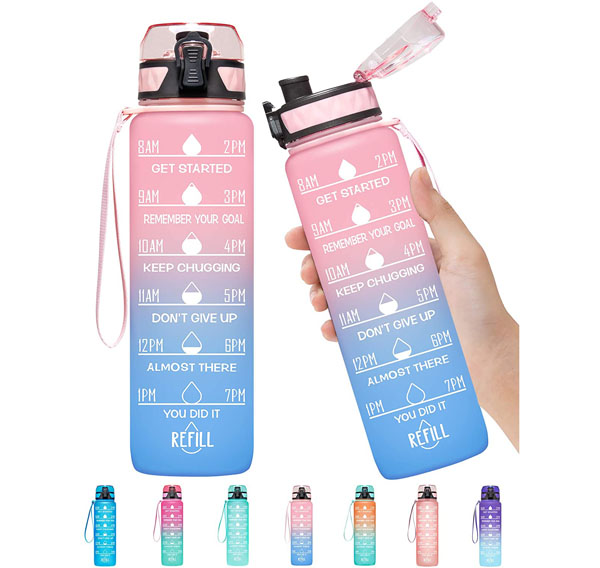 From CB: A couple of my friends got the big water bottle that Hecate mentioned last week. It comes with a fruit filter and has motivations written on it to encourage you to drink. They both like it and say it's helping them drink more water on a schedule. I got the can opener Hecate talked about recently. It is the best can opener I've ever had. It works so well it doesn't require any effort at all. Here are some more things Hecate and I are looking at.
A scrubber that gets softer with warm water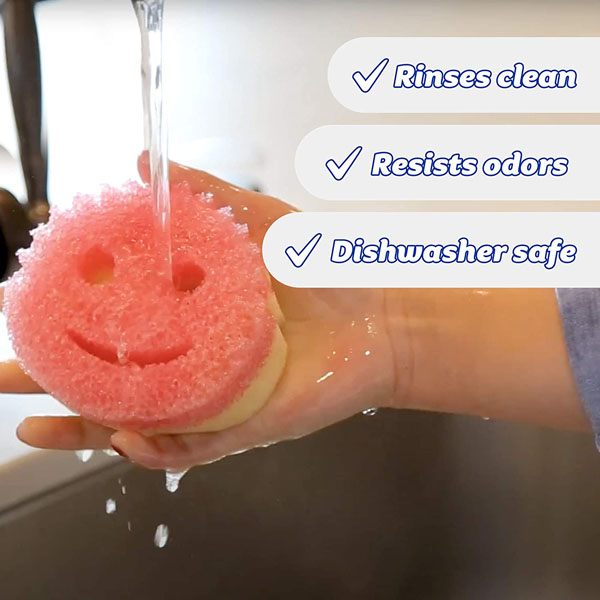 From CB: My mom loves the Scrub Mommy and has been raving about it. One side is a sponge and the other is a scratch free scrubber that can be used hard or soft depending on how much water you use (according to my mom) and the temperature of it (according to the company). This set of three sponges has over 2,000 ratings, 4.8 stars and a B on Fakespot. Reviewers say they're great at cleaning up dishes, spills and stovetops and that they last a long time without smelling bad like traditional sponges. "These are so durable! Last a long time and don't stink!" "Never thought I'd get excited over a sponge. But here we are. This is the best sponge I've ever used. So absorbent and you can control the scrub level." "I use these religiously. They are amazing. Blow all other sponges out of the water. I love that you can wash them in the dishwasher to keep reusing. They are sturdy and hold up for quite awhile."
Eyebrow gel for shaped brows with or without makeup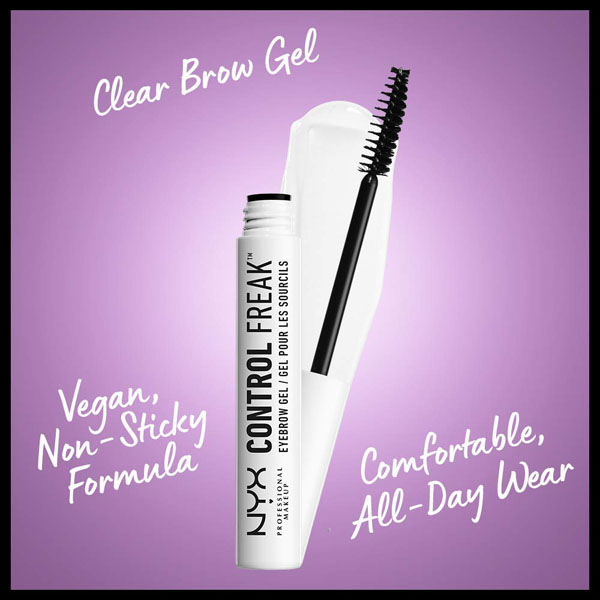 I'm great at filling my brows (I use Unbelievabrow and also recommend Revlon Colorstay Brow Mousse) however I always get one or two stray brow hairs that don't say put. NYX Control Freak Eyebrow Gel helps set brows perfectly and seems to be the step that I'm missing. This has almost 23,000 ratings, 4.8 stars and an A on Fakespot. Reviewers say it lasts all day and that it's just as good as much pricier brands. "I actually use it even if I don't fill in my brows at all. This stuff is able to go on thin enough for me to not feel it but thick enough to hold the hairs where I want them until I take it off." "This is my new favorite thing! My brows look fuller just by keeping the hairs in the right direction."
A set of fake dome security cameras with blinking red lights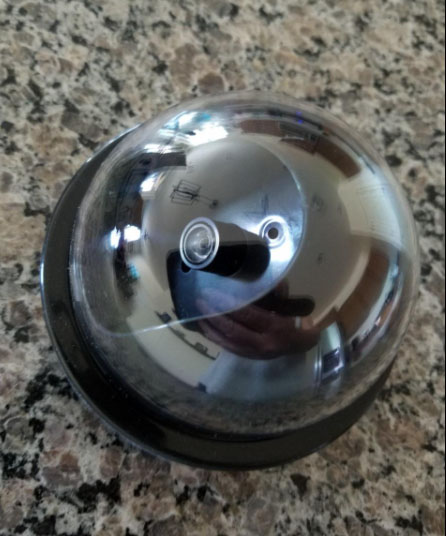 Someone tried to break into my old place a few years ago. It was obvious because a plant was moved off its stand and the doormat was folded over. I didn't have the door locked but they seemed to have been looking for a key and to have left without entering. I had a fake security camera with a blinking light on it and I think that scared them off. This is a set of four fake security domes with flashing red lights for just $17. They come with installation hardware or you can use heavy duty tape (here's some Hecate mentioned last week) or outdoor Velcro to mount them. These have over 2,600 ratings, 4.4 stars and a B on Fakespot. People say they even fool police. Some say not to bother using batteries for the lights as the real cameras don't have those lights. Others say the red lights are a good deterrent. "One week after we installed the dummy dome cameras there was incident that caused the police to knock on our door asking to see our security camera footage. I had to tell him they were fake." "These are great! Very realistic and should be used to augment an existing security system. Like another reviewer, I recently had a local police detective stop and ask if he could have the video footage from my cameras due to a crime in my neighborhood. I sheepishly had to tell him that the camera he wanted footage from was a dummy camera!"
A primer for dewy skin that can be used alone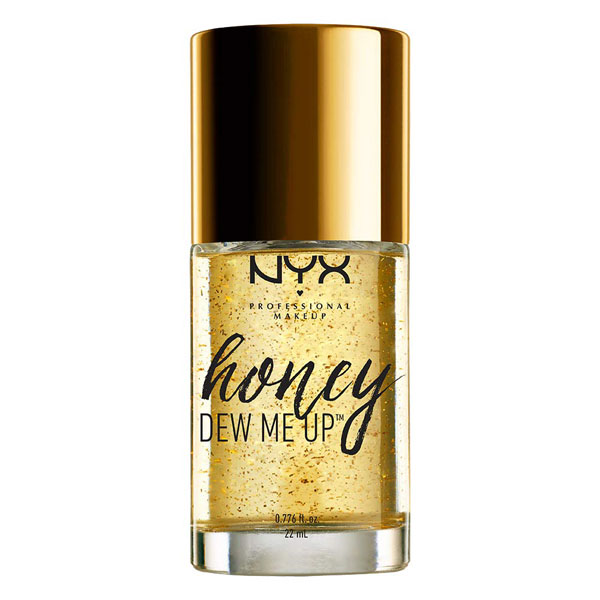 NYX Honey Dew Me Up is a primer with little gold flakes to brighten and illuminate skin. This has 4.3 stars, over 4,800 ratings and a B on Fakespot. Users say it's just as good as more expensive brands and that it works to make skin look smooth and glowy without clogging pores. "Love this product. Leaves skin glowing and absorbs quickly giving a perfect base for foundation. Also great to use on make up free days." "I've been struggling for a while to find a primer good for dry skin. You only need a tiny little bit and your makeup slides on and sets all day and night! " "I've been using this primer for a little less than a year along with other brands. I have combination skin, my pores get clogged very easily, I can have breakouts or extremely dry skin. I'm loving this primer, it has become a favorite and doesn't bother my skin at all.
A comfy fleece wrap with pockets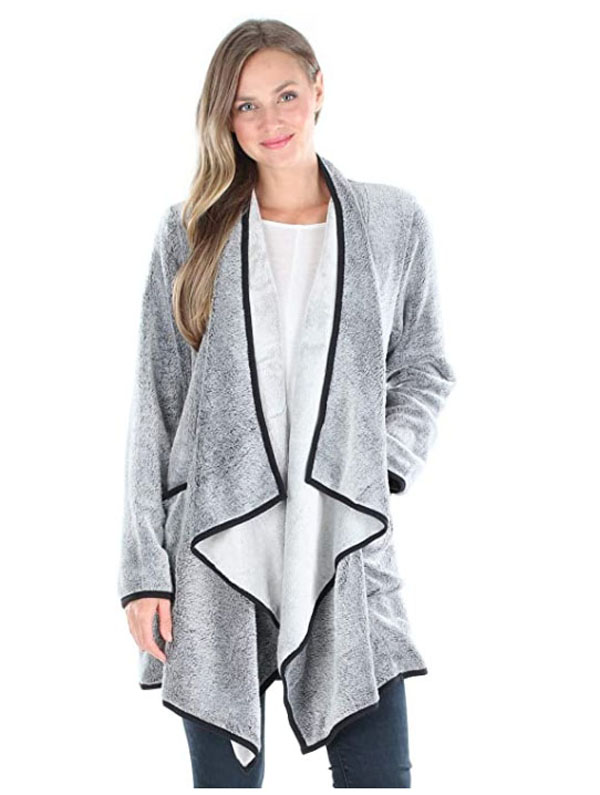 From Hecate: Fall weather is sneaking into California, which means its dipping below 80 degrees. So I'm looking at snuggly clothing for cold mornings. I found this wrap robe that wears like a cardigan but customers say is a really comfy robe. It's cute with a big draped shawl collar, fitted sleeves and pockets. The wrap comes in five colors, the sizes are small (4-10) or large (12-18). It also comes in a traditional robe, also in five colors, sized XS to 2XL. The robe has a hood and sherpa trim. Each style is just $29. Over 2,300 reviewers gave this 4.7 stars that ReviewMeta confirmed. People who work from home love it. Many of them say they rarely take it off and that they wear it outside the house too. "The amazingness of a robe in the practicality and public acceptance of a cardigan! This is just right on my body type." A few said it was even better than they imagined. Most just talked about how comfortable it was to wear, "This is really like a big soft blanket." Just as a heads up, it can be machine washed cold and tumble dried on low.
A stylish hanging travel kit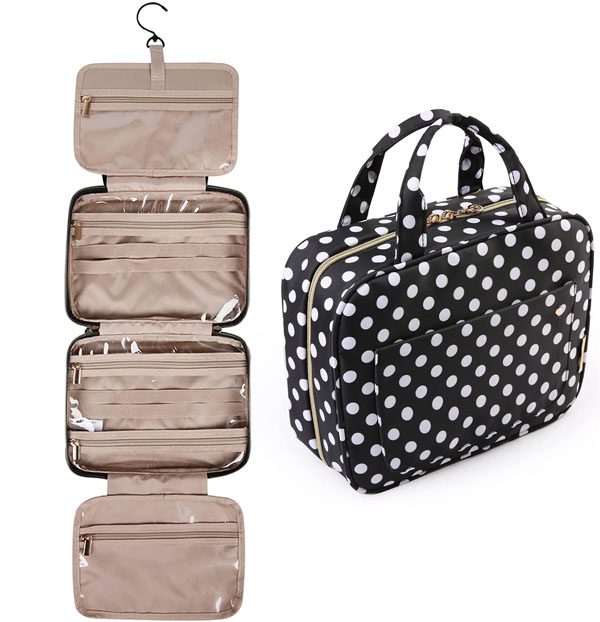 From Hecate: I am always on the lookout for a good toiletry bag. Even when I have one, which makes me a luggage cheater. But just look at how pretty this one is! It holds a lot, folds nicely to pack and hangs for easy organization once you arrive. It has four sections, so you can keep everything separate. It coming in three prints and has 4.8 stars, over 2,568 reviews and and A on Fakespot. Customers liked it so much, they ordered both sizes, "I ordered the large (bottom using as the toiletry bag) and the medium (top using as a makeup bag). I've put everything I can think of in these and there's still a ton of space for more." "There is plenty of room for all my little travel bottles, and still tons of room remaining for me to add my makeup or medications. I love that it hangs bc you never know what kind of counter space you're going to have when you reach your destination." Pro tip: if you travel regularly, pre-pack your toiletry bag with duplicates of what you need and replace them as soon as needed. That way you never forget anything and you eliminate last minute panic packing.
A fancy two-tiered charcuterie board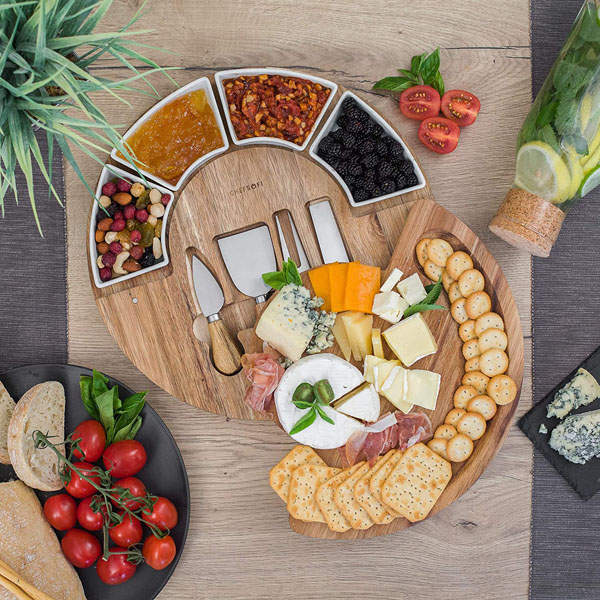 Update from CB: This one is now sold out, here's an alternative!
From Hecate: A charcuterie board is such an indulgence but this one is half off this week and don't we all deserve something fancy? This board has a spot for cheese and one for crackers along with dishes for separate snacks. The top swivels out for the knives underneath. The board is made of Acacia wood so it's really pretty and will hold up well. It comes with three cheese knives and a fork. It would be super for the holidays and would also make a great gift. Over 3,300 customers rated this 4.8 stars which ReviewMeta confirmed. Customers liked the overall design of the board, "The wood is nice and thick. The ceramic dishes are generous in size and four was really enough for the kalamata olives, pickled onions, roasted peppers and black olives." Others said it was easy to use, "The small containers are removable & easily hand washed. They fit a bit with plenty of room." A couple people said they found a few rough patches on the wood, but those can be sanded out. There are a lot of pictures with different charcuteries. I don't recommend looking at it while you're hungry.
Thanks for reading and commenting on our affiliate post! If you make any purchases through these links we get a percentage and appreciate it.