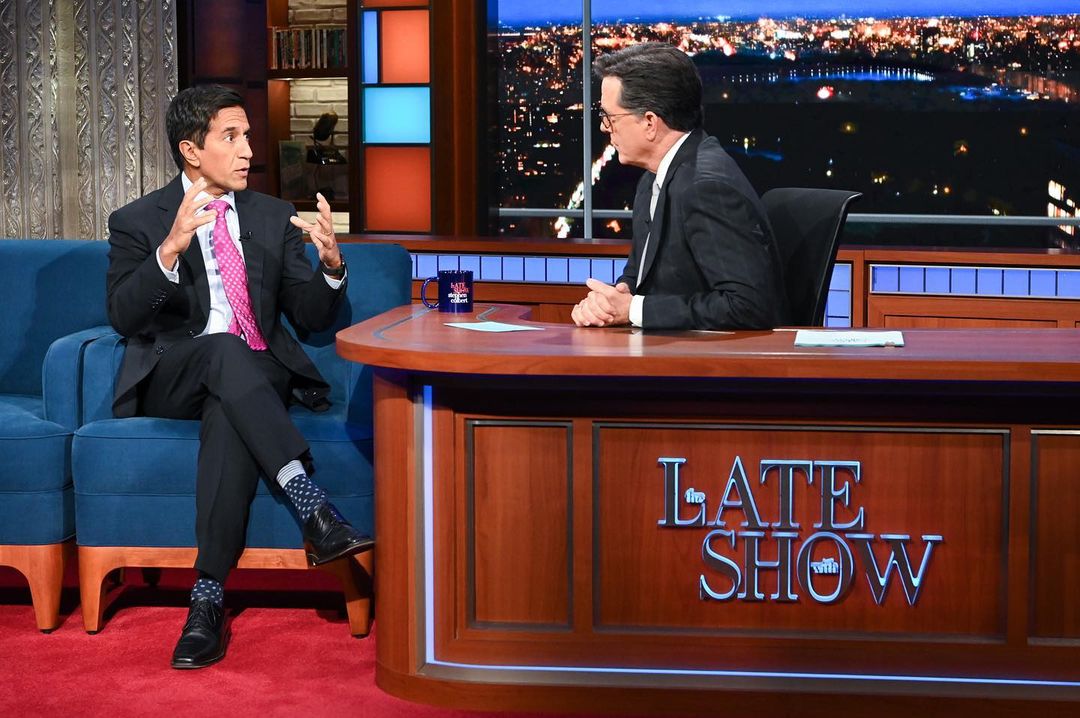 Dr. Sanjay Gupta, CNN's chief medical correspondent, was on Colbert promoting his new book, World War C. It's about the covid pandemic and what we need to do to prepare for the next pandemic. We need to regulate Facebook and other social networks for allowing misinformation to spread and brainwash people, but that's a separate and very related issue. Dr. Gupta talked about vaccine hesitancy and told a personal story about trying to convince a repairman, whose daughter had just died from covid, to get vaccinated. The repair person seemed open to it because of his loss, but he still needed to be convinced. Gupta admitted being incredibly frustrated by the large amount of people refusing to get the shots, but he was gracious about it. Here's some of what he said.
On breakthrough cases
Your chance of getting infected if you've been vaccinated is about eight to ten times lower. If you do carry the virus you could [be contagious] but [the contagiousness] comes down faster. An unvaccinated person could be contagious for seven to ten days, but for you it might be two to three days.

On healthcare professionals who refuse to get vaccinated
There's times that I've sat in my basement and literally screamed at the top of my lungs. It's hard to fathom when this is available and could really help end this collective trauma. Healthcare workers are subject to the same ideological pressures as everybody else. It sort of tracks with the vaccine hesitancy in the population, 20 to 30 percent.

He talked to an air conditioning repairman whose daughter died of covid but he still hadn't been vaccinated
I had this guy come by to fix the air conditioning the other day, in his mid 70s, wore a mask. He knew who I was so he said… 'should I get a vaccine?' I said 'yeah, absolutely.' He said, 'the reason I ask is I got a stent in my leg. I thought [blod clots] might be a problem.' I said 'You're right, that was a problem. I said you're 80 times more likely to develop blod clots from the disease vs. the vaccine.' He said 'Oh thank you, I appreciate that. The reason I ask is because my daughter died of covid last week. The last thing she said before she went on the ventilator was please get vaccinated. But I've been worried about clotting so I called my doctor and my doctor hadn't called me back.'

There are some people who still have legitimate concerns and I hope we reach those folks.
[From Late Night with Stephen Colbert on YouTube]
My mom has a similar story about a window installation guy who was not vaccinated and said he had "natural" immunity because he'd already had covid. She was not going to convince that ex cop, and in Florida he's likely doomed unless he gets vaccinated. Imagine being a scientist and/or doctor on the frontlines and still being so calm and patient with people. That's Gupta's job but I know I would not be that nice.
I just read an interview with Dr. Kizzmekia S. Corbett, one of the developers of the Moderna vaccine. She said essentially the same thing as Dr. Gupta, that people have questions about the vaccine and she is there to answer them. She calls it "vaccine inquisitiveness," not vaccine hesitancy and said that "a lot of people have questions about the vaccine they want answered before getting it." As an everyday citizen who drove over two hours to get my first shot, I do not understand or sympathize one iota with those people. They can read a legitimate news source instead of just scrolling through Facebook mindlessly. These public health professionals who are still working hard to convince them have my full respect. I would completely understand if they said "f*k it, you people are on your own now" too.