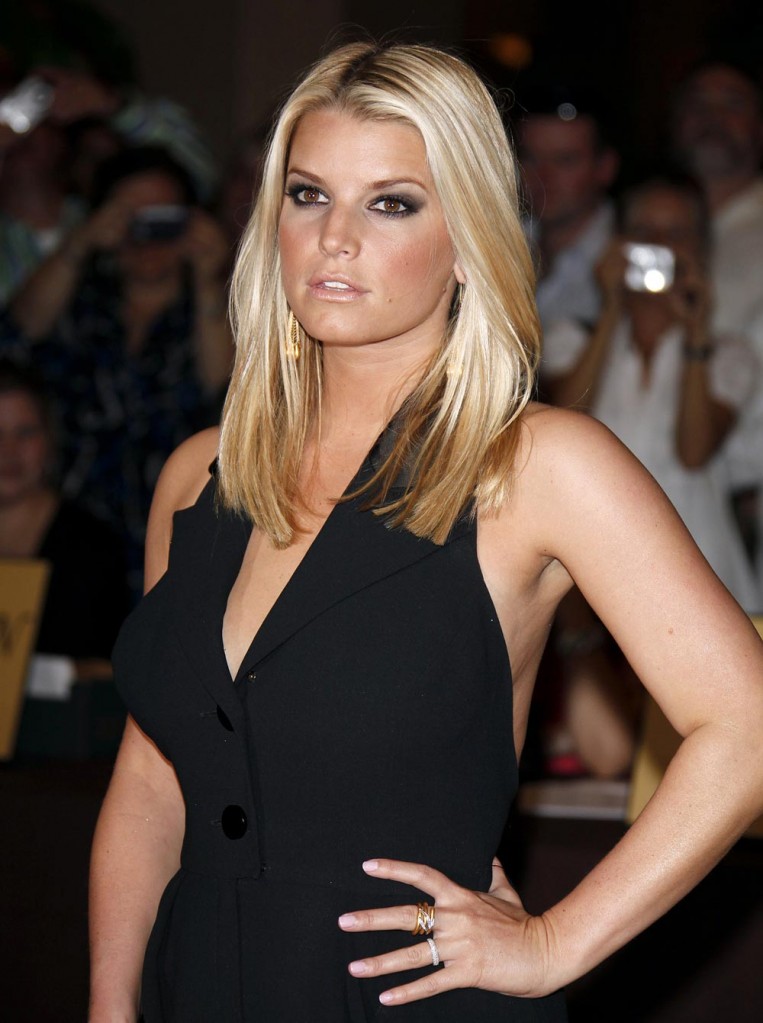 After battling fly nets and enormous spiders in Uganda in the name of beauty (or The Price of Beauty), Jessica Simpson has returned to America. She commenced with making up for lost time by doing two big appearances over the weekend. The first was as the headliner for the annual Operation Smile Gala, held in Beverly Hills. Her outfit was a little sketchy for a gala – but I suspect Jessica was aiming for conservative and classic rather than her normal style, a buffet of T & A. Jessica gained some weight back, hasn't she? It doesn't really matter, I think she still looks great. Good gala hair, good gala makeup.
At the gala, Papa Joe talked up Jessica to Us Weekly – and as always, he probably did more harm than good. You know how Jessica looks a little heavier? Papa Joe says that's because Jess went into a "fattening hut" in Uganda, because in Uganda, "fat is beautiful." He also talks about Jessica's valuable lessons learned about inner beauty:
As she travels around the world filming her upcoming reality show The Price of Beauty, Jessica Simpson – who underwent criticism for her weight earlier this year – is learning that "beauty starts within," her father Joe tells Usmagazine.com.

"She's always scrutinized by the world and [it's great] to watch her go to other countries and see women talk about what is beautiful there," he told Us Friday at a gala in Beverly Hills for the international charity Operation Smile. "We were just in Uganda, and a beauty ambassador [there] knew Jessica's total story about her weight and blah, blah, blah. [She said] to Jessica that it's about who you are inside, which is the message of our show."

Asked if he has given his daughter, 29, any advice on how to handle the weight issue, Joe told Us, "I don't have to tell her anything anymore. She's wise."

He said he also brushes off any criticism aimed at Jessica or his other daughter Ashlee.

"The girls are wonderful kids who have so much to offer, and as a father, the greatest frustration in the world is that people are told who they are instead of knowing who they are," he said. "So the hardest thing for me as a parent is to say that's not who my child is; you don't know the girl because she's the same girl she's always been. She's with children in Uganda or children in Japan or Thailand — she has an open heart and loves these people. I think you'll see that on our show. I think it's the greatest show that women can experience because it's all women all around the world talking about beauty and the message is always the same: It starts inside."

What can viewers expect?

Jessica "becomes a Geisha in Japan," Joe told Us. "In Uganda, we sat in a fattening hut because, in Uganda … fat is beautiful. So the bigger you are, the more beautiful you are. She was with a girl who had been in a hut preparing for her wedding for two months and 25 days on a 5,000 calorie-a-day diet."

Next stop: Morocco.

"It's going to be beautiful," he said.

Jessica agreed, telling Us, "It's going to be amazing … we're leaving the day after tomorrow I think."
[From Us Weekly]
Notice that even when Papa Joe is trying to make a larger point about both of his daughters, he always has to bring the conversation around to just Jessica? Yeah. Sometimes I really feel for Ashlee – it must suck for her in that family. Oh, and it was her 25th birthday on Saturday – she had a big party in Vegas. I can't find any pictures of her dad at Ashlee's birthday – but he was all over the Operation Smile gala.
Operation Smile has been one of Jessica's causes for several years – I'm proud of her for sticking with it, even if she's (maybe) not the most coherent advocate. I think her heart's in it, though, and the organization does great work. According to its website, "Operation Smile volunteers have treated more than 130,000 children born with cleft lips, cleft palates and other facial deformities and the organization has a presence in 51 countries. In addition to contributing free medical treatment, Operation Smile trains local medical professionals in its partner countries and leaves behind crucial equipment to lay the groundwork for long-term self-sufficiency." Good for Jessica!
Photo credit: Apega/WENN.com