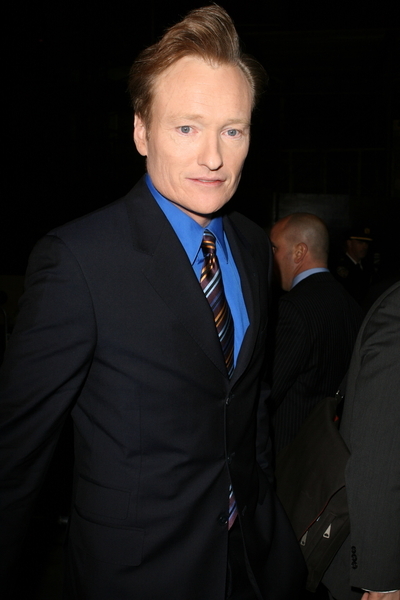 I'm pretty sure in Celebrity-land, having a stalker is a sign that you've arrived. Now of course you hope for one of your more benevolent varieties – the guy that carries around the telescope and night binoculars and somehow always manages to be in a window directly across from you. No one wants the guy who strangles you from behind – I mean yeah you've really made it, but your royalty checks will be going to your next of kin and that's just not worth it. Conan O'Brian has finally made it. No he wasn't actually successful before this, because only now does he have a stalker. And like the funny man that he is, Conan's stalker is pretty funny too. Because he's a priest. And not in some nutball offshoot cult. He works for the Roman Catholic Archdiocese of Boston.
A priest from Boston has been charged with stalking and harassing the talk show host Conan O'Brien, law enforcement officials said last night. The suspect, David Ajemian, was arrested on Friday when he tried to attend a taping of NBC's "Late Night With Conan O'Brien" program at Rockefeller Center, the police said. The priest is being held in jail for a court-ordered psychiatric examination, and is due back in court tomorrow. Court papers quote from menacing postcards and letters — at least some written on a parish letterhead — that Father Ajemian is alleged to have sent to Mr. O'Brien's home and television studio for more than a year. The letters continued even after the priest was asked to stop, law enforcement officials said.

A Feb. 20 letter said: "I'm told by some of those officious little usher people that you're overbooked. Is this the way you treat your most dangerous fans? You owe me big-time, pal. I want a public confession before I even consider giving you absolution." An April 26 letter, signed Padre, said, "I am not Seung Cho," apparently alluding to the gunman at Virginia Tech. The letter continued: "Even if I did once look out on that dark and dreaded doorway on West 72 Street, remember Frank Costello once dodged a bullet in your building, and so can you."
[From the New York Times]
Frank Costello was a gangster in the fifties. He was shot (but lived) in the lobby of the Majestic on West 72nd. It sounds like the New York Times only quoted part of the Ajemian's sentence about absolution. Us Weekly reports that the entire sentence was, "I want a public confession before I ever consider giving you absolution – or a spot on your couch." I don't know much about stalkers – but this one seems really mad. I wonder what it is that Mr. Crazy wants a confession about? Not letting him into the theater? It seems doubtful that's when the anger stalking. Ajemian says he has followed Conan's career since the two attended Harvard. Creeeeeeeepy. He's been put on leave by the Archdiocese, which seems like a pretty good idea. Do they have mental health screenings before you can become a priest? I know they're kind of desperate these days, but come on! The guy has only been ordained since 2001. You'd think they would have started doing some mental health checks by then. Even though you don't want to encourage a stalker, I really am curious what his beef is with Conan. And why he wants on his couch so badly.
Picture note by Jaybird: Here's Conan at the Stand Up For Heroes A Benefit For The Bob Woodruff Family Foundation in New York last night. Images thanks to PR Photos.