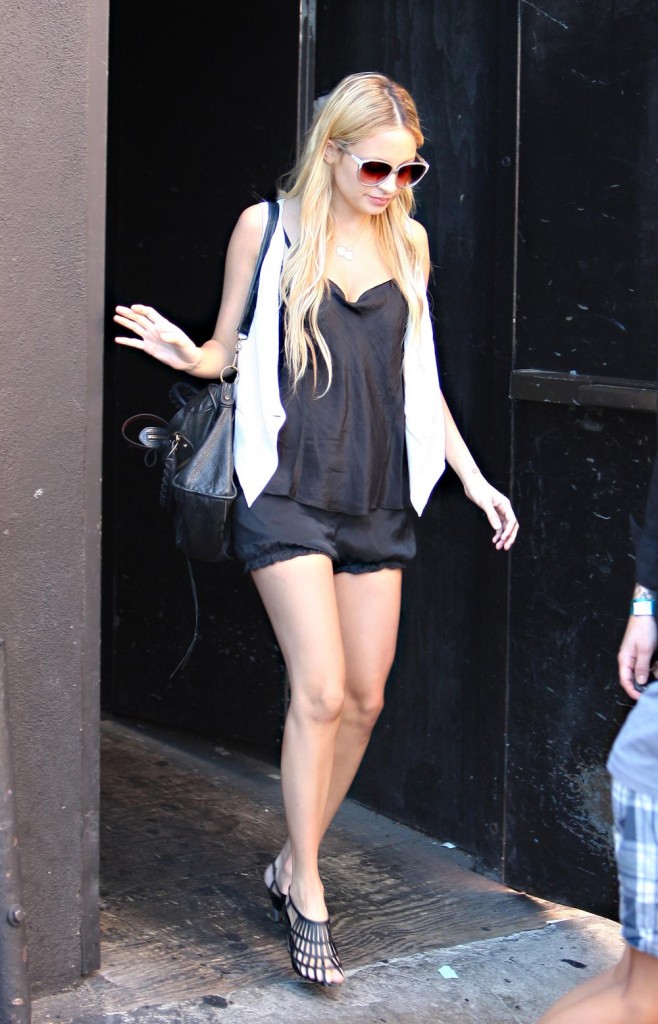 Nicole Richie on 9/26/09. We have chosen not to include photos of her after the accident. Credit: Fame Pictures
Nicole Richie was in a fender bender yesterday afternoon in Beverly Hills in which her Range Rover was rear ended by a photographer. The mother of two, who just had her second baby on September 9, was driving with another unnamed adult passenger. Luckily none of her children were in the car at the time. The freelance photographer tailing Richie was arrested on suspicion of driving without a license and police sources quoted by People say that it's "likely [to] be a misdemeanor traffic violation, and the photographer's vehicle will be towed." There was another photographer in the car with him at the time.
Richie reportedly told police that she was in pain following the accident, and was photographed crying – presumably by either the guy who hit her or his buddy. No paramedics were called. While People reports that it's not known if she went to the hospital, photo agency Fame has pictures of her leaving her house for Cedars Sinai shortly afterwards with her boyfriend, Joel Madden. (We are not publishing those, but are including photos of the guy who rear ended her.)
This makes me mad not only because the creep must have been following Nicole closely, but also because he clearly profited from selling the photos of the accident that he caused – while driving without a license! Did he hit her on purpose in order to get better photos? This reminds me of something George Clooney once said about the paparazzi – "It's high-speed chases and they're competing with each other. They're not trying to catch me doing something stupid, they're trying to create me doing something stupid."
Around the time Britney had her breakdown in early 2008 there was a lot of talk about passing additional laws to put limits on paparazzi in LA County. From what I can tell, the police were more aggressive toward breaking up throngs of photographers using existing laws but no new laws were passed at the time.
There was an earlier law passed in California in 2005 that was meant to protect against the very thing that Clooney was rallying against – photographers causing a disturbance in order to get more valuable photos. Paparazzi are liable for three times the amount of normal civil damages in the case of "assault committed with the intent to capture any type of visual image, sound recording, or other physical impression of the plaintiff." Maybe that law will apply in this case, although the fact that the guy was driving without a license makes it seem as if he wouldn't have deliberately rear ended Richie, and was probably just following too closely.