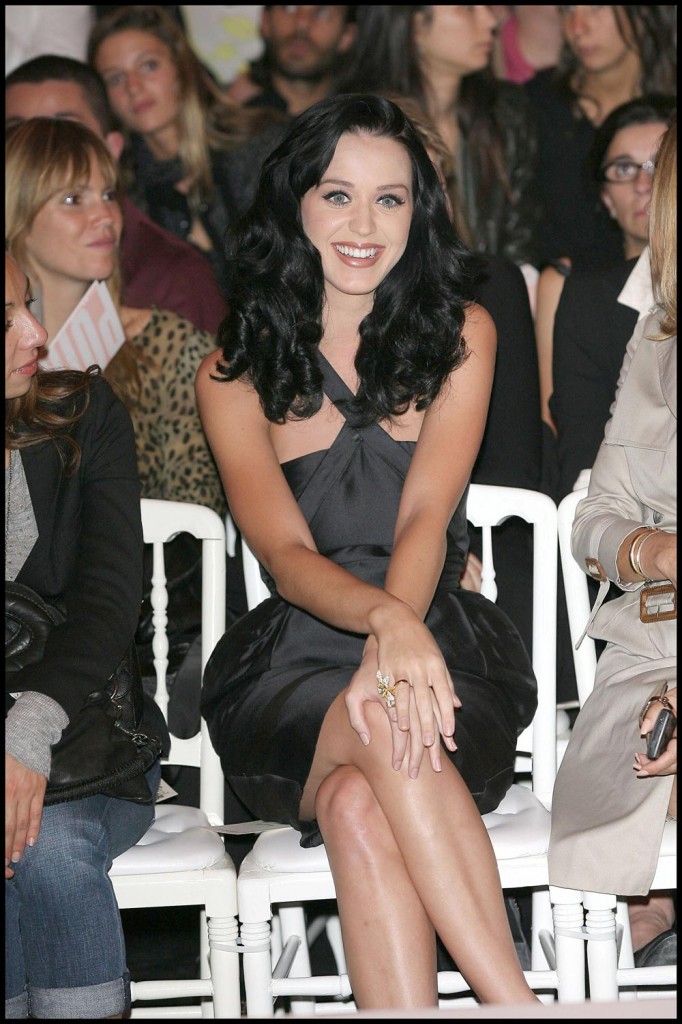 Russell Brand and Katy Perry have been spotted out together several times since their hookup after the VMAs and it looks like things are moving quickly for the British comedian and the American pop star. Russell, 34, is quoted by UK tabloid The Sun as saying about Katy, 24, "I think I'm in love." It's hard to tell if he was serious or joking, and given the source it's possible he was talking about something else entirely or they made it up. Maybe the notorious ladies' man has changed his ways, though. I think my favorite part of this story is how their romance bloomed after their makeout session at a post VMAs party "He sent her a love poem by email and she replied with a snapshot of her boobs." How romantic! I bet she just grabbed any random photo from the red carpet.
SEX-mad RUSSELL BRAND was pining for his pop star girlfriend KATY PERRY yesterday – and confessed: "I think I'm in love."

Amazingly the randy telly star, famed for dating a string of beautiful girls, could finally give up his womanising for dark-haired Katy, 24.

Pals say he is besotted with the I Kissed A Girl singer, who is currently at Paris Fashion Week, and no longer has eyes for anyone else.

Speaking exclusively to The Sun at his £2million home in Hampstead, North London, Russell said: "I think I'm in love."

But asked about his nights of passion with Katy, he said coyly: "I don't think I should be drawn on that."

Then, dressed in black jeans and a leather jacket, he sped off to the gym. A giant marrow was delivered by a man on a pushbike while he was away.

Russell and Katy's relationship got off to a romantic start after they met at the MTV Video Music Awards last month.

He sent her a love poem by email and she replied with a snapshot of her boobs.

They had to part on Saturday morning when Katy left for Paris.

Russell was a little alarmed to see photos of her arm in arm with a mystery man in the city. But friends reckon she is dead keen on Russell, 34.
[From The Sun]
I used to think Russell was kind of gross, but as I mentioned in an earlier post about these two, I heard a long radio interview with him and now I get his appeal. The guy is really smart and funny as anything. Plus, I like Katy and think she's handled fame very well. I would love to see these two happy together. Russell has admitted to a sex addiction, along with his other vices, and they're both in show business so the odds are against them. That's part of the reason I'm rooting for them.
Katy Perry is shown with old codger Karl Lagerfeld at his show in Paris with Rihanna on 10/5/09. Credit: Fame Pictures She's also shown at the Jean Paul Gaultier show on 10/3/09. Credit: WENN.com Russel Brand is shown outside his place in London reportedly before taking Katy Perry to the train station on 10/3 She is also pictured separately outside the station. Credit: WENN.com